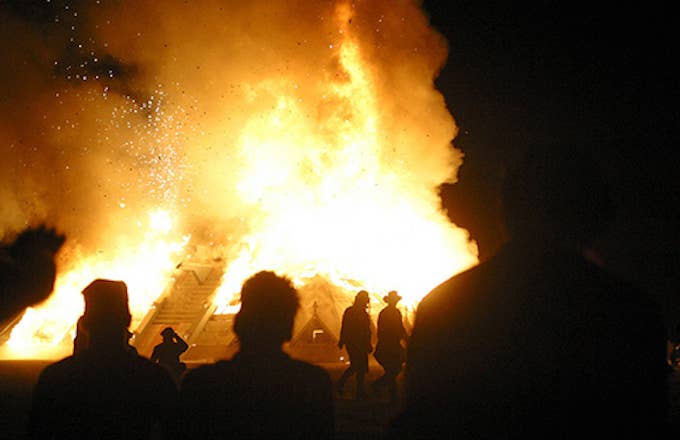 A man died from injuries he sustained after running into a towering inferno at Burning Man, a nine-day art and music festival attended by 70,000 people around the world, according to the New York Post.
Aaron Joel Mitchell, 41, was airlifted to the closest burn center at the UC Davis Medical Center in Sacramento, California shortly following the incident and pronounced dead Sunday morning. His family has already been notified of his passing. 
During the ritualistic burning of an effigy known as "Man" last night, Mitchell evaded two levels of security guards before running into a bonfire on the grounds in Black Rock City, Nevada at around 10:30 p.m. on Saturday. Firefighters tried chasing after Mitchell as he made his way to the  40-foot-tall burning wooden structure and was consumed by the flames. It is believed that some people try to run into the conflagration as a symbol of rebirth. 
The medical staff has determined that he was not under the influence of alcohol at the time of his death. The Pershing County Sheriff's Office is still awaiting the results of the toxicology report. 
"We're aware this incident has affected not only those who responded immediately on the scene, but also those who witnessed it, and our Black Rock City community more broadly," the website said in a statement. "We are working to make resources available to those affected."  
The festival is offering "emotional support teams" to both attendees and staff members. Burning Man will move forward with the Sunday night Temple burn as planned, however, all other scheduled burns were canceled.