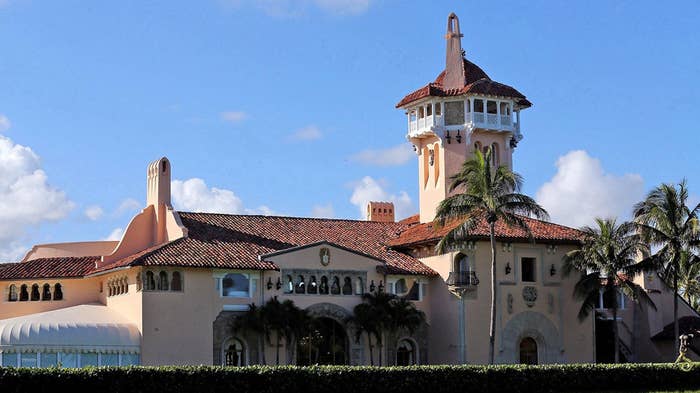 UPDATED 8/11, 3:25 p.m. ET: The Justice Department filed a motion to unseal the search warrant issued by the FBI, according to remarks made by Attorney General Merrick Garland. 
"Given the intense public interest presented by a search of a residence of a former President, the government believes these factors favor unsealing the search warrant."

See original story below. 
FBI agents searched Donald Trump's home at the Mar-a-Lago resort in Palm Beach, Florida on Monday. 
Trump confirmed the search in an aggrieved statement, claiming his residence was "under siege, raided, and occupied by a large group of FBI agents" after he'd allegedly been "working and cooperating with the relevant Government agencies."
According to CNN, FBI agents showed up at Trump's Mar-a-Lago residence early Monday morning while he was at Trump Tower in New York. The search was reportedly centered around looking through his offices and personal quarters.
In claiming "nothing like this has ever happened" to a president, Trump wrote, "It is prosecutorial misconduct, the weaponization of the Justice System, and an attack by Radical Left Democrats who desperately don't want me to run for President in 2024, especially based on recent polls, and who will likewise do anything to stop Republicans and Conservatives in the upcoming Midterm Elections. Such an assault could only take place in broken, Third-World Countries. Sadly, America has now become one of those Countries, corrupt at a level not seen before. They even broke into my safe!"
The execution of the search warrant comes several months after the National Archive requested that the Justice Department look into whether Trump, 76, was in violation of the Presidential Records Act. The act established that all records created by the president or vice president, classified included, must be handed over to the Archives at the end of their administration.
The National Archives later released a letter from a member of the House Oversight Committee indicating that the agency planned to retrieve about 15 boxes of records, some of which were classified, from Mar-a-Lago. Those documents were eventually turned over when the threat of legal action was taken. 
Trump is also tied to investigations into efforts to overturn the 2020 presidential election, as well as the Jan. 6 riot at the Capitol. In his Monday statement, he regurgitated claims about Hillary Clinton's emails, the fabled "Witch Hunt," as well as the "Russia Scam, Impeachment Hoax 11, Impeachment Hoax #2, and so much more."
Donald Trump also said the Mar-a-Lago raid is the equivalent of 1972's Watergate, except "Democrats broke into [my] home" this time.