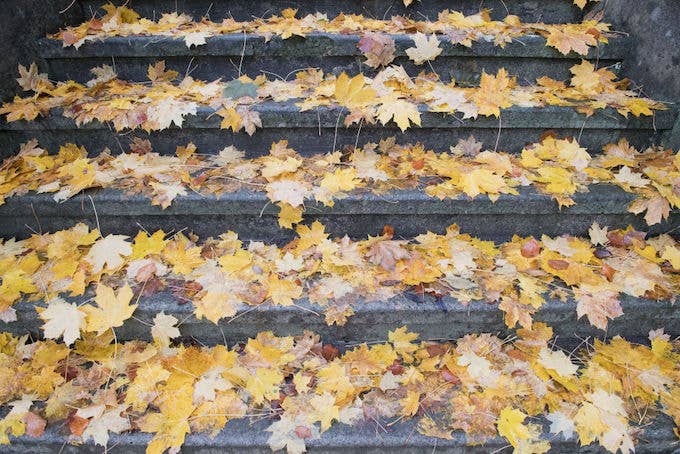 Megan Thee Stallion won Summer 2019 when she coined ubiquitous term "Hot Girl Summer." Women, and men, far and wide, have been living their best sweaty lives all summer long and just like that, thriving. 
Tragically, the response to Hot Girl Summer, given the flirtiest season of the year is coming to a close, is Christian Girl Autumn, and it elicits the exact opposite reaction. The viral photo began circulating after meme maker Giovanni, 19 (@lasagnabby) posted a photo of two Southern influencers, Caitlin Covington and Emily Gemma. 
In a statement to NBC, Giovanni shared the thought-process behind Christian Girl Autumn. "I saw a bunch of jokes about the Megan Thee Stallion phrase 'Hot Girl Summer' and decided to poke fun at it with a Christian white girl spin! I literally googled 'fall scarf outfits' and 'cute church outfits' and saved the photos from there as memes."
"I tweeted it on August 9, and the next day I woke up to my phone blowing up," he told BuzzFeed News. 
Needless to say, there have been quite a number of reactions, ranging from negative assumptions about the women in the photo to pumpkin spice latte references. Given how widely the meme has been circulated, the Southern belles in the photo caught wind that they had become the butt of a joke, and responded. 
"If all of Twitter is gonna make fun of my fall photos, at least pick some good ones!" Caitlin Covington of Winston-Salem, North Carolina wrote on Twitter. "For the record, I do like pumpkin spice lattes." 
In a statement to BuzzFeed, both Covington and her friend Emily Gemma, of Tulsa, Oklahoma, said they don't mind being the faces of Christian Girl Autumn. They did correct some of their critics on their beliefs, however. "It doesn't bother me," said Covington. "It's funny. It's the world we live in now!"
"I'm white and Christian but none of the tweets were accurate," said Gemma. "I laughed at all of it but...none of it's true. We don't ever want to speak to the manager!"
You can check out some of the reactions below.