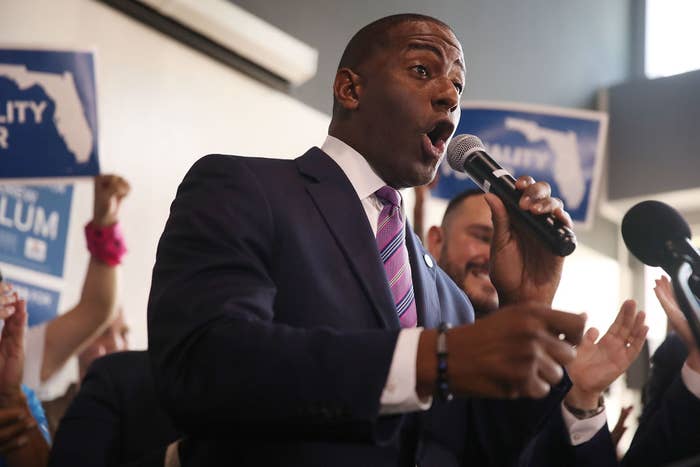 Andrew Gillum, the mayor of Tallahassee and Democratic gubernatorial candidate, conceded the governorship to his Republican opponent Ron DeSantis Saturday, following a statewide vote recount. 
While appearing alongside his wife R. Jai Gillum, Andrew Gillum posted a Facebook live video declaring his concession. "We said that we would fight until the last vote is counted. We wanted to make sure that every single vote ― including those that were overvotes, undervotes ― as long as those were legally cast, we wanted those votes to be counted," Gillum said. "And now that we are rounding that process out, R. Jai and I wanted to take a moment to congratulate Mr. DeSantis for becoming the next governor of the great state of Florida," he continued. 
DeSantis declared victory on election night with Gillum conceding that same day. However Gillum reentered the race after DeSantis' lead narrowed and the Florida secretary of state determined that the race was too close to call. In addition to the governor's race, a recount was issued in the Senate race between Democratic incumbent Bill Nelson and former Florida governor Rick Scott, as well as in the race for agricultural commissioner. Those results are still pending.
Throughout the recount process, Republicans remained critical, making thinly veiled accusations of voter fraud, without citing evidence, while echoing president Trump's combative rhetoric. 
Gillum ran an honest, progressive campaign and remained a staunch opponent of President Trump's throughout. Should he have won, Andrew Gillum would have made history by becoming Florida's first black governor. Surprisingly, Donald congratulated Gillum on running a competitive race, calling him a "Democrat warrior."
Gillum did not specify on the political endeavor he plans to pursue next, however he reminded viewers that "the fight for Florida continues." He continued by thanking his supporters and explaining that the journey is far from over. "I just want to thank you all for being along with us for at least this part of the journey, but the journey continues."