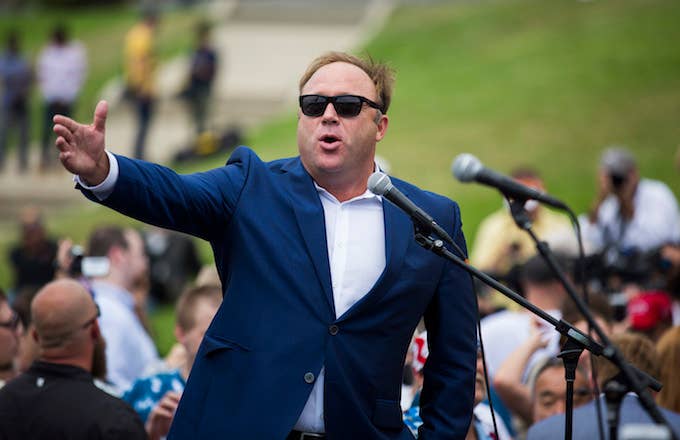 According to Politico, a protester who filmed some of the violent outbreaks at last year's protests in Charlottesville filed a lawsuit against InfoWars leader Alex Jones on Tuesday, stating that the site "stoked conspiracy theories that he was working as a 'deep state' operative for the government."
The suing protester is Brennan Gilmore, who works as a foreign service officer at the State Department. Gilmore argues that Jones, InfoWars, and a number of the site's contributors leveled statements that are "false and defamatory" after they claimed Gilmore had an "ax to grind" by recording what was going on around him.
The lawsuit, which is seeking punitive damages from Jones and the other defendants, further alleges that InfoWars' claims irreparably damaged Gilmore's name while also threatening "his physical and emotional well-being."
"From Sandy Hook to 'Pizzagate' to Charlottesville, Las Vegas and now Parkland, the defendants thrive by inciting devastating real-world consequences with the propaganda and lies they publish as 'news'," said Gilmore in a statement. "Today, I'm asking a court to hold them responsible for the personal and professional damage their lies have caused me, and, more importantly, to deter them from repeating this dangerous pattern of defamation and intimidation."
Gilmore's footage taken at the "Unite the Right" rally had captured a much-viewed video of a car plowing through counter-protesters, which ended up killing a woman named Heather Heyer and injuring 19 other people.
The conspiracy-minded/supplement-peddlingInfoWars cited Gilmore's ties to the federal government to allege that he was part of a coordinated effort to "orchestrate" the day's violent confrontations in an effort to mar President Trump.