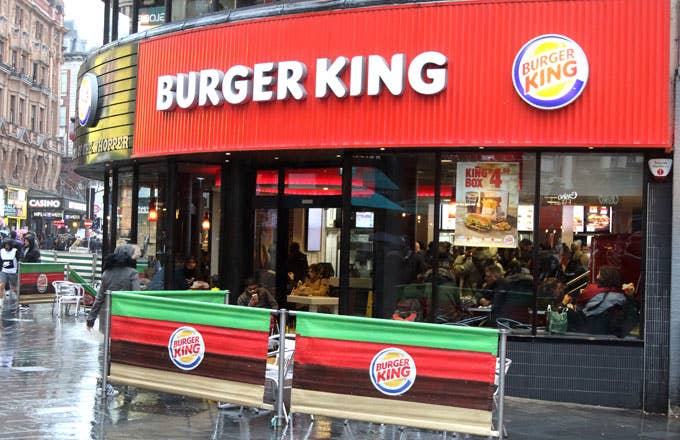 While "Burger King" might not be the most inviting name for the world's vegetarians, the powers-that-be that make that chain's decisions are trying to accommodate those who refuse to put animals in their stomachs. At least, for the moment, in a very particular region of the country.
What we mean by that is BK teamed up with Silicon Valley startup Impossible Foods to unveil an "Impossible Whopper" that you can get at 59 of their restaurants in the St. Louis, Missouri area. If the burger is successful, the company plans to expand the vegetarian option to other locations. 
Note that on Monday (a.k.a. April Fool's Day) Burger King marketed the change by releasing promos in the form of hidden-camera-style clips showing customers who couldn't tell the difference between the normal and plant-based Whoppers. Burger King's North America president, Christopher Finazzo, added that "virtually nobody can tell the difference" when they executed a blind taste test with a number of employees in the company.
This vegetarian Whopper will cost those who wish to eat it roughly one dollar more that the beef-version, but Finazzo claims research showed customers would part with that additional buck to go cow-less. He also said that Burger King has been trying to come up with a meatless burger for about a year.
Meat substitutes have seen their popularity increase as the public becomes more aware of the environmental problems caused by industrial ranching. In addition to being easier on cows/the planet, Finazzo says customers like the Impossible Whopper's health benefits (like very little cholesterol and no trans fats, for instance).
Reuters adds that Impossible Foods came up with their first fake meat patty more than two years ago. They add that the patties look like they're bleeding, and "taste like real meat" thanks to a genetically modified yeast creating the burger's key ingredient, heme.
Impossible Foods' Chief Executive, Pat Brown, said that the company came up with a patty specifically engineered for the Whopper. The company also has existing products served in popular chains, like White Castle and Fatburger. "We're now in well over 6,000 restaurants. If the Burger King launch is as successful as I expect it to be, and we go nationwide, that will add more than 7,000 restaurants that serve the Impossible Burger," said Brown.
In 2018 retails sales of plant-based meat substitutes reportedly went up to $760 million (which was a 23 percent increase from 2017) in the U.S.