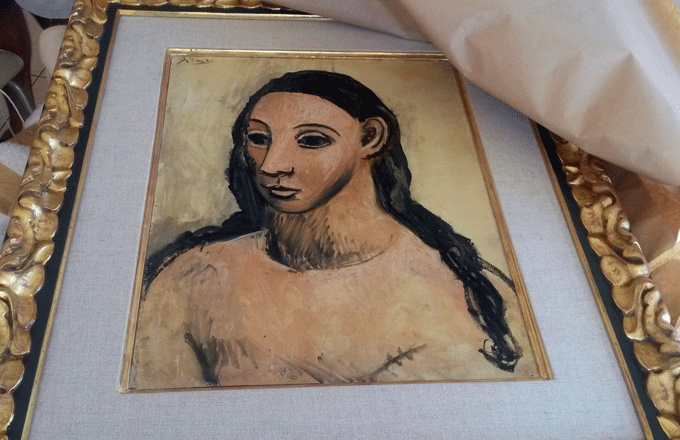 Ex-bank president Jaime Botin, age 83, has been sentenced to 18 months in prison, in addition to being hit with a substantial-for-most-people $58 million fine. Botin smuggled a Picasso painting out of Spain after the country labeled it a national treasure. 
This judgment was released on Thursday by Madrid's High Court, which also ruled that Botin had to transfer ownership of Head of a Young Woman to the Spanish state. The painting, shown above, has a value of $26 million. Repeat, $26 million. Makes that duct-taped banana look like a bargain.
Botin served as vice chairman of Santander Bank during the '90s, prior to resigning from that role in 2004. He has denied the charges against him, and will almost certainly appeal the verdict. NBC News reports that he's unlikely to actually serve jail time due to his age, and also this being his first offense.   
The origin of Botin's conviction traces back to 2015, when the painting was seized from his yacht by customs officials on the island of Corsica. Said officials were working alongside Spanish authorities, and they also found a document stating that the work couldn't leave Spain without permission due to its confirmation as a work of "cultural interest." It was seized after the boat captain failed to produce a certificate stating it could leave Spain.
In 2012, Botin was reportedly told by Christie's Auctions that he'd have to get official permission to sell the work at a London auction. But, in spite of that advice/warning, he is said to have taken the painting outside the country's borders, while also telling his yacht captain to "hide it from authorities." 
He admits the painting left Spanish territory (which authorities likely knew when looking at their GPS or the nearest road sign) but says that it was to take the Picasso to Switzerland for safekeeping. 
Very relatable, all of this.