Trump Suggests the Moon Is Part of Mars and People Are Confused
Trump boldly tweeted that the planet Mars is connected to the Moon.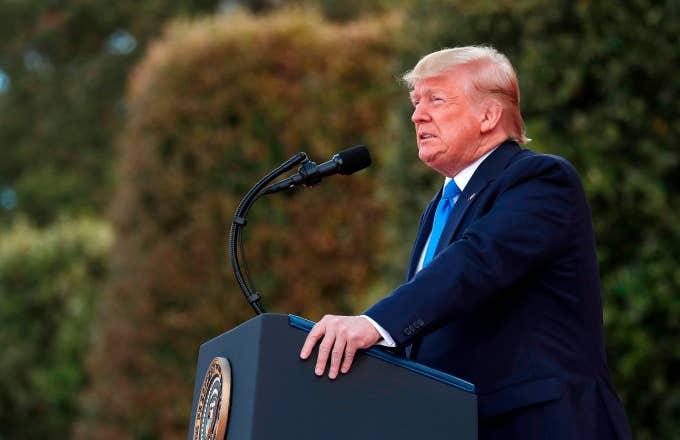 Getty
Image via Getty/IAN LANGSDON/AFP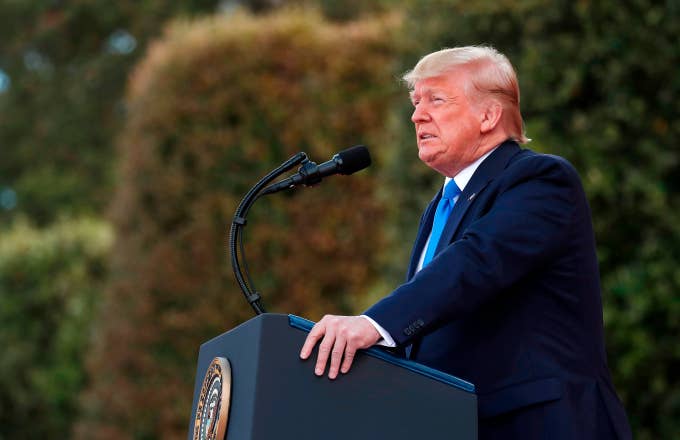 As demonstrated by J. Cole's "No Role Modelz," politicians often mince words and phrases that result in weird blunders. While this is a habitual problem in politics—due to the president's love for Twitter—Americans are now exposed to these unfiltered comments more than ever before.
This was on full display when Trump boldly tweeted that the planet Mars is connected to the Moon.
On Friday, the president took to his favorite social media site to condemn NASA for exploring Moon initiatives.
"For all of the money we are spending, NASA should NOT be talking about going to the Moon - We did that 50 years ago," Trump tweeted. "They should be focused on the much bigger things we are doing, including Mars (of which the Moon is a part), Defense and Science!"
For starters, this is a complete 180 from the stance he had less than a month ago. On May 13, Trump sent out a tweet that insisted his administration is "restoring NASA's greatness." This is in reference to Trump's 2017 directive which urged NASA to return to the Moon then make a successful trip to Mars.
"I am updating my budget to include an additional $1.6 billion so that we can return to Space in a BIG WAY!" Trump stated. 
As millennials are constantly reminded, once something is on the internet, it's there forever. Shortly after Friday's declaration, people reminded Trump of his formerly stated initiative as this appears to the exact opposite. Once that was established, the spotlight quickly shifted to the fact Trump claimed that the Moon and Mars are somehow intertwined. 
While his sentiments are confusing, it is assumed that Trump is referencing NASA's plan to use the Moon as a sustainable hub. NASA wants to make the Moon a permanent human outpost and a possible launching point as they attempt to make the incredibly long journey to Mars and other planets. Remember, this plan was created with approval and granted a budget from Trump's administration.
So why is Trump mad at them for doing what he told them to do? The answer to this is unclear, but some feel it has to do with his deep connection to Fox News. Shortly before Friday's tweet, Fox News reporter Neil Cavuto blasted NASA for doing the "Moon thing" again. This seemed to have prompted Trump to double-back on his intentions and scold NASA for simply following instructions. 
Again, it's unlikely that Trump will actually derail NASA's plans. But we'll see.