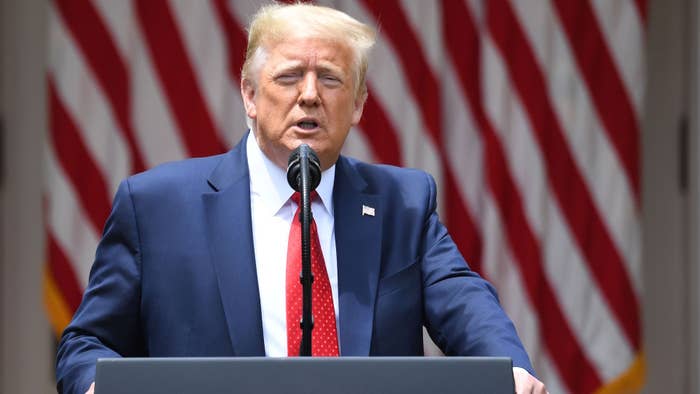 President Trump is heading back on the road despite the coronavirus pandemic still in full effect. Yet, it seems like this decision might have come at the cost of some employees' health.
Ahead of Trump's Tulsa rally on Saturday, it was reported by the New York Times that six staff members who were scheduled to work the event tested positive for COVID-19. This didn't derail the rally as White House Correspondent, Geoff Bennett, reported the Trump campaign will continue with the gathering.
"A campaign statement says 'quarantine procedures were immediately implemented,' Bennett tweeted. "'No COVID-positive staffers or anyone in immediate contact will be at today's rally.'"
President Trump and most of his supporters have been pushing for states to reopen despite a threat of a second wave. Along with defying those who believe it's unwise to host a large gathering, Trump also faced backlash for the timing of his event. Originally, Trump had scheduled his rally on Juneteenth. Because of his polarizing position in the Black community (and the massacre of Tulsa's Black Wall Street in 1921), Trump decided to push his rally to the following day in observance of this de facto holiday.
"We had previously scheduled our #MAGA Rally in Tulsa, Oklahoma, for June 19th -- a big deal," he said. "Unfortunately, however, this would fall on the Juneteenth Holiday. Many of my African American friends and supporters have reached out to suggest that we consider changing the date out of respect for this Holiday, and in observance of this important occasion and all that it represents. I have therefore decided to move our rally to Saturday, June 20th, in order to honor their requests."