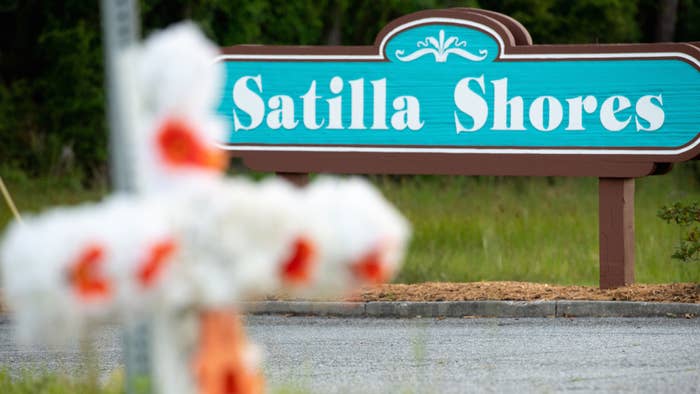 The alleged motive for Ahmaud Arbery's murder is starting to crumble.
Initially, Gregory and Travis McMichael claimed they killed Arbery because they believed him to be a suspsect in a string of burglaries in the area. However, Glynn County Police Lt. Cheri Bashlor told CNN on Friday that the neighborhood's last reported break-in happened on Jan. 1, nearly two months before the shooting took place on Feb. 23. 
The McMichaels were the victims of this robbery. Per the New Year's Day police report, a 9-mm pistol was stolen from an unlocked truck outside of their home. Because the robbery took place seven weeks before the murder, it is still unclear as to why Arbery was killed.
Earlier this week, videos started to surface showing Arbery jogging through the Satilla Shores neighborhood when the McMichaels approached and killed him. It took nearly two months for the men to be arrested, sparking outrage around the country. According to the Georgia Bureau of Investigation, Gregory and Travis McMichael were charged with murder and aggravated assault after being arrested on Thursday.
Arbery's family is now hoping that they get justice for their loved one's murder. 
"We've been here before whether it's Tamir Rice or Trayvon Martin," an attorney for Arbery's father, Benjamin Crump, told CNN. "When they kill our children, they then try to assassinate their character and I know they're going to do that with Ahmaud Arbery."
Arbery's father, Marcus Arbery Sr., added to this feeling, describing his son's killing as a "modern-day lynching."
"I just want justice for my son," he said. "I just want them to pay the price for the crime they did."