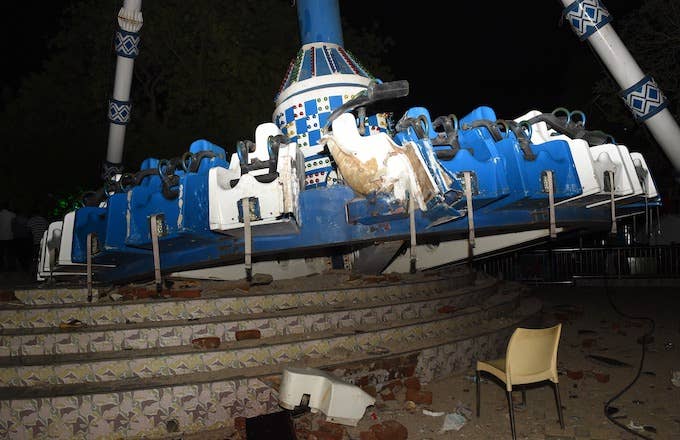 Two people have died and close to 30 others were injured following a malfunctioning pendulum ride accident in India, according to Times of India. 
Per officials, the incident took place on Sunday evening at an amusement park near Kankaria Lake in Ahmedabad, Gujarat, India. Eyewitnesses say a load bearing cable attached to the Discovery pendulum ride snapped while the ride was swinging about 20 feet in the air. This caused the carriage to crash to the ground while riders were still strapped to their seats with those in seats close to the carriage's stairs bearing most of the force. 
The two victims were identified as 24-year-old Manali Rajvadi and 22-year-old Mohammed Zaid Momin. Authorities say that 29 others were injured during the accident leaving three people in critical condition. According to Ahmedabad Additional Chief Fire Officer Rajesh Bhatt, a company named Superstar Amusement Private Ltd. was in charge of operating the ride. Authorities are currently investigating the incident. 
"We are collecting information regarding the ride's individual parts," Bhatt told the Times. "How were they assembled and the sequence of assembling to understand more about the mishap."
Warning, footage is graphic:
The accident was captured on camera by eyewitnesses.