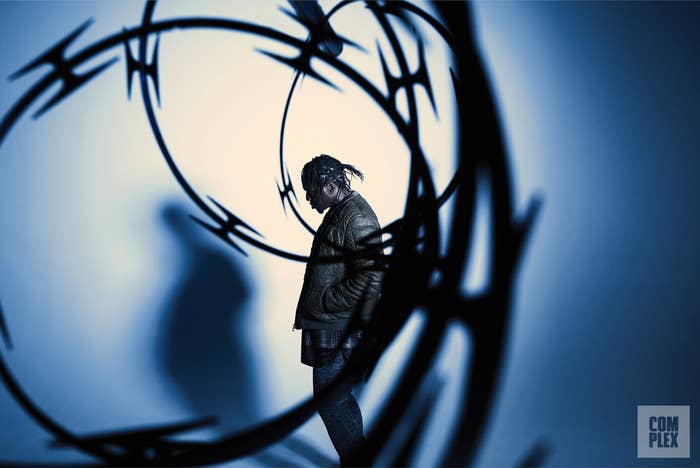 Pusha T was an active voice during the 2016 presidential election and was not shy about his support for Democratic nominee Hillary Clinton. Not only did he release a customized T-shirt highlighting one of Clinton's many clapbacks aimed at Donald Trump and help with voter registration, but he also teamed up with Clinton's running mate and fellow Virginian Tim Kaine along the campaign trail. 
He, like millions around the country, were shocked at the outcome of Nov. 8, and he had a front row seat at Clinton headquarters in NYC when it went down. "As the evening went on, you could feel the energy shift—we were extremely disheartened," he says in his new Complex cover story about his fight to end mass. "I just thought it said so much about America. I just didn't understand how he could speak so ill to so many different groups of people and they still find a way to support him."
"The [support from] white women was a bit much for me. I thought that said a lot," he continues. "The blatant disrespect to that group in particular, over and over again throughout the campaign—the people who voted for him did not care."
Trump's campaign was mired in controversy leading up to the election as the Republican nominee faced allegations of sexual assault from several women, along with a 2005 recording that included him saying he could grab women "by the pussy" because he's a "star." And yet according to exit poll data from CNN, 52 percent of white female voters cast their ballot for Trump in November. That demographic—white and female—accounted for 37 percent of the total election votes.
Pusha sees this issue as one that reflects a bigger concern in America going forward. "Trump is trying to extend the lifeline and expand upon white privilege. The racism in America—it's no longer hidden. They don't feel the need to hide anymore, because your president didn't hide it in any capacity."
Even with Trump's win, the election did have a bright side for Pusha: Proposition 64, a referendum to decriminalize recreational marijuana that he advocated for, passed in California. Harsh drug laws play a huge role in mass incarceration, an issue that has prompted Pusha to ally with activists like Dream Hampton and launch his SchoolsNotPrisons tour. "I'm going to continue to fight up until Inauguration Day, then we have to strategize a bit better with regard to how and what we're going to do going forward," he says. "It's truly going to be tough and everyone knows that. There has to be a new strategy because we're not dealing with people who actually care about our people."
Read Pusha T's full cover story here and purchase the December/January issue here.