It's almost been a year since Donald Trump proposed a complete ban of Muslims in the U.S. Sometime yesterday, the statement proposing the ban was scrubbed from Trump's campaign site. Trump was most recently asked about the ban last month, and he said he was now looking at "extreme vetting" instead of a ban.
The Independent pointed out the statement had been removed from Trump's campaign site Tuesday. A search for the statement through Google redirects to a campaign donation page. The statement published on Dec. 7, 2015 talked about U.S. Muslim immigration, saying: "Donald J. Trump is calling for a total and complete shutdown of Muslims entering the United States until our country's representatives can figure out what is going on."
Trump called for the ban after last November's Paris attacks, and then mentioned it again after the June mass shooting at the gay nightclub Pulse in Orlando. In a statement following the shooting, Trump said, "We admit more than 100,000 lifetime migrants from the Middle East each year. Since 9/11, hundreds of migrants and their children have been implicated in terrorism in the United States." (Note: the Pulse nightclub shooter was a U.S. citizen.)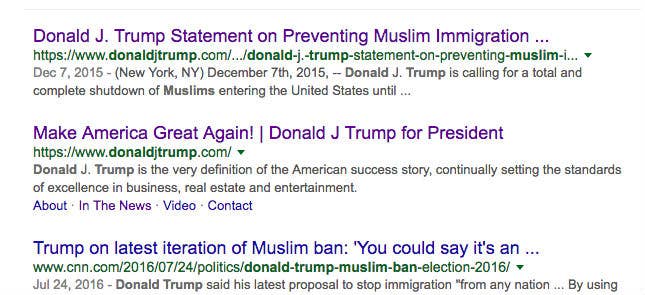 Trump was asked about the ban at the second presidential debate, and said: "People are coming into our country like we have no idea who they are. Where they are from. What their feeling about our country is and she wants 550 percent more. This is going to be the great Trojan horse of all time. I believe in building safe zones ... We know nothing about their values and we know nothing about their love for our country."
Earlier this year, over 60 percent of GOP voters surveyed in New Hampshire and during Super Tuesday agreed Muslims should be banned from the U.S.