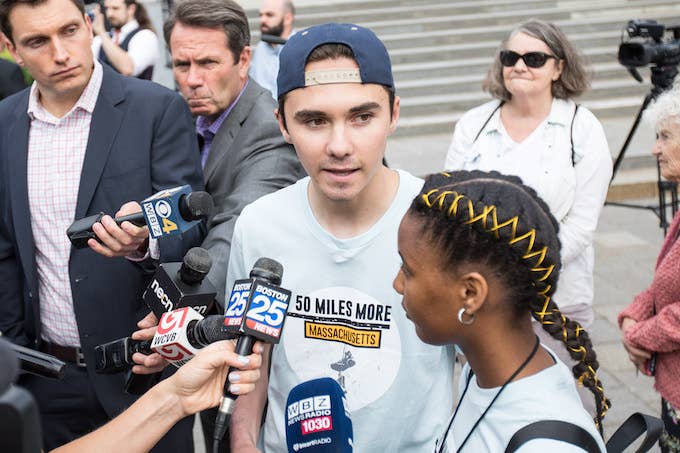 Survivors of the Parkland, Florida shooting started calling out Florida politicians and the NRA on Sunday, following a shooting in Jacksonville at the Madden 19 tournament.
A number of the students who survived the Parkland shooting on Feb. 14 at Marjory Stoneman-Douglas High School have since become extremely vocal about gun control reform in Florida and even created the March for Our Lives organization.
Student activist David Hogg took to Twitter to air his grievances directly at Florida Sen. Marco Rubio and Republicans.
"How many mass shootings in your state will it take for you to do something?" Hogg asked.
Hogg also wrote that people should unsubscribe and unfollow news outlets that share the name and photo of Sunday's gunman, hashtagging #NoNotoriety.
Student activist Delaney Tarr also took to Twitter to express her frustrations, using the hashtag #AnotherFLShooting. She wrote, "There's nothing I hate more than having to use the hashtag #AnotherFLShooting, but people need to realize that THIS KEEPS HAPPENING."
Fred Guttenberg—whose daughter Jamie Guttenberg was among 17 killed in the Parkland shooting—also called out the NRA and legislators, while sharing a live stream of the Madden 19 tournament.
"To NRA, gun lobby, manufacturers and everyone else, enough of your moronic twisting of the 2nd amendment," Guttenberg tweeted. "We have a right to public safety. Enough of your BS."
"Do not say thoughts and prayers, do not say we need to wait," Guttenberg added, in another tweet.
Sunday evening, Jacksonville Sheriff Mike Williams announced that three people are dead, including the gunman. The suspect is believed to be a 24-year-old man from Baltimore, Maryland. According to NBC's Shomari Stone, Sheriff Williams also revealed the shooter's name to be David Katz.