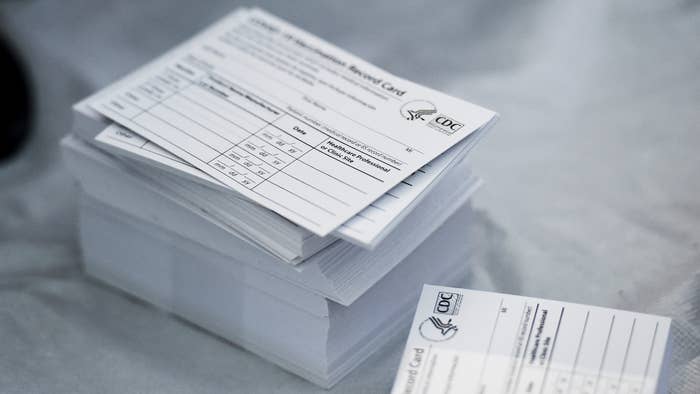 A North Carolina police chief is being reprimanded after it was discovered that he allegedly told his officers how they could obtain fake COVID-19 vaccination cards.
USA Today reports that Oakboro Police Chief TJ Smith informed members of his force about a "clinic" where they could go if they weren't vaccinated. He's now been put on unpaid leave for two weeks, which began on Tuesday. 
Oakboro Town Administrator Doug Burgess said that additional offenses could mean he's punished further, including being fired. Burgess wrote Smith a letter that told him he was being placed on unpaid leave because he breached Oakboro's personnel policy, which "bars acts of fraud, endangering the property of others and serving a conflicting interest," the outlet writes.
"I didn't profit from it," Smith said in a statement. "I couldn't possibly profit from it, and I didn't do it from a place of malice. I care deeply about others, and I sincerely appreciate that I have a job that allows me to serve them and to see things improve in my community."
Since the COVID-19 vaccine became available earlier this year, people have found ways around being immunized. Earlier this month, a Maryland man was charged after he allegedly sold more than 600 fake COVID vaccination cards on social media. If convicted, he could face 20 years in prison for each count of mail fraud and obstruction of justice.