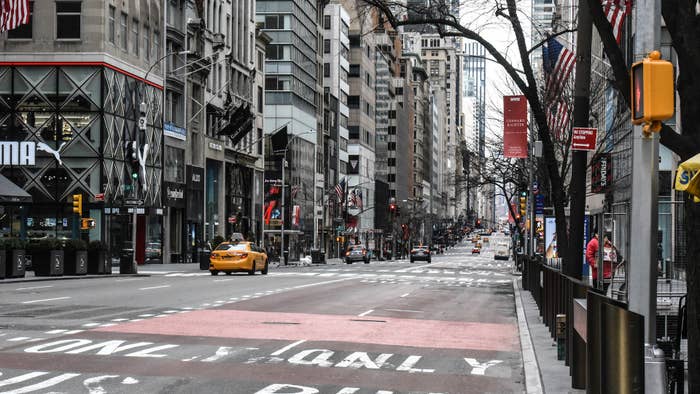 Amid coronavirus concerns, some New York officials believe the city's restriction on public life hasn't been stringent enough.
According to the New York Times, bars and restaurants in New York City on Saturday night were still somewhat crowded, which increases the likelihood that the virus can spread.
The City Council and city comptroller Scott M. Stringer have asked Gov. Andrew Cuomo and Mayor Bill de Blasio to require restaurants and bars to close. Stringer took to Twitter to call for a citywide shutdown.
"The way to get out of crisis is to act logically and strategically," he wrote in a series of tweets. "Logic says we need universal testing but that's sadly not happening. Strategy says we need more aggressive social distancing."
He added, "That is why today, out of an abundance of caution, I am calling for a city shutdown."
On Sunday, Cuomo requested that private businesses close voluntarily, with employees working from home. He added that he's also contemplating mandatory closures. He asked nonessential state employees who work in New York City, Long Island, and Rockland and Westchester Counties to work from home. He said members of Legislature should go back to Albany, adding that, "The government must function," during the news conference.
"Every option is on the table," de Blasio said Sunday morning on CNN, in regard to authorizing stricter social interactions. Now, bars and restaurants can stay open if they function at 50 percent of their maximum capacity. Officials agree that mass transit must remain open so that the health care workers can get to hospitals and other facilities.
While Nassau County—located on Long Island—has closed all private and public schools for two weeks, Cuomo announced on Sunday that he isn't closing schools in the city. However, he conceded that he believes public schools should be shuttered: "I believe the New York City schools should be closed," he told reporters, per the New York Post. Mayor de Blasio also shared Cuomo's concerns.
While some Twitter users noted how empty the streets of New York City were this weekend, others shared how many young people they saw out at bars on Saturday night.