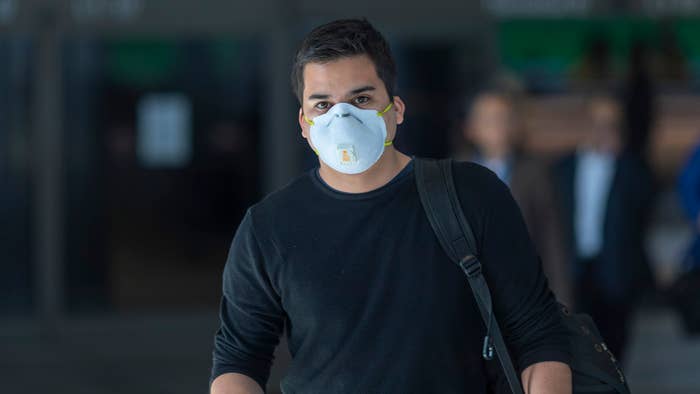 Another person in the U.S. has contracted coronavirus—this time in Rhode Island.
This marks the first possible case of the virus in that state, the New York Post reports. The Department of Health has said that the infected person is someone in their 40s who will have to be confirmed positive by the Centers for Disease Control and Prevention.
The patient—whose identity hasn't been made public—went to Italy in mid-February where there's been an uptick in cases of the virus. "We fully anticipated having a first case of COVID-19," said Director of Health Nicole Alexander-Scott, per news station WCAU.
Health officials have contacted people who have been around the patient and have advised them to place themselves in self-quarantine for two weeks with public health supervision.
"We are not seeing widespread community transmission in Rhode Island, and the general level of risk for Rhode Islanders is still low," said Alexander-Scott. "However, everyone in Rhode Island has a role to play in helping us prevent the spread of viruses, just like the flu. It is very important that people wash their hands regularly, cover their coughs and sneezes, and stay home if they are sick."
The first American has died from coronavirus in Washington state. The patient was a man in his 50s who was dealing with other medical conditions. The CDC has verified that the first possible outbreak of the virus in a nursing facility in Washington state, which is independent of the patient's death. Oregon has also had its first probable coronavirus case.
A dog in Hong Kong has been diagnosed with the virus, per CNBC. But because the dog tested for "weak positive," officials don't know if the dog is infected or contracted the virus from a contaminated surface. The dog is reportedly owned by a 60-year-old woman who started showing symptoms on Feb. 12 and subsequently tested positive. The dog hasn't developed symptoms but has still been quarantined; the owner will get the dog back after it tests negative for the virus.
While the virus initially came from an animal—scientists say it was a bat—evidence says pets like dogs and cats can't get the virus. But scientists say their understanding of coronavirus is still evolving. As a safeguard, Hong Kong will quarantine all dogs, cats, and domesticated animals if their owners test positive and are quarantined for the virus.
The number of confirmed cases in the U.S. has grown to 71, with 41 of those cases stemming from passengers on the Diamond Princess cruise ship in Japan, per the CDC. A majority of the other cases have been found on the West Coast, including 12 confirmed patients in California and six in the Seattle area. People in Illinois, Wisconsin, Texas, Arizona, and Massachusetts have also tested positive.