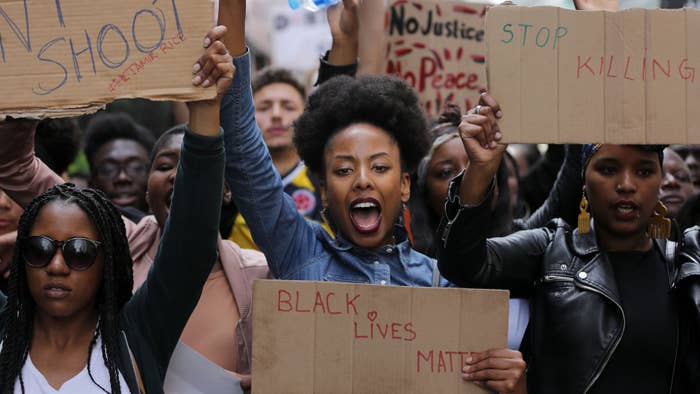 A 26-year-old EMT was shot and killed by the police in her apartment in Louisville, Kentucky. None of the officers involved in the incident have been charged.
Cops shot Breonna Taylor at least eight times on March 13, according to a lawsuit filed by her family. The family wants those responsible for her death to be punished, accusing the officers of wrongful death, excessive force, and gross negligence.
"Not one person has talked to me. Not one person has explained anything to me," Taylor's mother, Tamika Palmer told The Washington Post.
According to the lawsuit, officials maintain that the police were carrying out a drug warrant. Police were reportedly looking for a man who didn't live in Taylor's apartment complex. The lawsuit also states that the suspect had been apprehended earlier that day, before the officers came to Taylor's apartment. Drugs weren't found in Taylor's home.
Taylor's boyfriend Kenneth Walker was with her when the police attempted to enter the apartment without declaring their arrival. Walker—who is a licensed gun owner—reportedly fired at the officers when they tried to open the door. Walker was subsequently arrested and now faces charges of first-degree assault and attempted murder of a police officer. According to the report, the couple thought someone was trying to rob their apartment.
The lawsuit also alleges that officers fired over 20 rounds in Taylor's home, hitting objects in the living room, dining room, kitchen, bathroom, and both bedrooms.
The Louisville Metro Police Department declined to comment on the case, instead telling The Post, "There is an ongoing public integrity investigation into this case and therefore it would be inappropriate for us to comment at this time."
As an EMT, Taylor was working on the frontlines of the coronavirus pandemic. "She was an essential worker. She had to go to work," Palmer told the outlet. "She didn't have a problem with that. To not be able to sleep in her own bed without someone busting down her door and taking her life. I was just like, 'Make sure you wash your hands!'"
Taylor's family has hired attorney Ben Crump, the same lawyer who is representing Ahmaud Arbery's family. A father and son and killed Arbery in March while he was running in his neighborhood. The two men were arrested and charged in Arbery's death last week. Crump is known for his involvement in the high-profile cases of Trayvon Martin, Michael Brown, and Tamir Rice.