Walmart Is Being Sued for Locking Black Hair-Care Products in a Glass Case
A black mother of five said she was prohibited from touching the merchandise until she had purchased them.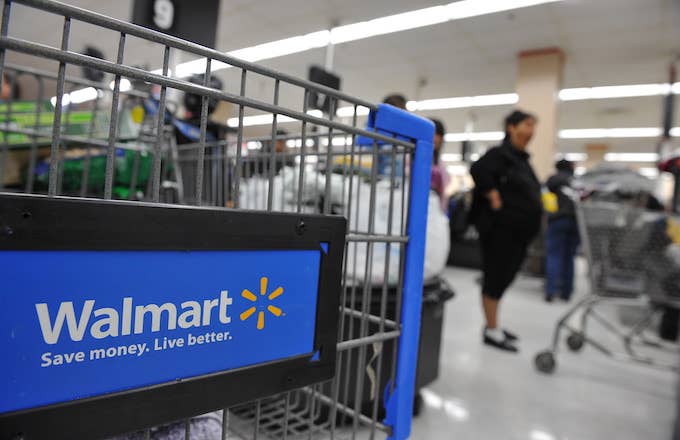 Getty
Shoppers wait in line to pay for their purchases at a Walmart store in Los Angeles, California on November 24, 2009, a few days before Black Friday the day after Thanksgiving which kicks off the holiday shopping season. AFP PHOTO / Robyn Beck (Photo credit should read ROBYN BECK/AFP/Getty Images)
Walmart is facing a discrimination lawsuit after a woman accused the retailer of locking black hair-care products in a glass case, while other merchandise was easily accessible.
According to NBC 4 in Los Angeles, Essie Grundy claims she was discriminated against on Jan. 12 while shopping at a Walmart in California. The woman claims the hair and skin products designed for African Americans were placed in a secured box that could only be opened by a store employee. Gundy said that after she asked an associate to open the case, she was prohibited from touching the products until she had purchased them. And in order to purchase them, an employee was required to accompany her to a register.
Gundy said she felt like a criminal, and all she wanted to buy was a 48-cent comb.
"It was something I had to stand up for," she explained during a recent press conference. "I would like the glass to go down, and for things to go back to the way it was, where it's not segregated and everything is where everyone can get what they need."
Famed attorney Gloria Allred is representing Gundy, a mother of five. According to Allred, a Walmart employee admitted that other customers had complained about the locked cases; however, the employee said the decision to segregate black hair-care products was an order from corporate.
A spokesperson for Walmart insisted the company does not tolerate any racial discrimination, and that these kinds of policies are not implemented by corporate.
"We serve more than 140 million customers weekly, crossing all demographics, and are focused on meeting their needs while providing the best shopping experience at each store," a spokesperson said in a statement. "We're sensitive to this situation and also understand, like other retailers, that some products such as electronics, automotive, cosmetics and other personal care products are subject to additional security. Those determinations are made on a store-by-store basis using data supporting the need for the heightened measures. While we've yet to review a complaint, we take this situation seriously and look forward to addressing it with the court."
Racism is still alive! I cant believe it goes this far!! Walmart in california locks down the african american hair products. 🤯While Caucasian hair products are up for grabs🤦🏽‍♀️

pic.twitter.com/x0nYtm2ioo