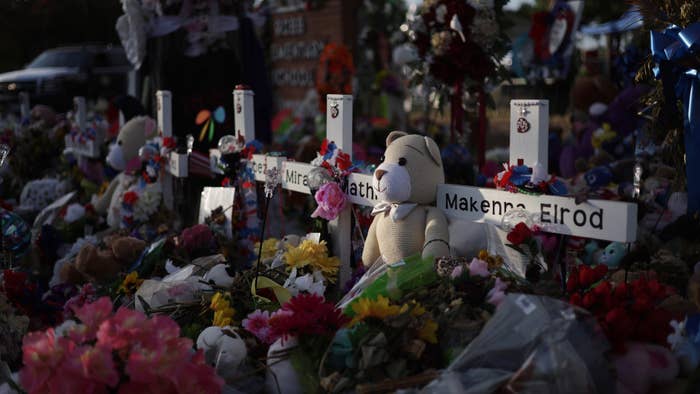 An Uvalde survivor was reportedly hospitalized last week after visiting her best friend's memorial site.
According to People magazine, IIliana Treviño was inside Robb Elementary when an 18-year-old gunman entered a fourth-grade classroom and opened fire, killing 19 children and two adults. Though Illiana was in a separate room at the time of the attack, her best friend Amerie Jo Garza was among those who were fatally shot during the massacre.
Illiana's mother, Jessica Treviño, said Amerie would frequently protect her daughter from school bullies and "always came to her aid." She said Illiana's agony became even more apparent after they visited Amerie's memorial last week to leave flowers and a teddy bear. Shortly after, Illiana's heart rate began to spike, so much so that her mother decided to rush her to the hospital. 
"The hospital told me, 'Your daughter's going into cardiac arrest.' And I said, 'What?'" Treviño recalled. "Her heart [rate] skyrocketed because she couldn't take the trauma … all the trauma and pain from it."
Treviño said her daughter had no prior heart issues and that the medication doctors prescribed isn't working. She confirmed Illiana is still hospitalized in San Antonio, but it remains unclear when she will be released.
"I think it's just from a broken heart that we need to work on healing," Treviño told People. "Everything just broke her in half, and she feels the fear of being bullied again [...] Her body was basically shutting down completely. It couldn't take it. Her body was basically reacting to the shock. Amerie made her feel safe and made her feel OK to go to school."
People previously reported Amerie had celebrated her 10th birthday just weeks before the mass shooting. Her family says Amerie tried to call 911 before she was shot and killed.
"He could have just taken her phone away," Amerie's grandmother Berlinda Arreola told the magazine. "He could have just broke it, done something. And he just shot her. She was a hero trying to call 911, to save her and her friends."
The Girl Scouts posthumously awarded Amerie with the Bronze Cross—a medal that's presented when "girl has shown special heroism or faced extraordinary risk of her own life to save another's life or an attempt to save another life."
Treviño praised Amerie's parents for "raising such a beautiful little love." 
"It's so sad how things work out in life, because it's not fair," she said. "It really isn't fair that any of these children lost their lives, but it just really breaks me more because I know how much this child did for my child. [Illiana] is still dealing with some hard issues. And it's a long road to recovery."
Treviño has since launched a GoFundMe campaign to help cover her daughter's medical expenses.