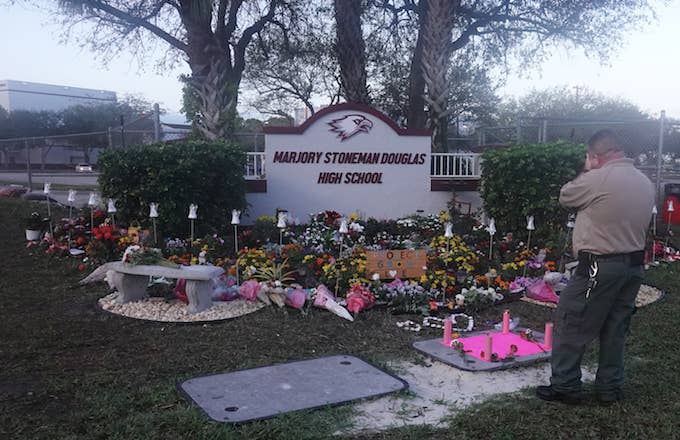 Sydney Aiello, a Florida teenager who survived the 2018 Parkland massacre, took her own life over the weekend.
The 19-year-old's family shared the tragic news with CBS Miami on Thursday, about 13 months after a gunman killed 17 of her classmates at Marjory Stoneman Douglas High School. The MSD graduate was reportedly on campus during the Feb. 14 shooting, which resulted in the death of her close friend Meadow Pollack. Aiello's mother, Cara Aiello, revealed her daughter had struggled with survivor's guilt in the year following the shooting, and was recently diagnosed with post-traumatic stress disorder. 
Cara Aiello told CBS Miami her daughter found it difficult to attend college classes because she feared being in a classroom setting. The mother also said Aiello was noticably sad, but never asked for help.
"It breaks my heart that we've lost yet another student from Stoneman Douglas," said Ryan Petty, the father of Parkland shooting victim Alaina Petty. "My advice to parents is to ask questions, don't wait."
Following the death of his 14-year-old daughter, Petty has become an advocate for gun control reform and has also dedicated himself to suicide prevention, as he fears some of the traumtized teens will take their own lives.
"Some of the questions that need to be asked are—do you wish you were dead and not wake up? Second question—have you had thoughts of killing herself?" he told CBS Miami.
Aiello is also survived by her father, Joe, and brother, Nick. The family is accepting donations on a GoFundMe page set up in Aiello's memory.
"She lit up every room she entered. She filled her days cheerleading, doing yoga, and brightening up the days of others," the account reads. "Sydney aspired to work in the medical field helping others in need."
If you or someone you know is in crisis and needs help, call the National Suicide Prevention Lifeline at 1-800-273-8255.