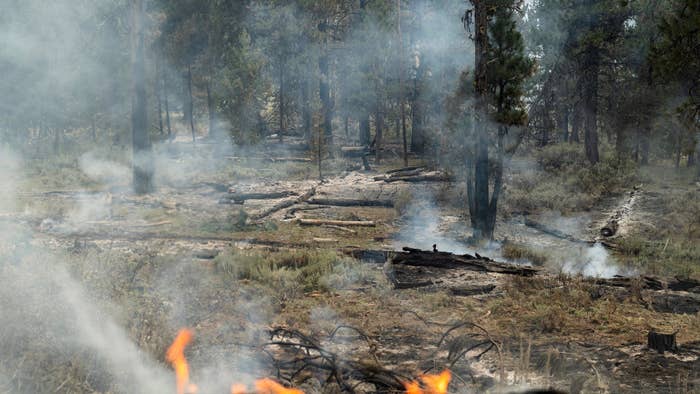 A man accused of starting multiple wildfires in Oregon is now behind bars. And it's all thanks to quick-acting and incredibly gutsy residents.
According to the Associated Press, Oregon officials had been searching for a man who allegedly ignited two fires Monday in a remote forested area of Curry County. An employee with the Bureau of Land Management notified local law enforcement about a white male adult who was seen starting fires while traveling down a gravel road. The Curry County Sheriff's office then contacted multiple agencies to help extinguish the fires and locate the arsonists.
As authorities got the fires contained and under control, three residents spotted a man who fit the suspect's description. Curry County Sheriff John Ward says the man became combative with the locals, who managed to tie him to a tree until police arrived. The suspect was later identified as 30-year-old Trennon Smith.
Ward says the man was arrested at the scene, and transferred to a hospital where he was treated for injuries allegedly sustained from a fall. He was booked into Curry County jail shortly after on two charges of arson in the first degree and one count of reckless burning. His bond was set at $100,000.
"The Curry County Sheriff's Office would like to thank all agencies who responded to assist in the fire control and detaining Trennon Smith for starting the fires," Ward said in a statement. "The cooperation and partnership between all agencies when something like this occur is remarkable. The quick actions on getting the fires out most certainly averted a catastrophe and saved lives.  The total area burnt is less than one acre.  If the fires had not been contained and if they got out of control, they could have blocked all the residents and visitors from having an escape route."