 Donald Trump has drawn his fair share of Hitler comparisons, some based in fact and others based in speculation, and he's recently been criticized for asking supporters to raise their right hands and pledge to vote for him at his rallies (the whole effect is a little too Nazi Germany for comfort). But they seemed a little far-fetched—after all, is it really possible to muster that amount of hatred and ignorance in 2016? 
As it turns out, yes, there are still people so bigoted that they'll do things like throw up a Nazi "Heil" in public. And, unsurprisingly, those people would like to see Donald Trump elected president. One photo in particular, of an unidentified elderly woman bedecked in Trump gear, clutching a cigarette in one hand and giving a Nazi salute with the other, has been making the Internet rounds: 
According to the Daily Beast, the woman is Birgitt Peterson, of Yorkville, Illinois. However, as is their habit, they refused to believe one of their own would do such a thing, despite heaps of evidence to the contrary. They insisted the woman was in fact Portia Boulger, a Bernie Sanders supporter who'd been planted at the scene to cause trouble (as if they weren't already experts in that realm). Boulger has denied this, and besides, she looks nothing like the woman in the photo.
But Trump's son, Donald Trump Jr., ran with the theory, tweeting that "Boulger's" picture was designed to cause outrage. He's since deleted the tweets, but screenshots are forever: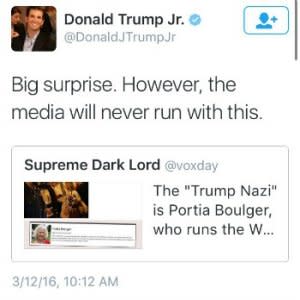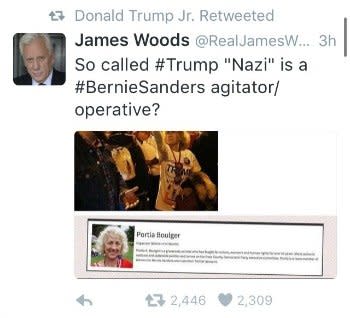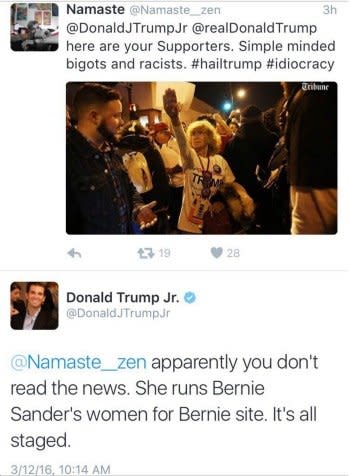 Meanwhile Michael Joseph Garza, the man seen to the woman's left, posted his version of the event on Facebook.
Turns out Trump just happens to attract the sort of supporters who'd resurrect a decades-old symbol of hatred. Even Hitler is offended.