Free Game With Henrie is the latest instalment from Instagram's Black Perspectives—a project designed to support Black creatives and give them the credit they truly deserve—that each and every budding creative needs to watch.
Hosted exclusively on Henrie Kwushue's IG, the Reels content series will see the Kiss FM presenter and co-host of Spotify's Who We Be podcast put some eye-opening questions—submitted by her community—to the UK music industry's most recognisable faces. Viewers will hear stories and advice from drill star Unknown T, Poet—host of the Filthy Fellas podcast—and BBC Radio 1 DJ Tiffany Calver. In the show, they'll give an insight into how they created names for themselves in their respective fields, and there's no holding back: everything from money and industry haters to bad business will be covered in these fast-paced chats.
Henrie's charismatic interview style and her relationship with the guests mean that these conversations are as candid as ever. Free Game With Henrie is a gatekeeper-free zone where everyone who wants to be put on can be. Have you ever wondered how much money people have turned down? Are you curious about the biggest expense music artists have? How long it really takes you to make bank in this industry? Let Free Game With Henrie be your new one-stop-shop for rare industry gems that you've always wanted to know about but have been too afraid to ask.
We sat down with Henrie Kwushue to talk about her show, who her dream guests would be, and why the creative industries can sometimes be a maze if you don't have the right connections.
COMPLEX: How did you come up with the idea of Free Game With Henrie? 

Henrie Kwushue: When Black Perspectives was first introduced to me, I thought it was important to do something that hadn't been seen before, something that felt personable and accessible. I know people out there want to ask my guests these questions, but they're maybe too awkward to slide in the DMs or ask in person. So I wanted to create a central hub where those questions can be answered because you probably won't find responses on Google, plus a lot of people on the internet lie anyway. Free Game With Henrie lets people get the information they want straight from the horse's mouth. I think that I was quite blessed when I first got into the industry because a lot of the questions that people were asking me, I already had someone to ask. I remember asking Sian Anderson stuff all the time; I'd ask her how I make enough to move out, for example. Not many people have those people to hand, so I think that's where the idea came from as well.
Why do you think people struggle to access this important industry information?
Within every industry, there is gatekeeping, which is a big reason. It's also a bit of an awkward topic sometimes talking about people in the industry you might not like or don't like you. It's awkward talking about how much money you make or don't make. These are things that people hardly ever speak about because I don't know if anybody wants to be the first one to say, "Hey guys, here is the complete truth." So all these things make accessing information in the industry a bit of a grey area.
How did you decide who you would speak to, and how did you pick the questions?
We got people to submit questions they'd be too nervous about asking in real life via Instagram Stories. We wanted people to ask about something they've always wanted to know about their industry. I picked my guests because each of them is at the top of their game, and I've never heard them really explain who they are, the things they've had to do, how much they make, or even how they just live and vibe, you know?
How did you conduct the interviews so naturally? There were some really intrusive questions. Were you worried about asking them?
When I describe myself as a person, I say I'm so vanilla. Unless toes really need to be stepped on, I don't want to step on toes. However, at panel talks, you get asked the same questions every time because who is going to stand up and ask, "How broke were you for the first three months of your job? How long did it take you to move out of your yard? What was your first paycheque like?" It would've been too easy to do something like that, and even I had to push myself out of my comfort zone for this. I also see myself as a budding creator, so in doing this, I realised that not everything has to be vanilla—things can be a bit left, and you should take risks.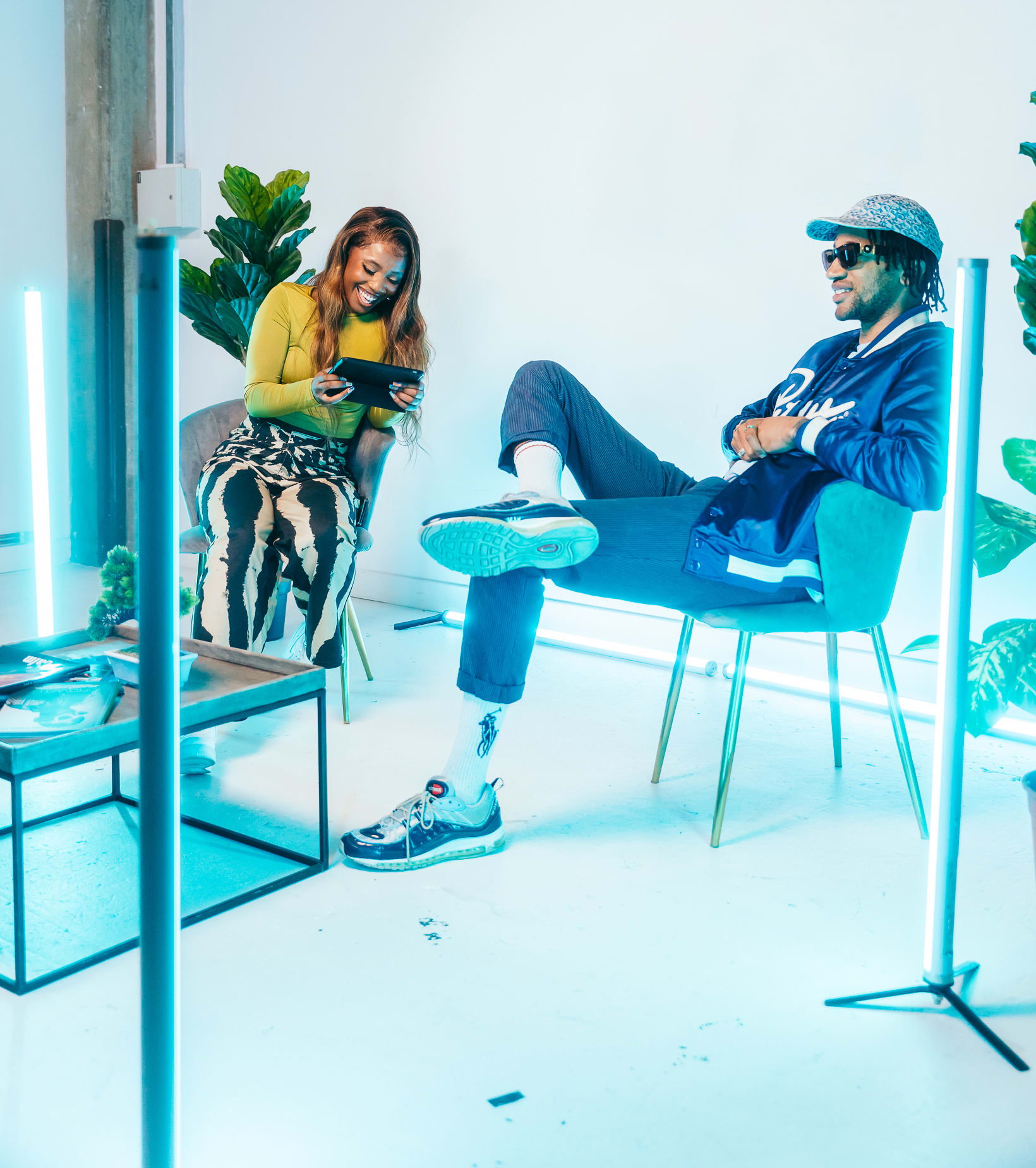 Out of everyone you've spoken to, who do you think gave the best piece of advice or information?
I think the most surprising was Unknown T. He was actually open and honest about everything and his opinions on the industry. I reckon, for up-and-coming artists, someone like unknown T being honest in this space on Instagram is really encouraging. 
If you could do this again, or if you could expand this series somehow, how would you do that?
I'd continue to get different Black creatives in the entertainment industry, from music to fashion, and get them to answer the same questions. That way, when you kind of look back on the content, it's now a really well-rounded piece on the entire entertainment industry as a whole.
Do you have any Free Game With Henrie dream guests?
Maya Jama would be incredible, Naomi Campbell, Idris Elba and Anthony Joshua.
How was it being lead creative on Black Perspectives?
I thought it was really interesting because we had to sit down and think about ourselves as creatives, but also how we serve other Black creators. I had to have a really deep look at the creative space around me, who exists in it, what kind of things they'd like to see and what's missing already. So it was definitely an interesting journey to go on.
Head over to the Instagram profiles of Henrie Kwushue, Tanya Compas, Ibrahim Kamara and Estare Areola to check out their #BlackPerspectives initiatives.