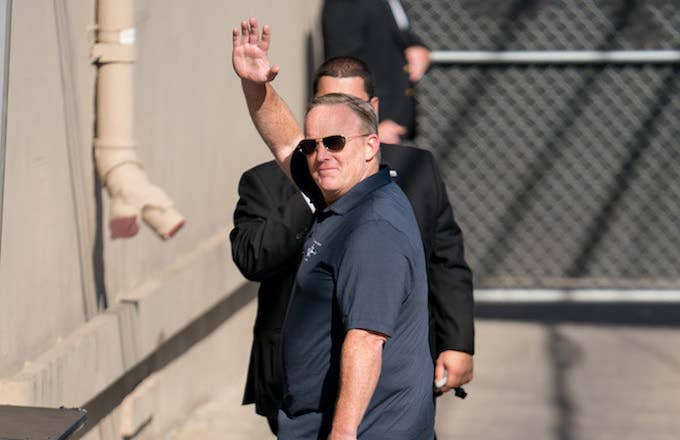 After resigning from his White House Press Secretary position last July, Sean Spicer periodically delivers reminders that he still exists. His latest showing is his interview with MSNBC's Craig Melvin.
Spicer was on the network mainly to talk about his upcoming memoir and a number of ongoings within the GOP before Donald Trump's State of the Union address on Tuesday. The conversation between the two turned toward the absurd nature of Spicer's tenure as the White House's spokesperson. After playing a highlight reel of his greatest whiffs—for there were no hits—Melvin asked if he had any regrets. He explained that he does, somewhat. 
Spicer: I think in terms of net-net, I enjoyed having a front row seat to history, was an opportunity of a lifetime. Did I make mistakes? Thank you for taking me down memory lane. Absolutely. Do I hope I grow as a person, as a friend, as a stranger to do better? Absolutely.
The answer is a surprise because Spicer didn't really come across as someone capable of feeling shame. He notably popped up at last year's Emmy in a joke cameo, well after his name became synonymous with incompetency. Spicer became the Trump Administration's mascot of sorts: After lying about the inauguration attendance size during his first press conference, Spicer continuously promoted falsehoods and struggled to form words with his mouth. 
Spicer's most ignominious moment came on April 11, when he said "someone as despicable as Hitler who didn't even sink to using chemical weapons" in response to the prior week's sarin gas attack in Syria. Of course, Hitler did kill millions of Jews in chemical gas chambers; and, of course, April 11 fell on Passover. (Spicer would later clarify that he meant "the tactic of using airplanes to drop chemical weapons on population centers." Hitler didn't do so likely for tactical reasons.)
Sadly, this would not be the last Hitler-wasn't-that-bad take.
Watch the full interview here. The back-and-forth about regret begins at the 10:27 mark.