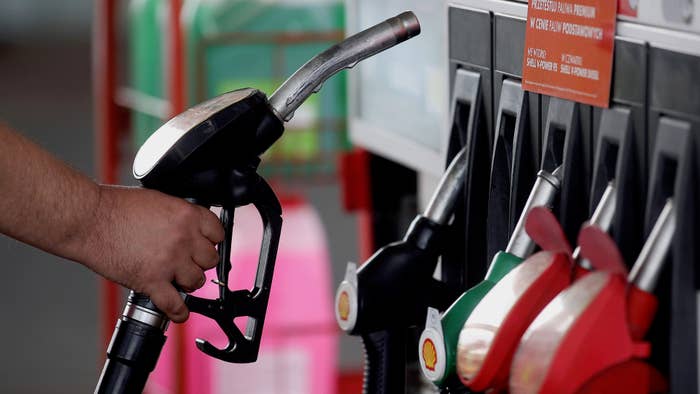 It's time to postpone any summer road trip plans. With gas prices reaching new record highs, many drivers fear they won't be able to afford to fill up their tanks this summer, according to a recent poll.
Earlier this month, drivers watched as the average cost of regular gasoline surpassed the $2-per-litre mark. An Ipsos Poll, made exclusively for Global News, revealed that 69 percent of Canadian respondents were worried they might not be able to afford gas.
"There's a great deal of concern about the affordability of gas," said Ipsos Canada vice-president Gregory Jack, in an interview with Global.
"The worry is especially true across the country and especially with people who have kids."
The poll also revealed that fear struck harder among households with kids (80 percent), as well as younger generations from age 18 to 34 (77 percent) and age 35 to 54 (74 percent). 
Around 75 percent of Canadians say they have reduced their time on the road in hopes of saving money. Half of Canadians surveyed also said they couldn't afford to fill their entire tank due to the drastic price increase. 
As we enter a long-awaited summer without pandemic travel restrictions, it's inevitable that gas prices would begin to increase. When asked how high they are expecting gas prices to go, three in 10 Canadians said they expect gas to reach the $2.50/L mark, while 15 percent of those polled expect prices to rise to $3/L. 
GasBuddy petroleum analyst Patrick De Haan says that while the $2.50/L mark is not unrealistic, it would take "extenuating circumstances" for gas prices to increase that excessively this summer. 
More specifically, he believes that a major hurricane, like Harvey or Ida, would pose a huge risk to oil disruption that would affect gas prices this summer.
"Having said that, I do expect some measure of relief, should we be able to escape hurricane season without a major storm," he said to Global.
While the boost in Canadian and American oil production could offer drivers a financial breather at the gas station, Haan warns that the ongoing war in Ukraine and shifts in the global economy could continue to raise gas prices. 
"We could be in this period of elevated prices for the next year or two, potentially beyond," De Haan said. "It's very difficult to know because of the very unique circumstances that we're in right now."
Around 44 percent of respondents told Ipsos they are looking into downsizing their car to something more fuel-efficient. 
For those who are able to afford it, switching to an electric car is looking like the most viable option. 
"We've been dealing with internal combustion engine cars for more than a century, and now the option is really here for ordinary people to buy an (electric) vehicle; it's still a little bit more expensive than a lot of the gasoline powered cars, but it's a realistic option," Dimitry Anastakis, professor at the Rotman School of Management, told Global.
More than a third of the poll respondents said they've contemplated purchasing an electric car in the next year to help reduce their gas bills, with almost half of respondents from age 18 to 34 saying they're considering going electric. 
Those with more financial stability, earning over $100,000 a year, are more likely to consider buying an electric car (45 percent) in comparison to those who earn between $40,000 and $60,000 (31 percent). 
"It is a lot cheaper to fuel your EV than it is right now to fuel a gasoline-powered engine," Anastakis said. 
Price is undoubtedly a primary factor in determining whether or not to go electric. However, Anastakis points out that scarcity of materials used in the production of electric cars, like rare minerals and semiconductors, also play a role in the distribution of the cars. It's also important to look at the government incentives, varying from province to province, used to alter the cost-benefit analysis for some Canadian buyers. 
Before making the financial commitment, buyers also need to look into the reliability of the charging infrastructure for electric cars. Anastakis notes that the current refuelling infrastructure is centered around gasoline-fuelled cars, but in a few years he thinks things will shift to accommodate electric cars. 
He adds: "In the next ten years, pretty much anybody who's going to be buying a vehicle is going to face this fundamental question: Do I get an internal combustion engine based on gasoline or do I get an EV?"