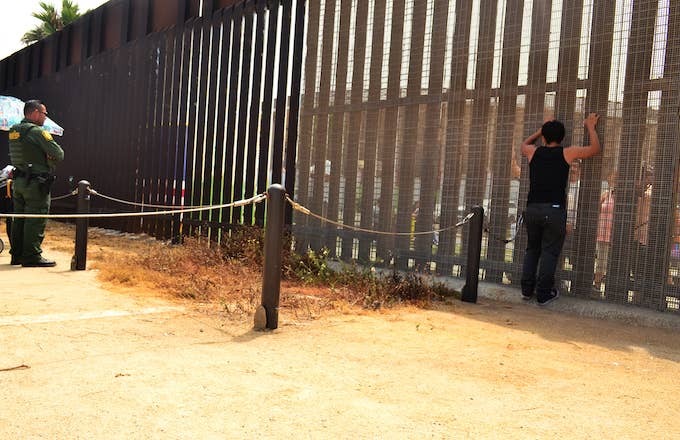 President Donald Trump's plan for a "big, beautiful wall" has officially begun. 
The federal government started working on replacing border wall in California, the Associated Pressreports. It marks the first wall contract underway in the Trump administration outside of eight prototypes that were built last year in San Diego. Customs and Border Protection are currently replacing just over 2 miles of the pre-existing wall in downtown Calexico.
The wall, which was first built in the 1990s from recycled metal scraps and landing mat, will now be substituted for "bollard-style barriers" that are 30 feet high. So not only is the replacement wall going to be extended, it will also be much higher—making it more difficult for those who may wish to climb it.
The government is planning to drop $18 billion to extend the barrier, whose construction was approved in September by "waiving dozens of environmental and other reviews in Calexico." The announcement that Trump would sign the executive order to build his dream wall came early last year, with Trump tweeting "Big day planned on NATIONAL SECURITY tomorrow. Among many other things, we will build the wall!" He sourced a Bush-era law called the Secure Fence Act in order to direct money towards constructing the barrier on the U.S.-Mexico border. 
Last month, Kellyanne Conway commented on Trump's challenges with the wall. "What's true is that after conferring with the experts who are involved in this process, Christopher, the president has discovered that part of it will be, he knows, part of it will be the physical wall, part of it is better technology, part of it is also fencing," Conway explained to CNN's Chris Cuomo at the time. "You know, there are rivers involved, I'm told. There are mountains involved. There's terrain that isn't conducive to building an actual physical structure in some places."