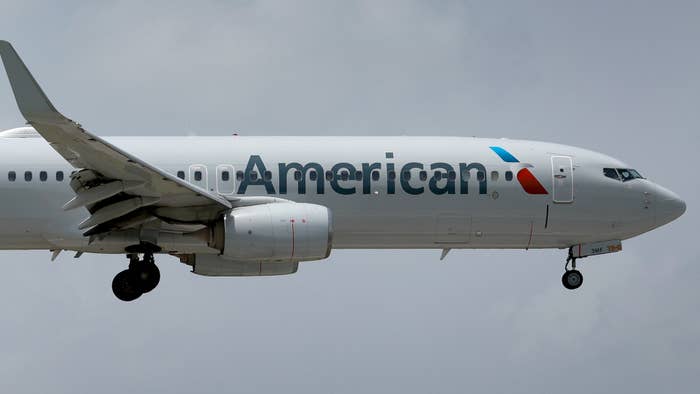 A video shows a woman who claims to be "Instagram famous" getting kicked off an American Airlines flight for seemingly arguing with other passengers, per TMZ.
A 20-second clip of the incident shows the woman in a bodysuit engaging in an argument with the airplane staff as she grabs her luggage.
"Call me a b-tch again," she say in the clip, as seen below. "I did nothing wrong."
Another passenger off-camera tells her to "shut up," prompting her to tell them to "You shut the f-ck up and your b-tch."
As she leaves the plane, she turns to notice someone filming her public outburst. "Film me, I'm Instagram famous, you f-cking bum."
It's unclear when the flight took place, and if her outburst caused any delays, but American Airlines' logo can be seen throughout the clip.
The NY Post confirmed the woman in the clip is Morgan Osman. She is somewhat famous on Instagram as she has nearly a million followers. Those numbers are likey to go up after this incident. Osman also appeared on Season 5 of the reality show the Bad Girls Club: Miami and has claimed she dated Britney Spears' estranged husband Sam Ashgari following their divorce.
Air travel continues to be a source of major online fodder. Air Canada, for example, had to issue apologies to travelers on a recent flight from Las Vegas to Montreal after seats were reportedly covered in vomit. Delta Airlines, meanwhile, caught flak after they offered a woman just $1,800 after losing her dog at Hartsfield-Jackson Atlanta International Airport. Another Delta flight from Atlanta to Barcelona was forced to turn around after a passenger suffered extremely violent diarrhea in the airplane's aisles.
Perhaps the biggest airplane freakout of the year occurred in July, when a woman was seen disrupting a flight by yelling at passengers about a person she claimed was "not real." The woman was later identified as Tiffany Gomas, who has since addressed the incident. She said that she's back to traveling again, although she can't "comment right now" before suggesting that a long-form interview might be on the way.