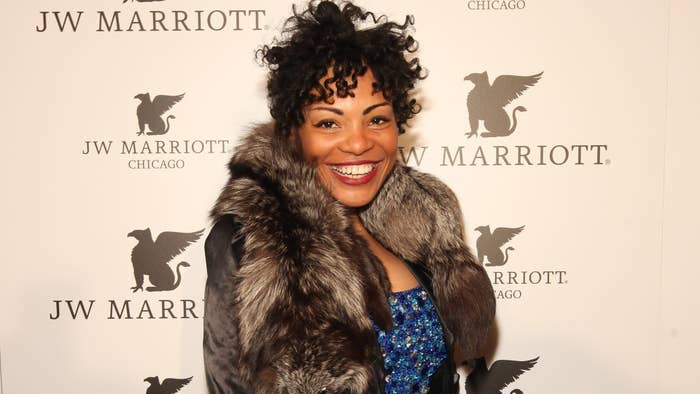 Trevian Kutti, who previously worked as a publicist for R. Kelly and the artist formerly known as Kanye West, has turned herself into authorities in Georgia for her role in Donald Trump's alleged scheme to overturn the 2020 election results.
She was arrested on Friday and was one of the last of the 19 defendants charged in an indictment with conspiracy to overturn the Georgia election results to turn herself in. Her booking photo from Friday, Aug. 25, as seen below, was released by Fulton County authorities less than 24 hours after Trump's mugshot arrived. Illinois pastor Stephen Lee was the last individual to turn himself in, doing so shortly after Kutti did on Friday.
She and Lee were granted a $75,000 bond this week for allegedly pressuring a Georgia worker to falsely admit she was rigging the election in favor of President Joe Biden.
The election worker, Ruby Freeman, and her daughter Shaye Moss, were accused by Kutti and various Trump allies including Rudy Giuliani of rigging the results against Trump by delivering fraudulent Biden votes. Kutti visited her home in January 2021 and falsely claimed she was a "crisis manager."
"I cannot say what specifically will take place … I just know that it will disrupt your freedom … and the freedom of one or more of your family members.… You are a loose end for a party that needs to tidy up," Kutti told Freeman in body camera footage where she tried to accuse her of voter fraud. In the clip, she put Harrison Floyd, the former Black Voices for Trump director who also turned himself in this week, on speakerphone and he suggested Freeman would go to jail if she didn't admit to wrongdoing.
On Thursday, Donald Trump turned himself in to Atlanta authorities on charges of 13 felonies. He is among 19 co-defendants named in the sweeping indictment related to the 2020 presidential election. Trump's charges included violation of the state's RICO Act, solicitation of violation of oath by public officer, filing false documents, and more.
Trump is being represented by Georgia attorney Steve Sadow, who most recently worked with Gunna. "The President should never have been indicted. He is innocent of all the charges brought against him," Sadow said. "We look forward to the case being dismissed or, if necessary, an unbiased, open-minded jury finding the President not guilty. Prosecutions intended to advance or serve the ambitions and careers of political opponents of the President have no place in our justice system."
After he was released, Trump addressed the press on the tarmac before reboarding his plane. "I really believe this is a very sad day for America," said Trump, who is the first former president to get a mugshot. "This should never happen. If you challenge an election, you should be able to challenge an election. I thought the election was a rigged election, a stolen election, and I should have every right to do that. … What has taken place here is a travesty of justice—we did nothing wrong, I did nothing wrong, and everybody knows it."