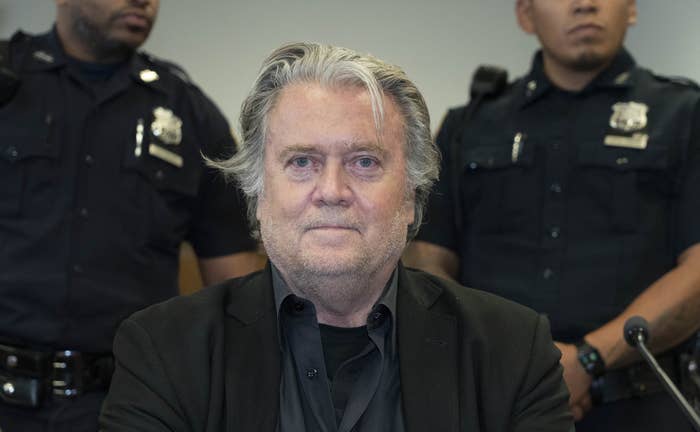 Former Donald Trump advisor Steve Bannon has been sentenced to four months behind bars.
Per Rolling Stone, Bannon was given the prison time and ordered to pay a $6,500 fine for criminal contempt of Congress after he refused to adhere to a subpoena issued to him by the Jan. 6 committee. Trump-appointed Judge Carl Nichols said in his sentencing that Bannon "expressed no remorse." He is expected to appeal the sentence, and will only need to serve his prison term after he appeals.
Prior to his sentencing, Steve Bannon suggested that the upcoming midterm elections will bring "judgement" upon Biden's "regime." 
"The Jan. 6 committee has every right to investigate what happened that day," said Nichols, who noted Bannon has failed to provide any documentation or testimony in relation to his involvement in the Capitol riots. Bannon was charged with two counts of contempt of Congress in November 2021, and found guilty in July of this year.
In a memo filed earlier this week, federal government prosecutors said they were seeking a six-month prison sentence and a $200,000 fine. "For his sustained, bad-faith contempt of Congress, the Defendant should be sentenced to six months' imprisonment—the top end of the Sentencing Guidelines' range—and fined $200,000 — based on his insistence on paying the maximum fine rather than cooperate with the Probation Office's routine pre-sentencing financial investigation," read the sentencing memo. "A person could have shown no greater contempt than the Defendant did in his defiance of the Committee's subpoena."
The Jan. 6 committee played audio of Bannon expressing Trump's plans to refute the results of 2020 election. "What Trump's gonna do, is he's going to declare victory," Bannon told some of his associates ahead of the election, in audio that was played by the committee earlier this month. "That doesn't mean he's the winner. He's just going to say he's the winner." Footage from his podcast also showed him, the day before the events of Jan. 6, stating that "all hell is going to break loose tomorrow."