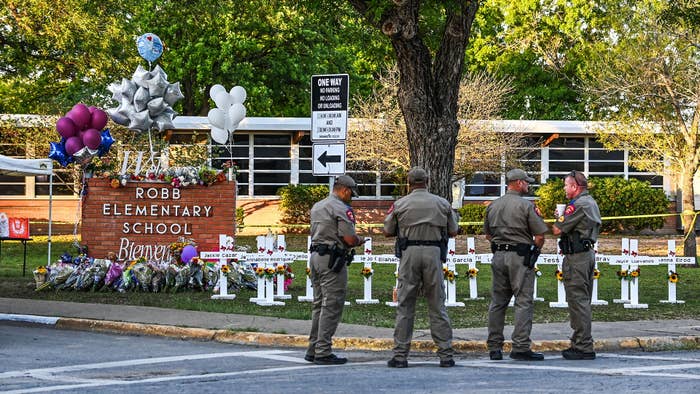 As more details about the Texas, Uvalde elementary school shooting have come to light, questions have been raised regarding the police response.
As CNN reported, the gunman who killed 19 students and two teachers at Robb Elementary School on Tuesday was inside the building's premises for an hour before authorities broke into the room he was barricaded in and killed him. Some bystanders have questioned why police did not immediately do more to stop the shooter, while others suggested that they even charge into the school themselves.
The perpetrator, 18-year-old Salvador Rolando Ramos, shot his grandmother and stole her truck, which he then crashed through a barricade just outside of the school. Despite initial reports indicating that he was wearing body-armor, he was actually wearing a plate carrier tactical vest without armor inside. He was equipped with a handgun and an AR-15 style rifle. As the Associated Press reported, witnesses said he opened fire at two individuals at a nearby funeral home before wounding a school district police officer and heading inside the school.
Onlookers at the scene as the shooting took place reportedly urged responding police officers to go inside the school. Javier Cazarez, whose fourth-grade daughter was killed in the shooting, arrived at the scene to see police gathered outside the building. He suggested to others that they "rush in because the cops aren't doing anything like they are supposed to." Cazarez accused the police officers of not doing enough, and being "unprepared" for the situation at hand.
After Ramos entered the building, he reportedly exchanged fire with two responding police officers outside. He went into one classroom and barricaded himself in, which is where he killed all 21 victims, as Lt. Christopher Olivarez of the Department of Public Safety said.
Steve McCreaw, the Public Safety Director, said that approximately 40 minutes to an hour elapsed from the time Ramos shot the school officer and when the tactical team broke down the door and killed him. "The bottom line is law enforcement was there," McCraw said. "They did engage immediately. They did contain (Ramos) in the classroom." 24-year-old Juan Carranza, who witnessed the shooting from his house across the street, believes officers could have entered the school much sooner. "There were more of them," said Carranza. "There was just one of him." 
In an interview with KENS 5, as seen below, Lt. Christopher Olivarez appeared to confirm speculation that some police officers prioritized their own children over stopping the shooter. "We do know right now that there was some police officers families trying to get their children out of the school because it was an active shooter situation," he said at the 1:40 point. 
Olivarez has yet to clarify his comments, but McCraw did admit that officers failed to prevent more children from being killed. "Obviously this is a situation we failed in the sense that we didn't prevent this mass attack—but I can tell you, those officers that arrived on the scene and put their lives in danger, they saved other kids," he said. "They kept him pinned down, and we're very proud of that."