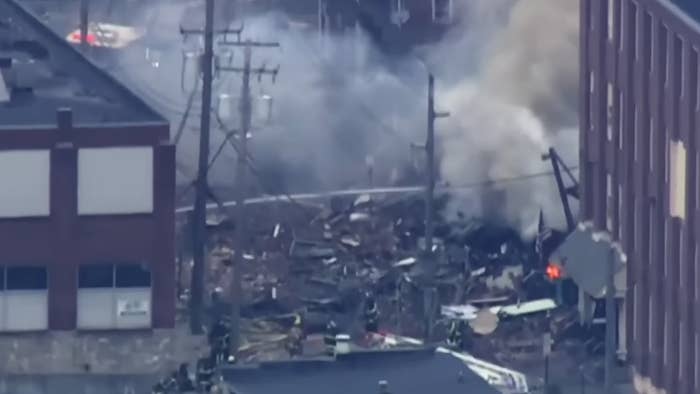 The remains of two more people were discovered in the debris of the recent chocolate factory explosion in Pennsylvania, bringing the death toll to seven, NBC News reports.
The explosion at the R.M. Palmer Company building in West Reading, which was captured on video, happened on Friday at 4:57 p.m. local time. Photos shared on social media showed tall fires in the area, and pieces of the building scattered throughout the streets. The two more people discovered are believed to be the ones who were reported missing after the blast on Friday. The discovery brought a close to the search operations at the site.
"I want to assure you all that we will not rest until every single person affected by this tragedy has been accounted for," said West Reading Police Chief Wayne Holben at a press conference prior to the discovery of the remains. "We are fully committed to this task, and we will do everything in our power to ensure that we bring closure to all those involved."
Officials have not released the names of the people who died in the blast, but the Berks County Coroner's Office is expected to do so when their identities have been established. "We did not and will not announce any names of the identified victims until we know for certain that their family has been contacted, they have had time to process, and have been able to reach out to other loved ones to let those close to them know," said West Reading mayor Samantha Kaag in a statement on Sunday.
"There will be three buildings condemned around the site, which is just a precaution as we move into the investigation phase to figure out what caused this and how we can prevent it from happening in the future," the statement continues. "This is just the beginning as the investigation efforts start and elected officials work to get resources for the victims' families, emergency crews, and the borough."
Officials in West Reading have launched a recovery fund to support organizations helping those affected by the blast, whether through the loss of a loved one or displacement from their homes or jobs. Ten people survived the blast with injuries.