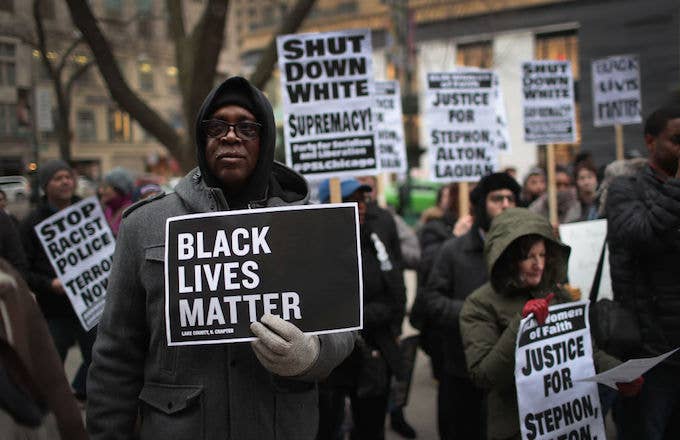 A woman was caught on camera calling 911 on a group of elementary and middle school African American kids who were peacefully marching against violence in North Charleston, South Carolina, according to the Charleston City Paper
A Facebook video posted by community activist Jonathan Thrower shows the young activists and their parents wearing shirts that read "Guns Down Chuck Town." The children can be seen waiting outside of a gas station convenience store, as a woman standing next to her truck is calling 911 on her cell phone. She tells Thrower to turn his camera off and then goes inside to hide behind an ATM while making the call.
Thrower, who also goes by Shakem Akhet, helped lead the "Stop the Violence" march on Oct. 14, and told City Paper that the group stopped at a gas station because the kids were thirsty. "We went and got a lot of elementary and middle school students 'cause this was a youth march," he said. "When we got to the end of [Otranto] Road, some of the children said, 'We're thirsty' and 'Can we stop to get something to drink?'"
According to Thrower, everything was going smoothly until the woman began calling 911. "I thought she was playing at first," he said. "I didn't really think that was gonna happen."
City Paper shared audio of the 911 call, where the woman, named Brenda Metz, called the group of students "a riot." "They're standing outside my store, they're videoing us and everything, I need a police officer here now," she said. "I mean, it's like a riot out here." You can listen to the audio below.
By the time North Charleston Police responded to the call, the protesters had already dispersed, and no report was made. The NCPD Chief Reggie Burgess is also well aware of the "Stop the Violence" marches, which began on Oct. 1. "The North Charleston Police Department—I applaud them, because the guy was like, 'You know, they're just coming in to purchase something, I'm sure they're not causing any trouble,'" Thrower said.
If you're thinking about calling 911 on people of color who are peacefully protesting, read this, and when in doubt, don't.