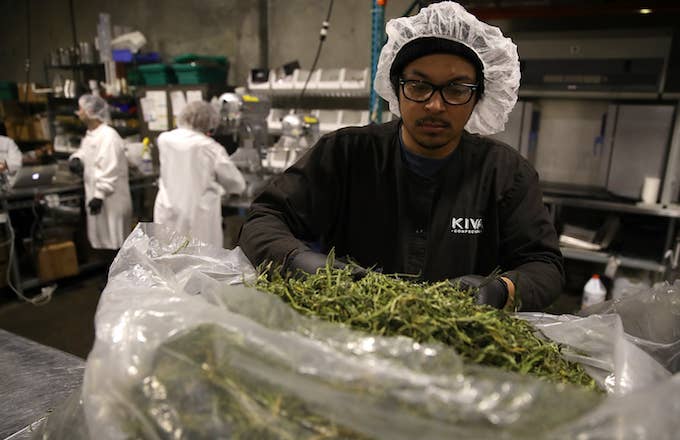 Washington state legalized recreational marijuana use in 2012, after legalizing medical use back in 1998. Now six years later, Seattle is moving to dismiss misdemeanor marijuana-possession convictions prosecuted by the city prior to legalization, according to KUOW. 
Seattle officials announced the decision on Thursday. A release from City Attorney Pete Holmes stated that there were 240,000 total pot arrests from 1986 to 2010, noting that simple pot possession cases stopped being charged in 2010.
The main motivation behind the dismissal of these cases is to attain "restorative justice for the communities who have been disproportionately targeted by the criminal justice system and furthers the city's commitment to eliminate racial disparities." This refers to the unequal amount of possession charges against people of color, compared to the number of cases prosecuting whites.
"Marijuana possession arrests in Washington rose sharply in the 25-year period from 4,000 in 1986 to 11,000 in 2010, totaling 240,000 arrests, according to the Drug Policy Alliance," a statement from Mayor Jenny Durkan says. "In Washington state, African Americans were arrested at 2.9 times the rate of whites. Latinos and Native Americans were arrested at 1.6 times the rate of whites."
Seattle's move follows similar decisions recently made by San Francisco and Colorado. Though these case dismissals cannot completely reverse the damage done to communities of color by the war on drugs, they can mitigate some of its continued harm against those convicted of minor possession since the '80s.  
"The war on drugs had devastating impacts on people, especially people of color and their families. People's lives were ruined for misdemeanor marijuana offenses. This action is a necessary first step in righting the wrongs of the past and putting our progressive values into action," said Mayor Durkan. "Addressing decades of unjust convictions – and particularly the damage wrought on communities of color – won't happen overnight. We must provide more effective alternatives to prosecution and incarceration through drug and mental health courts, restoring rights and supporting re-entry."