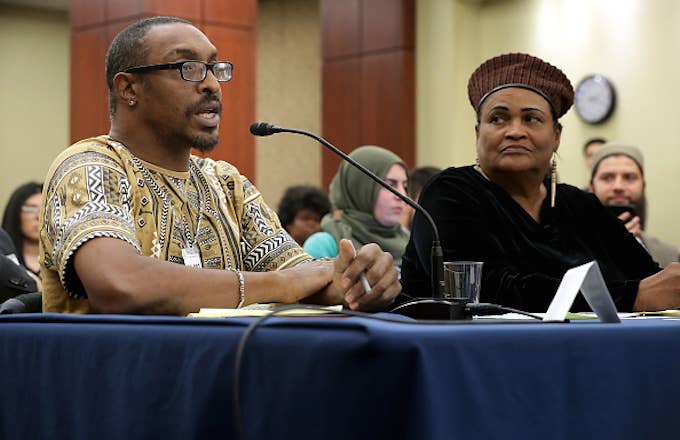 Last week, we reported that Muhammad Ali Jr., 44, was detained and questioned by immigration officials at Fort Lauderdale-Hollywood International Airport Feb. 7.
Now his attorney, Chris Mancini, says Ali Jr. was questioned yet again on Friday, according to the Associated Press.
This time, it happened at a Washington, D.C. airport. Ali Jr. was attempting to board a JetBlue Airways flight home to Florida. He spoke to Department of Homeland Security officials by phone, and had to show his passport and driver's license before he was permitted to board the flight, Mancini says.
The Transportation Security Administration (TSA) issued a statement to Complex.
"Upon arriving at the airline check-in counter, a call was made to confirm Mr. Ali's identity with TSA officials. When Mr. Ali arrived at the checkpoint, his large jewelry alarmed the checkpoint scanner. He received a targeted pat-down in the area of his jewelry to clear the alarm and was cleared to catch his flight."
TSA added that it does not have the authority to detain passengers and that Ali Jr. was not detained. Reports have the screening lasting seven minutes, and the phone call to confirm Ali's identity lasting 11 minutes.
Mancini, Ali Jr., and Ali Jr.'s mother, Khalilah Camacho Ali, traveled to D.C. on Wednesday to speak with a congressional subcommittee regarding their detainment in Florida.
"None of this was happening Wednesday," Mancini told the AP. "Going to Washington obviously opened up a can of worms at DHS."
Debbie Wasserman Schultz, a Florida Democratic congresswoman, was on the same flight. She tweeted a photo with Ali Jr.
On way home on DOMESTIC FLIGHT Muhammad Ali Jr. detained AGAIN by

@DHSgov

. Religiously profiling son of 'The Greatest' will not make us safe

pic.twitter.com/KO3IVnRFax
The Alis have said they believe they were detained and questioned because of their Muslim faith and Arabic names. They have also mentioned they stand against President Donald Trump's desired travel ban.