The Florida Department of Law Enforcement (FDLE) has launched an investigation after an alarming ad appeared on Craigslist titled "Selling a baby."
"Selling brand newborn baby for $500," the ad, which was posted via the Miami Craigslist page and listed the make/manufacturer as "tiny tots," stated. "Baby is two weeks old. It sleeps, doesn't make noise at night. Formula and clothes will [be given] to you." The ad also said that a four-year-old baby sister would be given to the buyer "for free."
In a report from the Miami Herald, an FDLE spokesperson confirmed that "an active investigation" was launched last Friday after authorities were alerted to the post but declined to offer any additional details. According to the report, investigators currently remain uncertain regarding whether the ad was posted as a joke or represented a legitimate attempt at selling a baby for $500.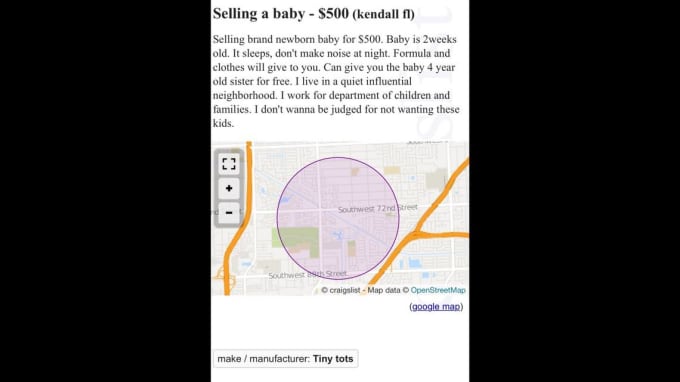 One woman, said to have been suspected as being the person responsible for the ad, has reportedly been interviewed by FDLE agents. That person "denied any involvement," with the Herald stating that investigators are now awaiting computer records in an effort to identify the person who posted the ad in question.
The purported seller, who remained unidentified at the time of this writing, also claimed in the ad to "work for department of children and families [sic]" and to reside in a "quiet influential neighborhood" in the Kendall area.
"I don't wanna be judged for not wanting these kids," the ad stated.