Phuket, Thailand, the island beach get-away on the Andaman Sea, is one of the go-to destinations in Thailand. If you're not already sold on the white sandy beaches, the vast supply of delicious Thai food, and the number of spas per capita, it's worth remembering that Thailand has one of the richest cultures on the planet, and that extends to this island. Phuket is also known for its bustling nightlife, where people from all over the world come and enjoy the many discotheques, bars, and clubs the city has to offer. 
Ok I know what you're thinking, it is not cheap to fly to Thailand. While that may be true, once the flight has been booked, you can experience all of Phuket's luxuries without spending even close to what you would in nearly any other beach town. That includes lodging, food and yes, spa treatments. 
Flights: During the month of May, airfare from New York City ranges from $708 to $920. From Los Angeles airfare ranges from $484 to $779. 
Where to stay: Crowne Plaza Phuket Panwa Beach (~$120/night)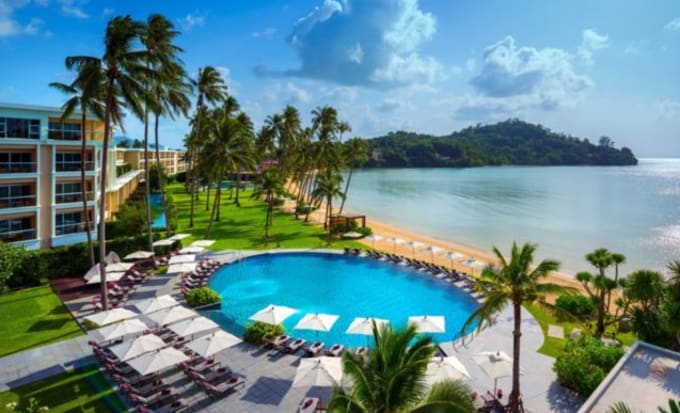 This internationally recognized 5-star hotel oozes luxury, and thus has all the amenities you need for some good ole r&r—from the glistening outdoor pool, to the top-rated in-house spa. Not to mention the price listed above is for a full-size King room overlooking the Andaman Sea. So when I say you can get by on very little, I wasn't being facetious. The Crowne Plaza is located right on the beach, so you won't need to travel very far for some salty vitamin-D. 
The Plaza, while it's incredibly fabulous, is not located in a city center since it's more of a resort location. For those of you who want to be able to throw a rock and hit the nearest discotheque, the West side of the island is more your pace. 
Where to stay: Cape Sienna Hotel Phuket (~$104/night)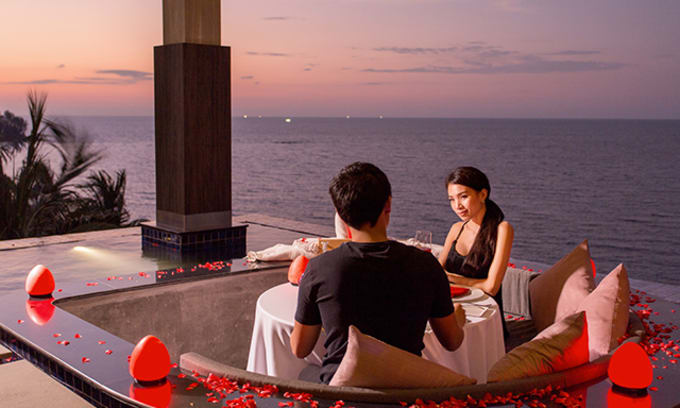 Right next to the famed Bangla Road, this 5-star luxury resort is one of the most stylish places to stay on the island. The Personal studio room is heinously cheap if you consider your private deck, spa-grade shower, and plenty of wiggle room. Perhaps the most stunning highlight is Sienna's Plum Steakhouse, where there are no walls or windows standing between dinner and breathtaking views of the Andaman sea. Small seating pods overlook the open ocean as some of the finest beef is cooked to perfection. 
What to do: Visit the Wats (Buddhist Temples), Dancing on Bangla Road, Get a Spa Treatment
Visit the Wats: Wats are Buddhist temples that can be found all across Thailand, Cambodia and Laos. One of the many reasons Wats are so mesmerizing, other than their spiritual importance, is the many aesthetic intricacies, usually in the various depictions of Buddha, that take many different shapes and forms on any give Wat. Wat Chalong, one of the most famous Wats in all of Thailand, is located in Phuket and has gained infamy primarily because a splinter of one of Buddha's bones is buried within the temple. The island boasts 29 Buddhist temples, some of which include Wat Phra Thong and Wat Khao Rang. Big Buddha, a 150-ft landmark, is another one of the island's highly visited cultural artifacts, as it sits atop one of the most beautiful view points of the island.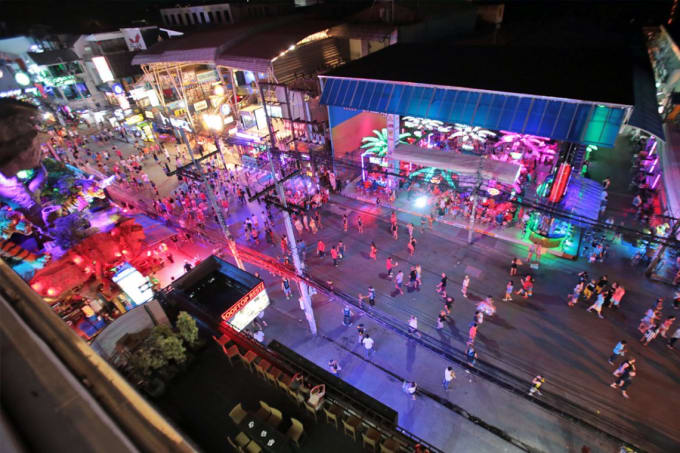 Dancing on Bangla Road: Once the families and resort-confined tourists head to bed, the rest of us will meet on Bangla road. The string of bars and clubs looks like one continuous neon street, where all the music and all the lights seem to blend together as one, until that is, you pick your poison. Many of the key spots to hit are within party-complexes of sorts, like Soi Hollywood or Soi Seadragon, where each bar/club has a different domain within a bigger party space. Upon walking into Illuzion Phuket, the most well known disco in Phuket, you get a very Ibiza-vibe. A culturally diverse crowd congregates to watch internationally recognized electronic headliners like Steve Aoki and hip-hop household names like Soulja Boi grace the club's stage. However not every venue is a Illuzion, there are also well known beer bars like Aussie Bar and two dozen bars within Tiger Disco. 
Spa Treatment: If you're on the Eastern part of the island and you find yourself feeling in need of a good makeover, I bring you Ton Mai Spa Rawai, With their massages, nail salon, waxing treatments and facial options, you'll literally leave feeling like Laney Boggs walking down the stairs to "Kiss Me" in She's All That. If you're on the Western side of the island, closer to Bangla Road and Patong Beach, you could also head over to the newly renovated Oasis Spa. You can spend over 3 hours getting both a massage and a facial, all for only $200. Just to put it into perspective, spa treatments in New York are so expensive I willingly chose to be ugly every day of the year.