Now that you've bought the intimately curated gifts for your mains, it's time to track down affordable yet thoughtful gifts for all the other greedy assholes you surround yourself with. 
Most of the people you're snagging last minute gifts for have a house, or if you're in NYC, a small hole in the pavement that you're paying $4000 to live in. Regardless, versatile accessories for the home are something we can all get on board with. So instead of re-gifting the box of airport candy your secret Santa at work got you, snag yourself one of these products that'll surely dazzle up any home.
Aesop post-poo drops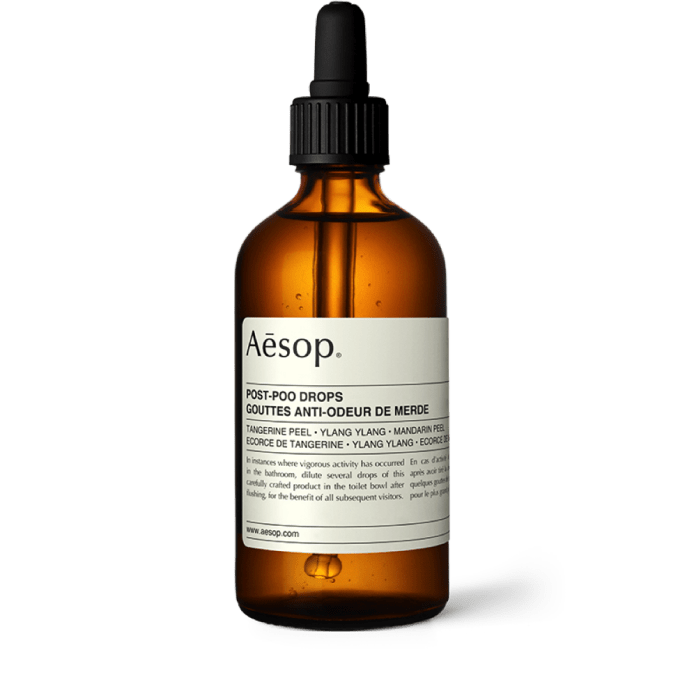 Don't let them think their shit don't stink, because it do. From far away Aesop post-poo drops looks like overpriced perfume, so when they notice you dropped some poop spray in their stocking, they won't even be as pissed as R. Kelly. ($29)
Shark ION robot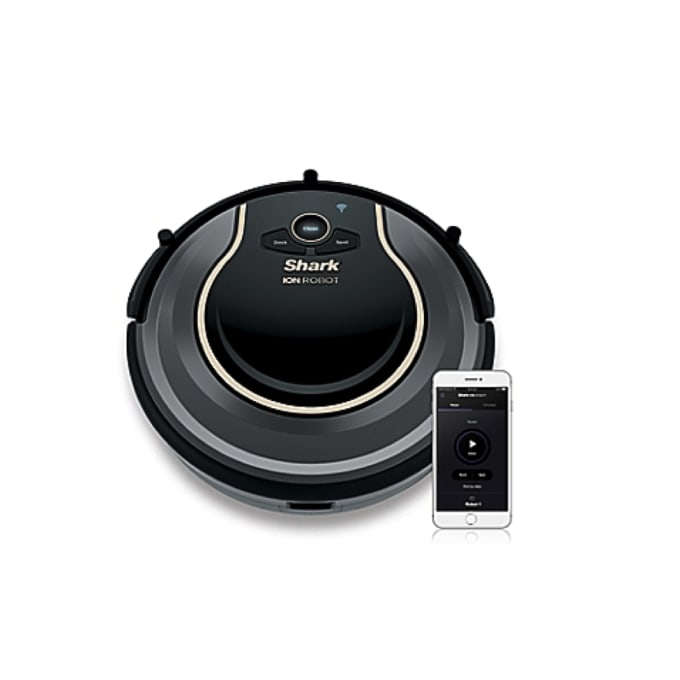 If you know someone looking for a functional companion that doesn't shed or ask why they haven't had sex in so long, I bring you the Shark Robot vacuum. This little dongle will capture hair, dust, and dander as it roams around their living room floor. ($329)
Lagostina stainless steel cookware set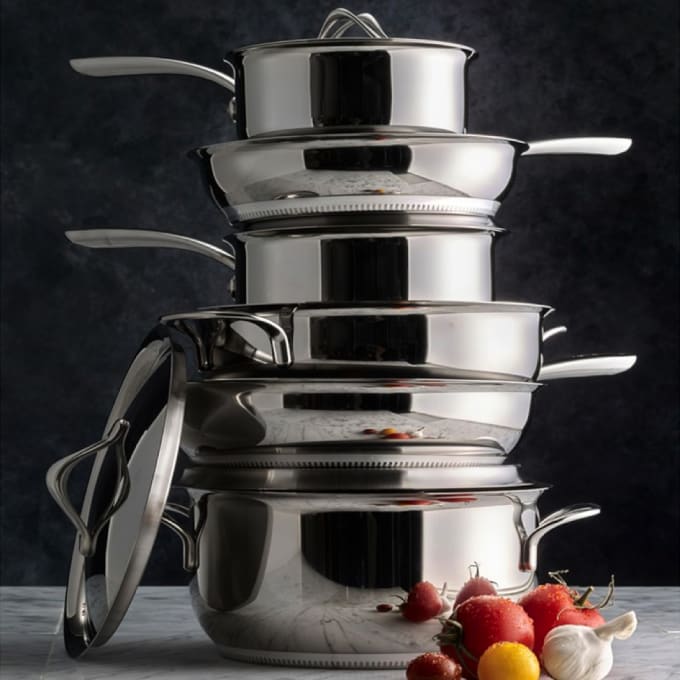 Whether they're the next Bobby Flay, or they simply frequent the frozen aisle of Trader Joe's, this Lagostina 10-piece cookware set will spice up any kitchen. ($499)
Blendtec Designer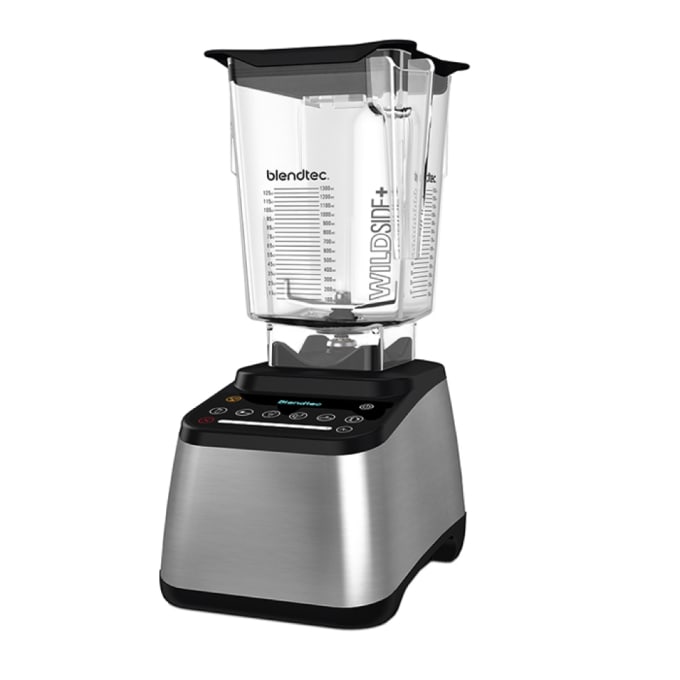 For that one friend currently seeking a blender that is smarter and faster than their ex, the Blendtec Designer with SmartBlend technology will create the perfect salsa, juice, or milkshake. Buy them one this Christmas and they may even blend you up a margarita for your troubles. ($679)
Smeg retro toaster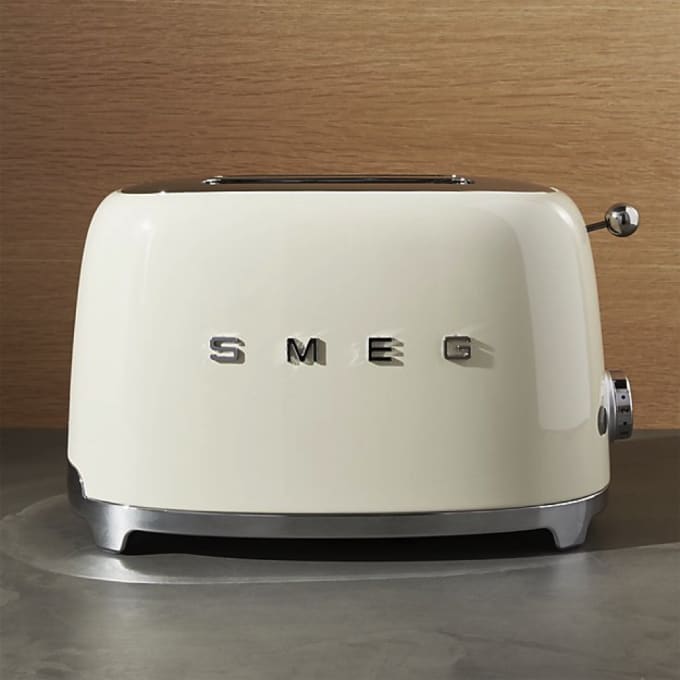 Now that the retro diner look is officially trending, you can bet your britches that pastel vintage kitchenware will be the all the rage this holiday seazon. The Smeg Retro toaster comes in both 2-slice and 4-slice for that oh-so-special side-slice you won't be bringing home to meet the folks. ($149)
Floyd Platform Bed
Floyd's handsome birch platform bed is a minimalist's dream. Not only is the design is ultra-clean, the bed is wildly easy to put together—and also to take apart, should you be a nomad, as so many millennials are. ($489 - $1,045) 
W&P Design's Host key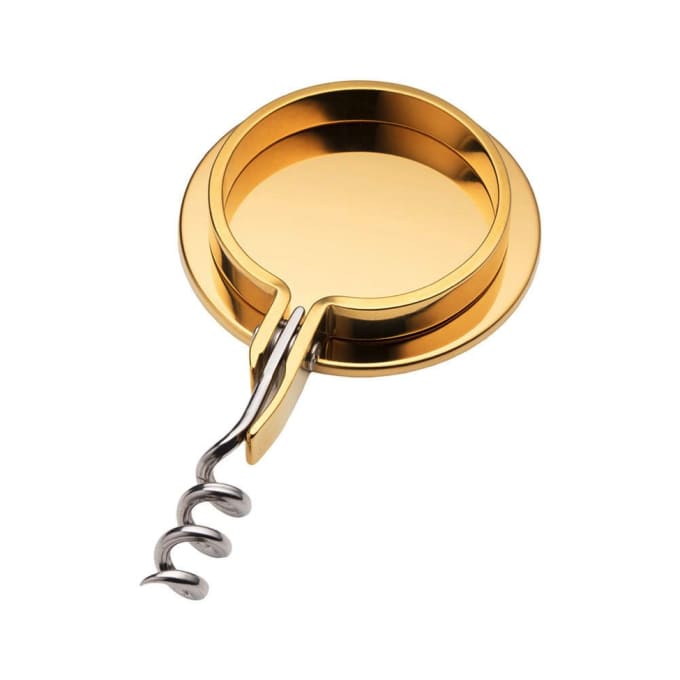 Who the hell doesn't want a quick and easy way to bust open some holiday happy hours? W&P Design's Host Key is a 2-in-1 beer and wine opener that perfectly fits on the neck of a bottle, or in its magnetic dock. It's sleek, portable, and isn't remotely similar to that one time I was wrongly gifted a keychain coke spoon. ($17)
KAWS: Where the End Starts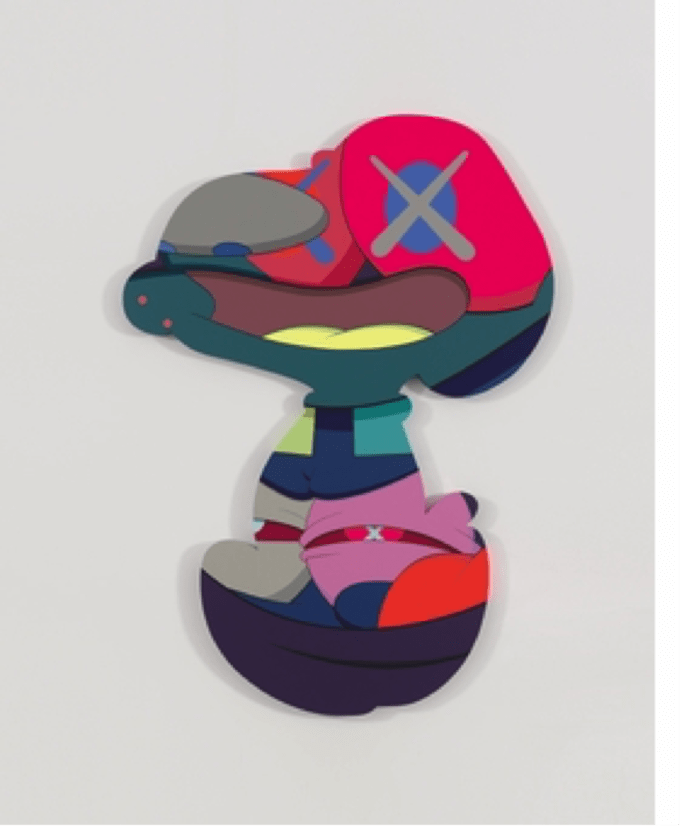 If you're reading this list, you're at least somewhat knowledgeable of pop culture. Whether you're looking for a gift for someone equally tuned-in, or for someone who pretentiously stacks collectible books they haven't read on their coffee table, snag them a copy of KAWS: Where the End Starts. Featuring the works of KAWS, one of the most relevant artists of his generation, Where the End Starts will make even the lamest of folks look somewhat aware. ($55)
Boll and Branch throw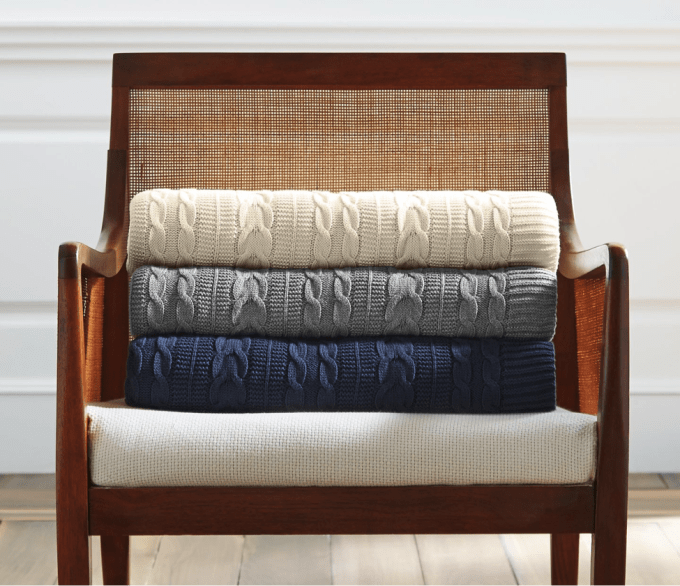 Regardless of who you're sending gifts to—grandma, neighbor, boss—everyone could use a throw blanket, especially if they're not boujee enough to think of buying decorative living room accessories on their own. The Boll and Branch cable knit throw is a simple yet elegant addition to any home. ($125)
Brooklinen Luxe Hardcore sheet bundle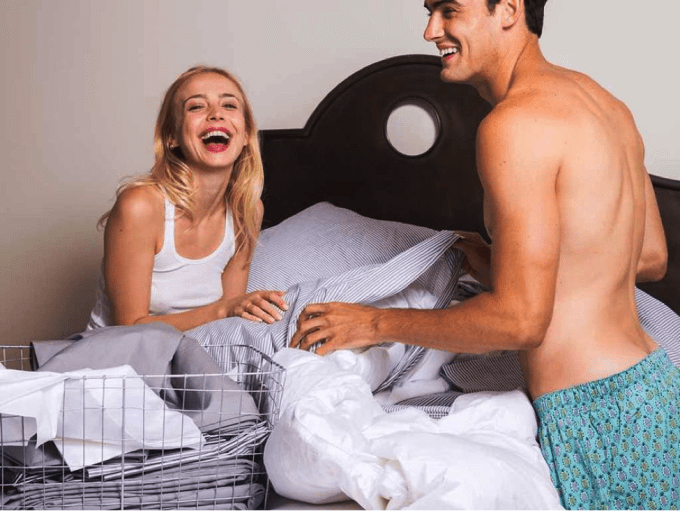 Even if neither you, nor anybody you have ever met is anywhere near as happy as the couple in the photo above, you probably know someone who has a bed, and that bed probably has at one point had sheets on it. Give the gift of comfortable bedding, courtesy of Brooklinen, even if they're sleeping in it alone. ($239)
Dawson+Hellmann Get Lucky shams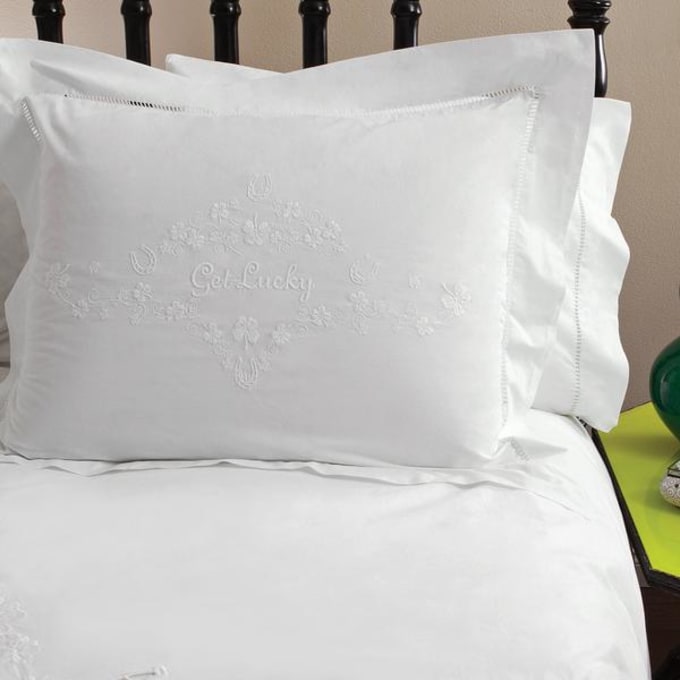 I'm just gonna throw all bedding at you at once in a totally sexual way. Thanks to the Dawson+Hellmann Get Lucky sham set, you can remind those on your list that are getting laid regularly, that they've already received the greatest gift of all: sex. But even if your loved one's been stimulated about as many times as Walt Disney's frozen body, these shams will function as a reminder of happier days. 
Misen essential knife set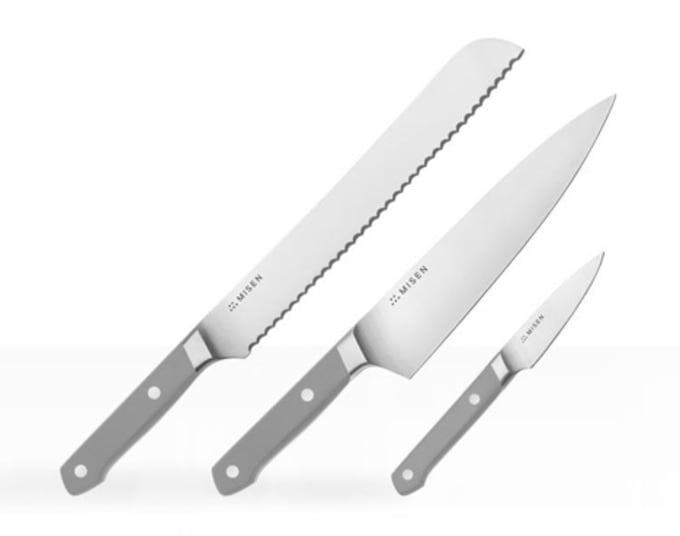 If you have a chef in your life and you want to find a way to say thanks for all that baked ziti, look no further than the Misen essential knife set. They'll be able to stab their way through everything from dense veggies, to Courtney Cox. ($130)
Parachute's ultra-cozy set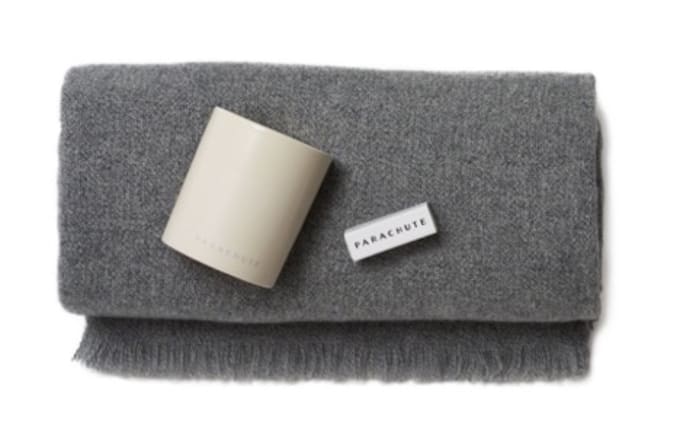 I feel like everything during the holidays is bundled up into little kitschy sets. Exhibit A: Parachute's ultra-cozy set, which comes with a cream-colored branded candle to go with a deliciously soft cashmere throw blanket. As seen on every "gifts for her" list ever compiled. ($369)
Tomorrow Sleeptracker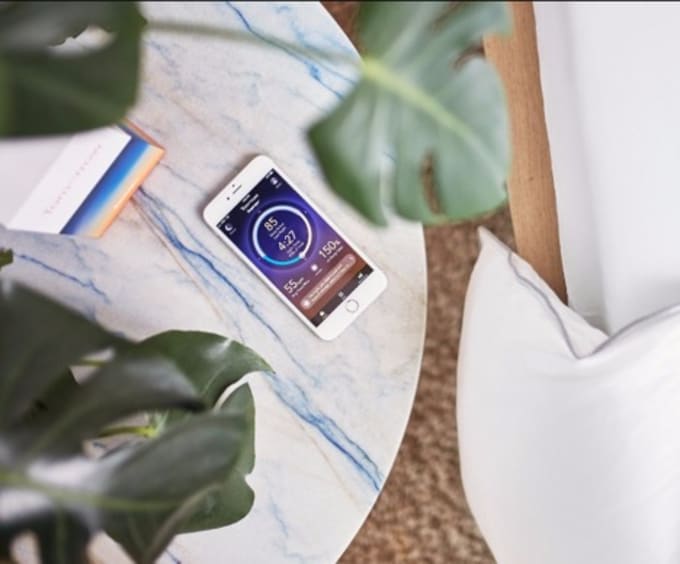 Give someone the gift of good sleep this holiday season with the Tomorrow Sleeptracker. This monitor tracks your sleep schedule and provides personalized suggestions for better zzzzzz. So if you've been looking for a subtle way to tell Brenda in Accounting that it's her exhaustion that makes her such a bitch, this is the gift you've been waiting for. ($149)
Mrs. Meyer's lavender bucket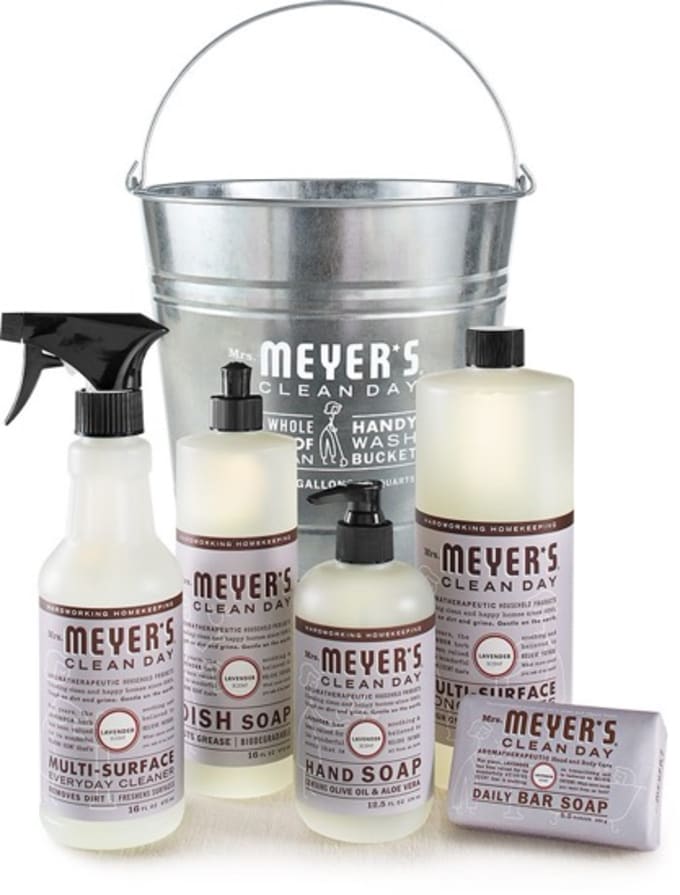 This holiday season you don't have to tell your roommate that the scent of his room is nauseating, all you have to do is buy him a Mrs. Meyer's bucket and hope he uses it to scrub the food residue off his floor. ($31)
Satachi charging stand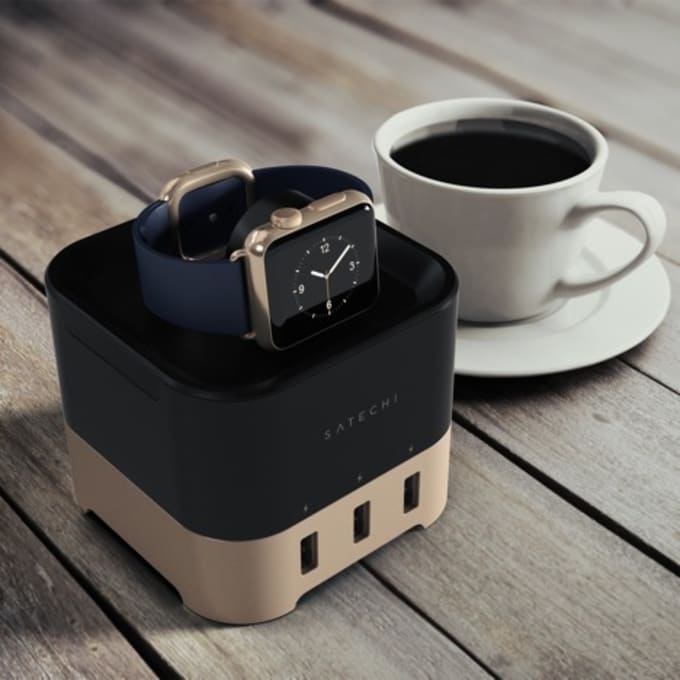 We all have that friend who buys new technology just to talk to anyone within earshot about it. And while we may not love them, we feel somewhat obligated to buy them something for Christmas. So, buy them this Satechi charging stand, and they can put their new Apple Watch on the same pedestal they expect to be placed on themselves. ($34)
CB2 audio pro speaker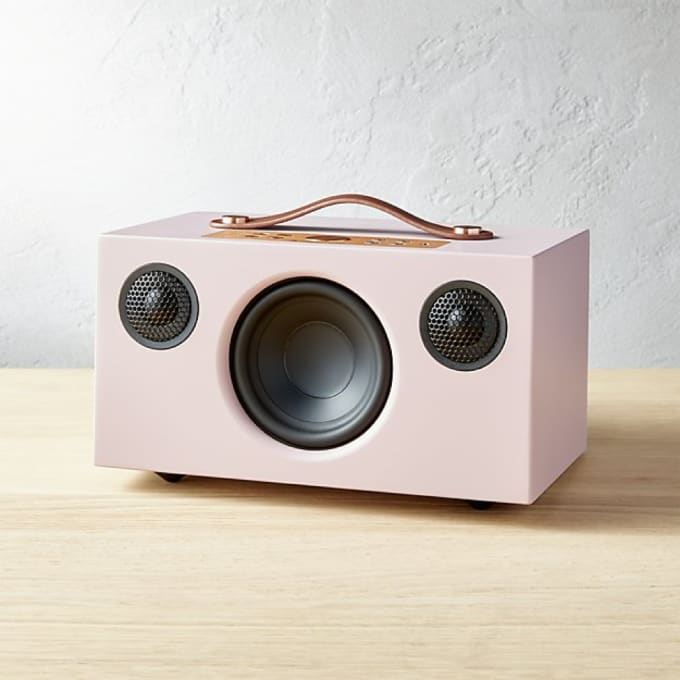 I'm describing these items as I find them and I explicitly remember predicting a retro themed trend being all the rave this xmas?? Well I was right, as I often am, and thus bring you CB2's audio pro speaker. For those bbs on your list that care just as much about how something looks as how well it works, snag them a speaker that will aesthetically and audibly jazz up any room. ($249)
Sterling Vineyards sparkling 2-bottle gift set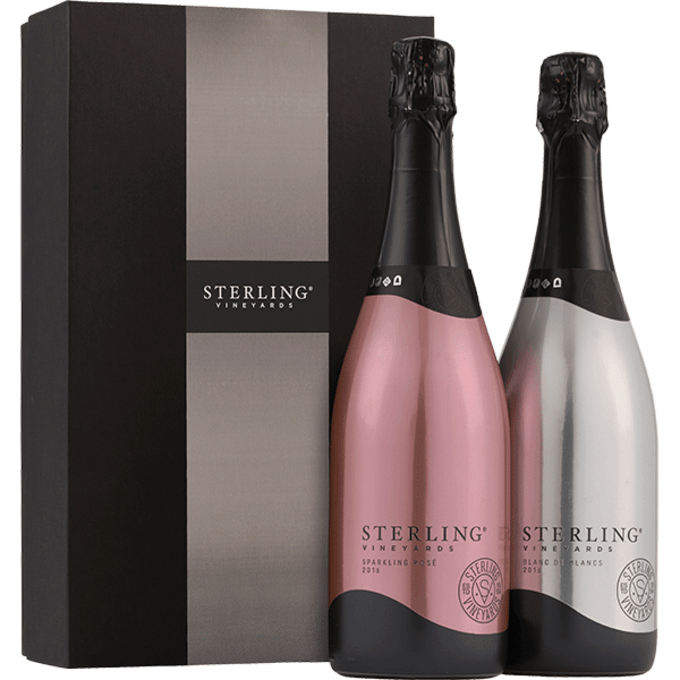 I've said it once and I'll say it again, alcohol rarely fails. If you want to save someone a trip to the liquor store this New Year's Eve, pick them up a Sterling Vineyards 2-bottle sparkling wine gift set. It's sweet fruit flavors will go down easy, and give them a hangover they're sure to never forget. ($75)
Jonathan Adler brass dollar sign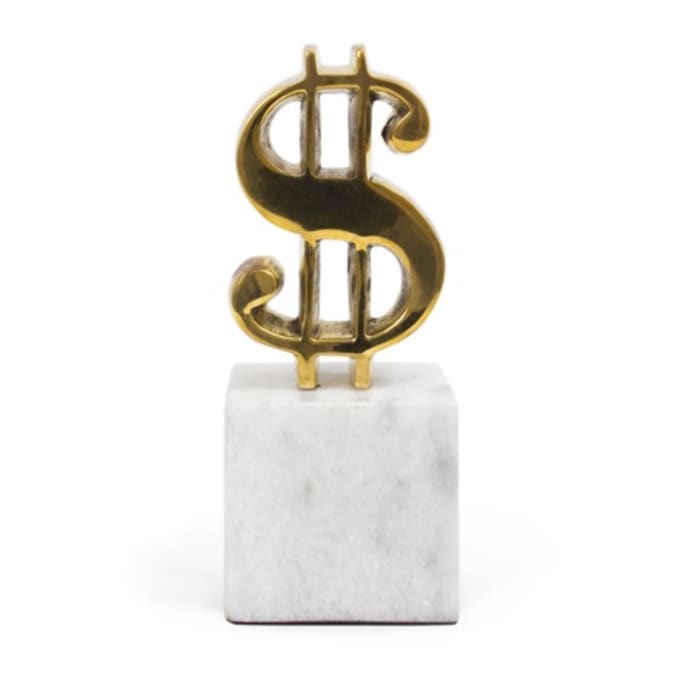 If you've already considered popping your head, or your mouse, into Jonathan Adler this holiday, then you're someone who cares about style. For that, I salute you and I cater my list to you. So let Jonathan Adler's brass dollar sign be your way of saying "you're a boss so here's a physical representation of your financial success." Or, if you want to take a different route, you can use this to subtly imply that you wish they would stop talking about how much money they make, because you're tacky and I hate you. ($298)
Laundress "men's garment care kit"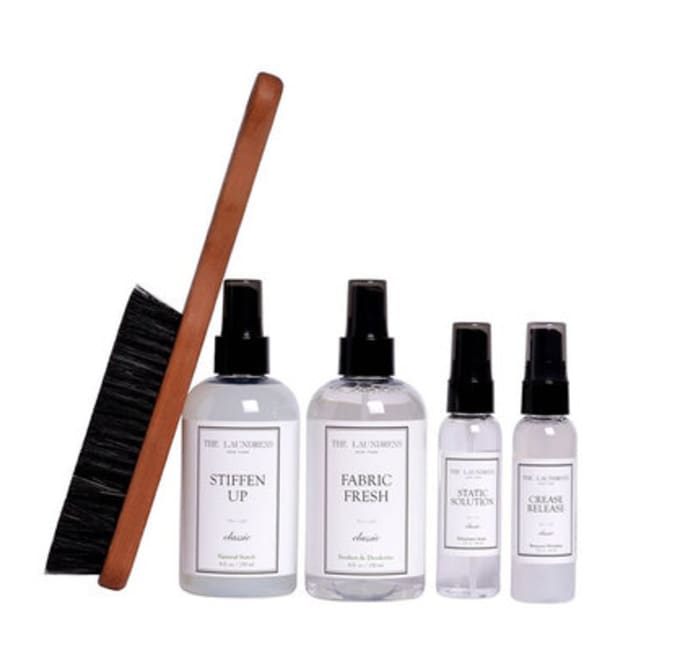 I really hate when anything business related is instantly given a masculine label, because it's 2017 and we shouldn't have to keep equating professional success to masculinity in order to allow insecure men to continue comfortably existing in their, oftentimes undeserved, positions of power.
Ok now that I've said what I needed to say, your dad is sure to love The Laundress's men's garment care kit, which contains everything he needs, from crease release to static solution, in order to keep his work attire looking A+ "during a busy week or business trip." ($97)
Coyuchi waffle robe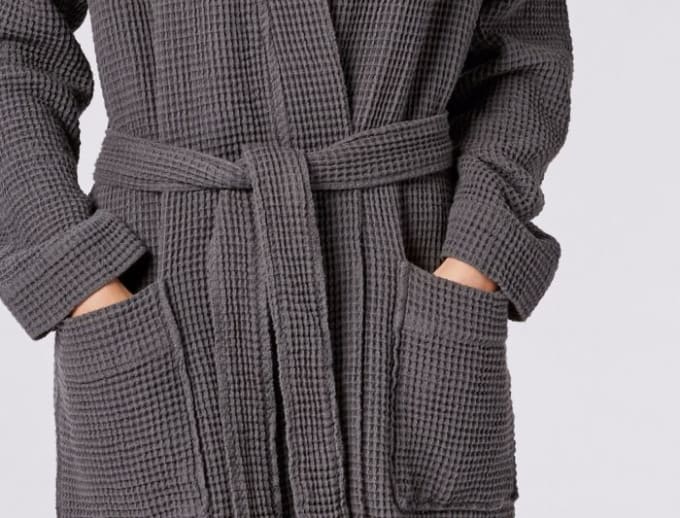 Imagine that special someone listening to jazz while lingering around their apartment, which happens to smell of rich mahogany. Maybe not ever robe-wearing experience is as predictably snazzy as I've envisioned, but who doesn't feel boujee AF when they put on a classy robe? Give someone a spa-like experience every time they exit the shower with Coyuchi's cotton waffle robe. ($98)
Riedel's Supperleggero champagne flute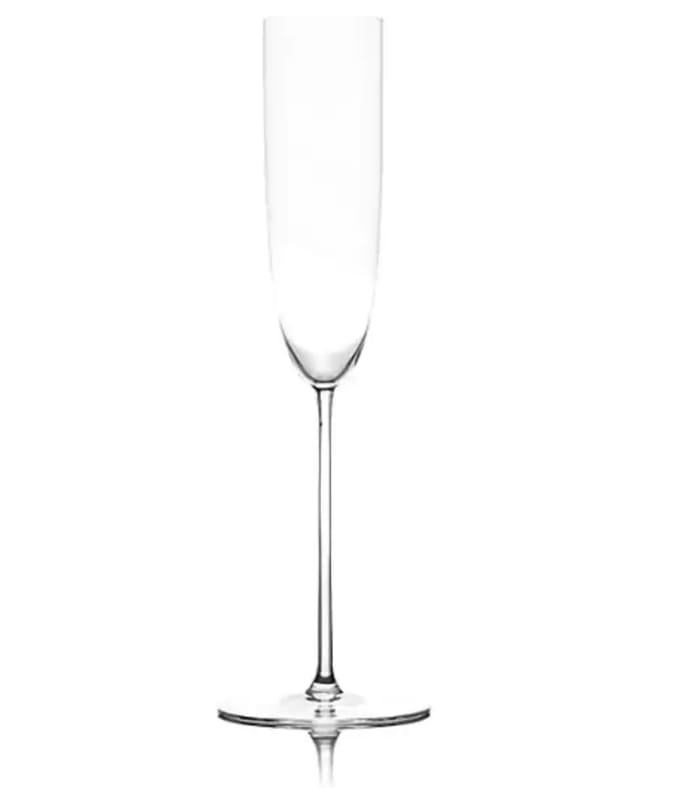 So, if you're in a place in life where you can afford to buy a single champagne glass for $139, rest assured you've already got me beat. But seriously, Riedel's Superleggero champagne flute is much more functional, and elegant than the decorative vase your aunt Carol gifts your mom every year. ($139)
Quip electric toothbrush set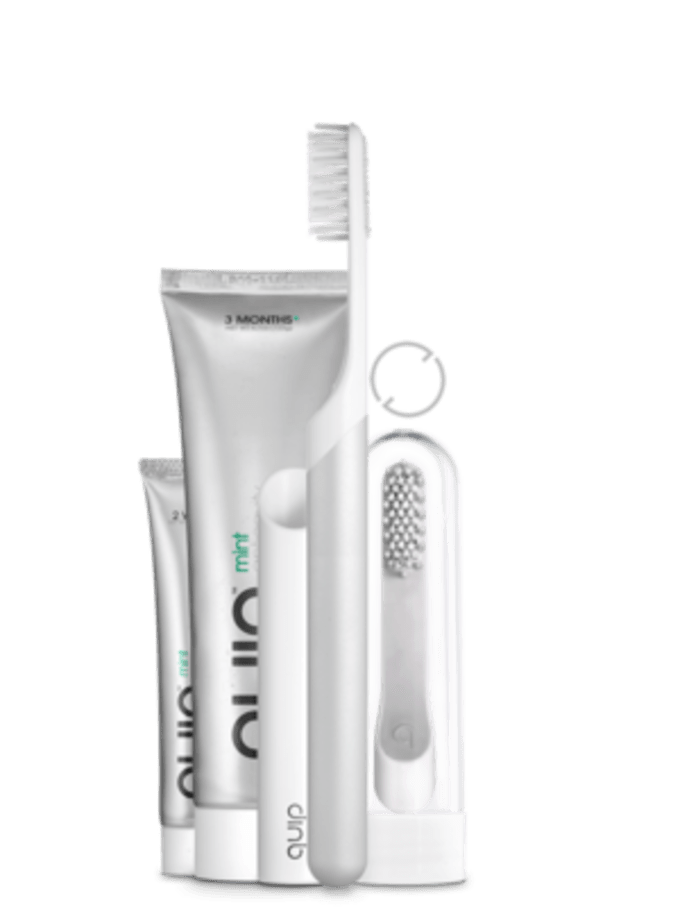 For that one coworker who's always showing up to board meetings in yesterday's clothes, do them a favor and surprise them with a Quip electric toothbrush set. Quip will deliver a new brush head, batteries, and toothpaste every 3 months, so even when their clothes wreak of tequila as they struggle through their presentation, their breath doesn't have to. ($40)
Absolut Uncover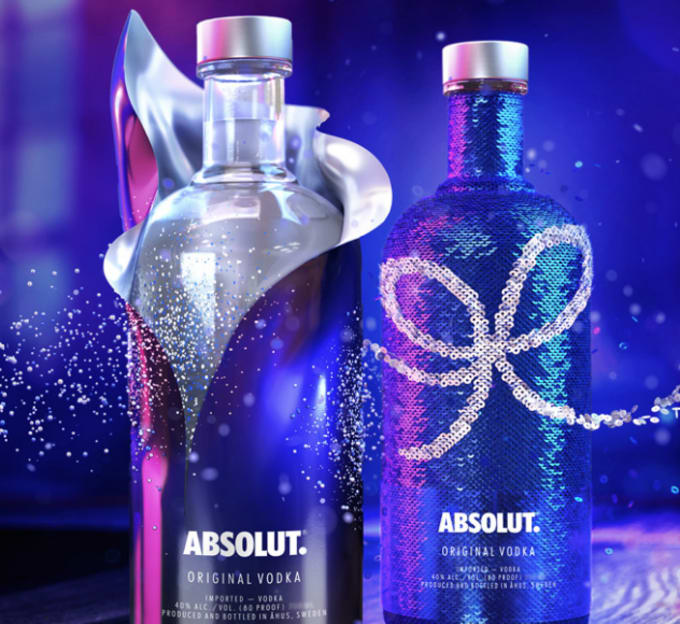 While some may definitely classify it as a lazy gift, you certainly won't disappoint anyone who has the pleasure of unwrapping a bottle of Absolut Uncover. Instead of obsessing over how annoying dad's new girlfriend is, gift your sibling a bottle of booze, for a Christmas you both wish to forget. ($24)
Ninja kitchen system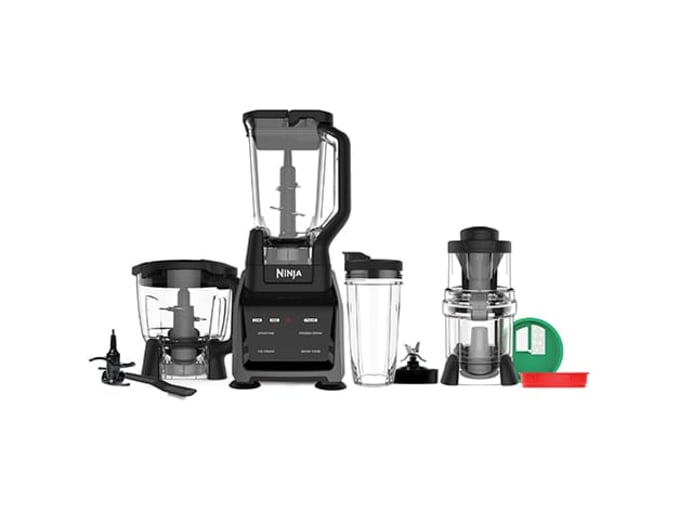 I spend so much of my time making fun of myself, and I think it reached a new height when I decided that I too could be ~one of those people~ who goes on a juice cleanse. Let's just say it didn't quite work out. However for all the health nuts in your circle, gift them a deluxe set of the Ninja kitchen system, and you'll be reason they can't stop talking about their newest meal replacement. ($199)
Marcelli

 Formaggi "big cheese" collection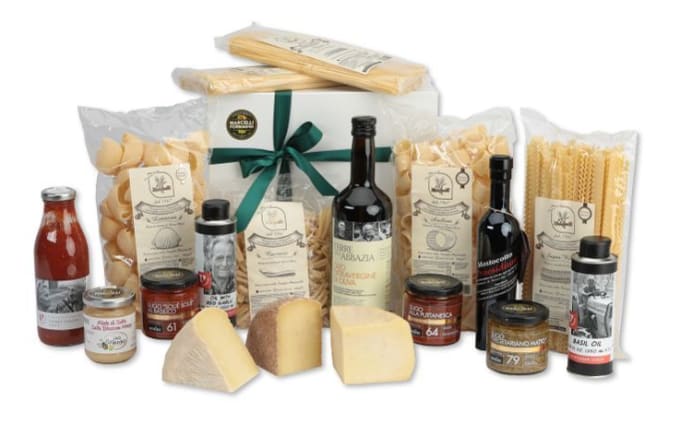 As an obvious follow up to a proven weight loss regimen, I bring you a gluttonous mountain of joy. The Abruzzo "big cheese" collection, will strike whoever has the pleasure of receiving it into a food coma they may never recover from. It comes with pasta, sauce, olive oil, and 3 pounds of cheese for that special someone who's down to eat so much they lose their vision. ($250)
Sterling Vineyards red, white & bubbles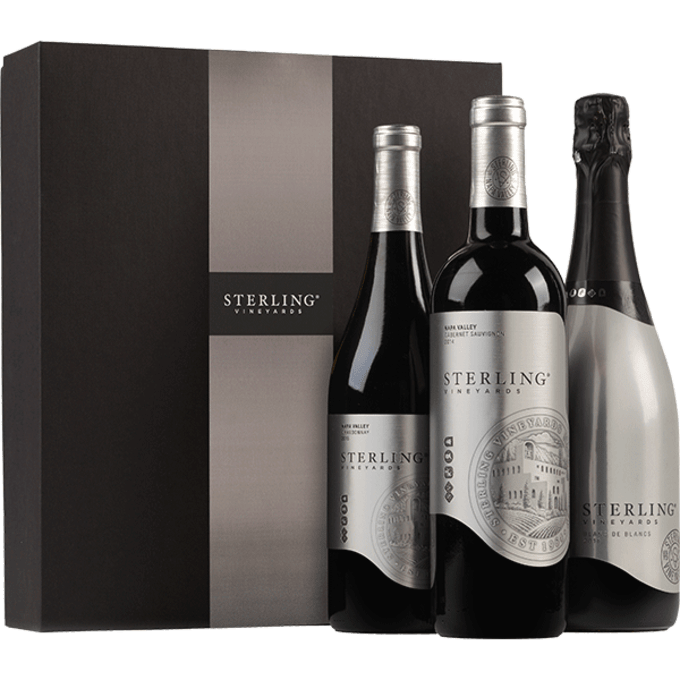 The type of alcohol one chooses to drink on any given occasion definitely says something about the mood that's being set. There's a big difference between having a glass of red wine at 9 AM, and having a mimosa around the same time. If you're a fan of the former, I just want to go ahead and personally tell you that I'm sorry. Point being, give the gift of options this holiday seazon, and snag a Sterling Vineyards red, white & bubbles three-piece gift set. ($94)
CB2 Mongolian sheepskin throw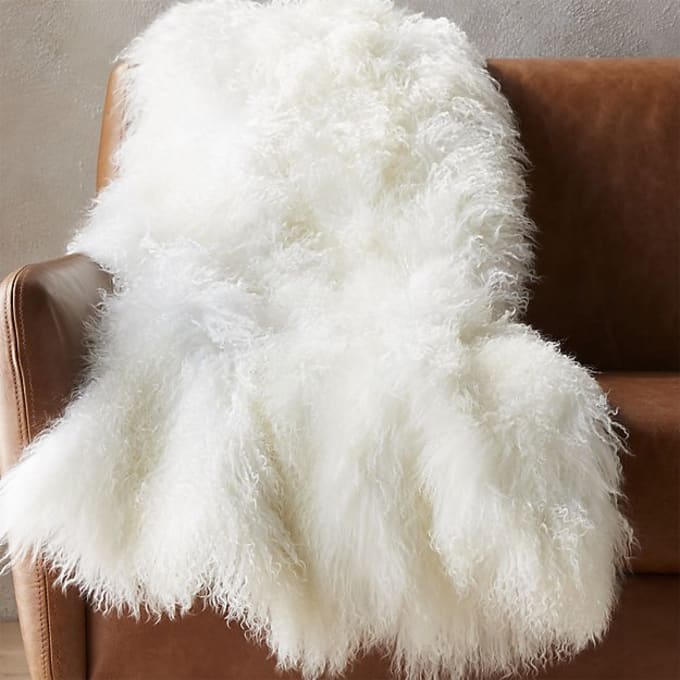 I bet you could find a handful of friends and family who would willingly wrap themselves in sheep from Mongolia this winter. With CB2's Mongolian sheepskin throw, they don't have to ask for a puppy since they'll already have a pet of their own. ($429)
Best Made Co. sliding brass match safe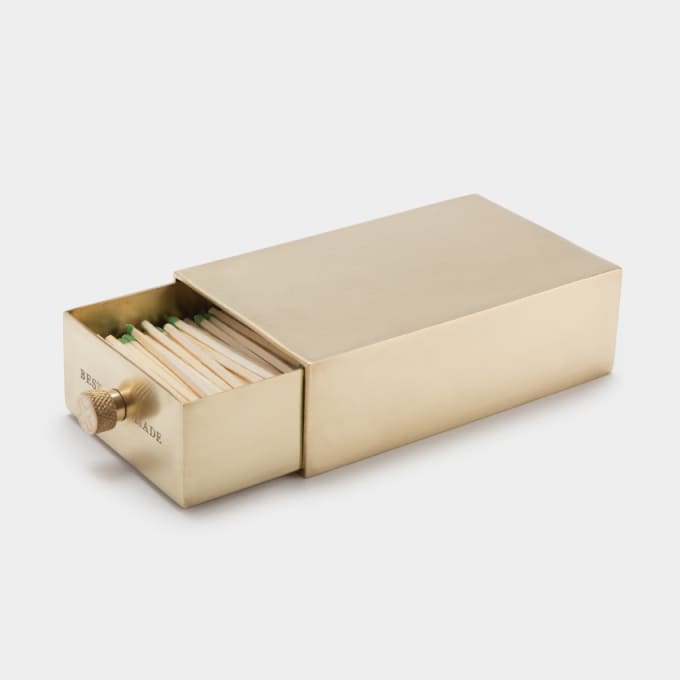 As someone who gets overly excited about adorable ways to store miscellaneous items, I can assure you that this one's a hit. Best Made Co's match safe will be perfect for that one person you know who has a different labeled porcelain jar for cinnamon, sugar, salt, and pepper. ($78)
Full Circle Home to-go coffee bottle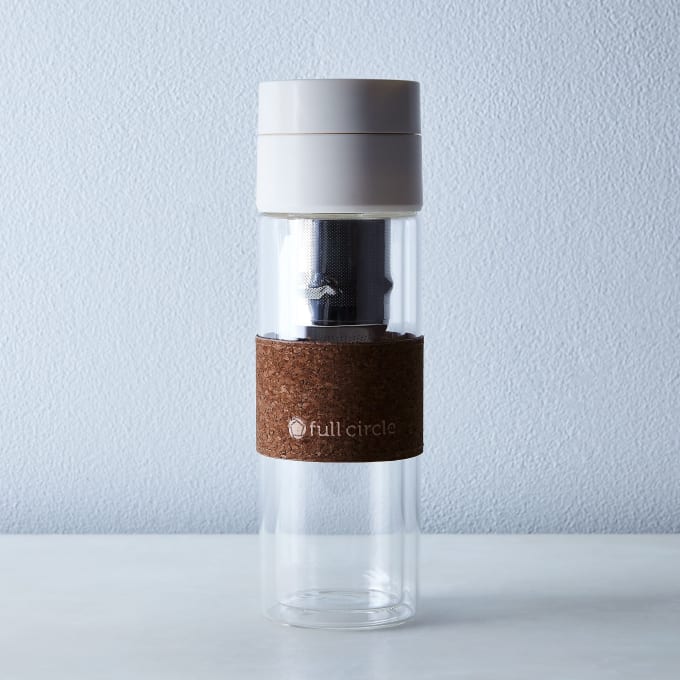 We've all bought a coffee at a cafe that doesn't provide stoppers, and watched it slowly bubble out, ultimately staining our clothes, and our willingness to push through the day. That's why anyone on your list, except for Dave in HR who "doesn't like the taste of coffee," could use a Full Circle Home to-go coffee bottle. Above all else, people want gifts that make their lives more convenient, so get your shit together, Christmas is in four days. ($39)