Drowning Family Saved by 80-Person Human Chain in Florida
The Ursrey family had a scare this weekend in Panama City Beach, Florida.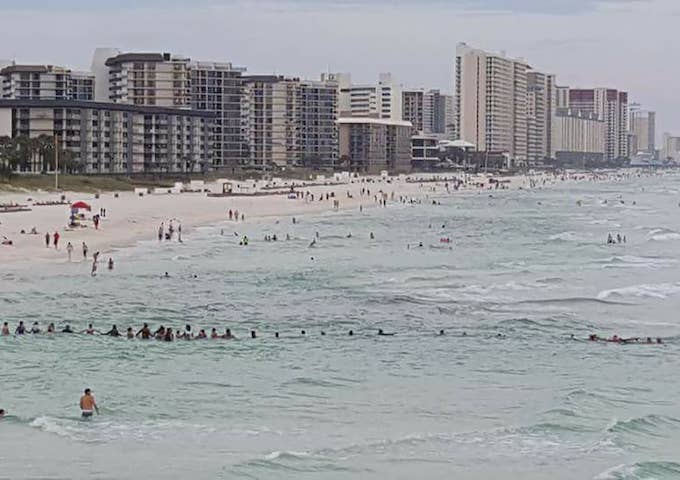 Facebook
Image via Facebook/Jessica Mae Simmons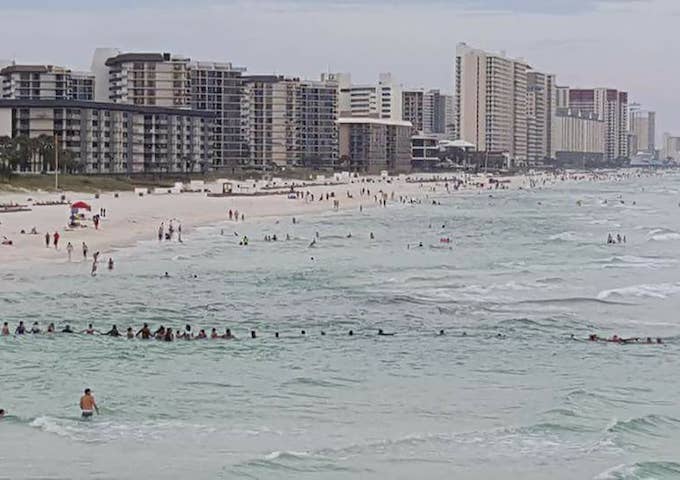 A casual visit to Panama City Beach, Florida almost turned deadly for Roberta Ursrey and her family on Saturday. The entire Ursrey family, which included Ursrey's husband, her mother, nephews and sons, were enjoying themselves in the water, despite the yellow-flag conditions. However, when Ursrey got out of the water and turned around, she realized she couldn't find her family. As she walked along the beach and looked out into the ocean, she heard her family screaming and crying. They were stuck in the strong tides and couldn't return to shore.
"I honestly thought I was going to lose my family that day," Ursrey told the Panama City News Herald. "People were saying, 'Don't go out there.'"
Ursrey decided to jump back in to try to save her loved ones, but she got caught in the strong riptide too, and suddenly there were nine people stuck in 15 feet of water. One of them, Ursrey's mother, had a heart attack in the water.
Meanwhile, Jessica Simmons and her husband had come to the beach for dinner. Upon returning to the sand after jumping in the water herself, Simmons noticed everyone else on the beach was looking and pointing somewhere inside the water. "I automatically thought they had seen a shark," Simmons said. But when she realized that it looked as though multiple people were drowning, she knew she had to act quickly.
Simmons, her husband, and a few other people swam towards the group and started forming a human chain back to shore.
"I got to the end, and I know I'm a really good swimmer," Simmons said. "I knew I could get out there and get to them."
The human chain grew to as many as 80 people, covering a space of more than 100 yards linking the swimmers back to the beach. People who couldn't swim but still wanted to help stayed where it was more shallow, but Simmons and her husband were among the ones who swam the farthest. The couple were able to save everyone by helping the swimmers reach the human chain so they could easily make it back to land.
"It was the most remarkable thing to see," Simmons said. "These people who don't even know each other and they trust each other that much to get them to safety."
Ursrey herself does not even remember being rescued. Her mother nearly died in an ambulance but recovered and is currently in the hospital. Her nephew suffered a broken hand.
"I am so grateful," Ursrey said. "These people were God's angels that were in the right place at the right time. I owe my life and my family's life to them. Without them, we wouldn't be here."
"With everything going on in the world, we still have humanity," Simmons added.