UPDATED 4:41 p.m. ET:
Cops are currently in hot pursuit of a giant, stolen white semi-truck in California. The truck was first spotted near Apple Valley, facing very low traffic and clipping along at a seemingly reasonable speed. According to reporters near the scene, there didn't appear to be a passenger aboard the truck.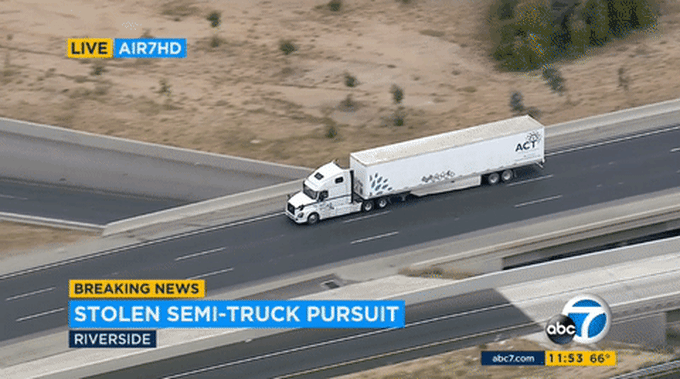 FOX 10 reports that the pursuit is believed to have kicked off around 10:30 a.m. local time, with Twitter quickly grabbing hold of the story and trying to figure out what exactly was going on:
As the harrowing chase neared the 2-hour mark, traffic in Banning started to pick up as the truck made its way through the area. At least 3 California Highway Patrol police cruisers were spotted behind the big rig, with the unnamed driver nearing Palm Springs. According to CBS 12, the truck is believed to be a transport vehicle for "hazardous materials" company ACT Enviro.
In addition to endangering other drivers, the suspect behind the wheel also runs the risk of eventually running out of gas.
At least 2 additional police cruisers joined the pursuit near an exit, slowly falling in line behind the existing fleet. The driver was first noticed by police after failing to yield in Apple Valley, then hitting the 15 Freeway to cruise past Riverside and Moreno Valley. According to ABC 7, the driver is not armed and has told local police he "doesn't want to go back to jail."
At approximately 1:37 local time, the driver pulled off the road and into a truck stop before being surrounded by police. The suspect then exited the truck and surrendered: