There's a photo of Kanye West that stands out in my mind: Dressed in a red long sleeve polo shirt with blue accents on the ribbed cuffs, he's leaning into the camera and grabbing onto the straps of his monogram Louis Vuitton backpack. It's West's first ever press photo—and one of, if not the most, recognizable shots of the rapper.
The story behind that photo is more interesting. Photographer Nabil Elderkin discovered West's Jeanius Level Musik, Vol. 1 mixtape, and bought the "www.kanyewest.com" domain in 2003 after realizing it was still unregistered. Soon after, Roc-A-Fella Records, who'd just signed West, reached out to him, asking how much he wanted for the domain name. His price? A meeting with West and the chance to shoot the rapper.
"I shot him in the first 10 minutes of meeting him," says Elderkin.
Elderkin, who says he prefers to take a photojournalism approach when shooting his subjects, has been documenting West's life for 12 years. There were very few breaks and downtime never lasted longer than six months. Elderkin shot West's Glow In the Dark tour and published the photos in a book of the same name; directed videos for "Welcome to Heartbreak," "Paranoid," "Coldest Winter," and "Mercy"; and was on hand for major events like the rapper's headlining performance at Glastonbury this past June and the premiere of West's Steve McQueen-directed video for "All Day/I Feel Like That" at the Los Angeles County Museum of Art this past July. Elderkin says there are even more photos of West that no one's seen yet.
Given all that he's captured, Elderkin admits that there have been times when he's felt like he wouldn't need to shoot West again. But, he says, "we've grown simultaneously." Now, he's considering shooting the rapper until one day he can publish a "massive" book.
But Elderkin's relation to music stretches far beyond West. In 2005, he directed his first ever music video for The Black Eyed Peas' "Like That," which featured Q-tip, Talib Kweli, CeeLo, and John Legend.
"One day will.i.am from The Black Eyed Peas asked me if I wanted to try [to direct] a music video," he explains. "I worked with these motion graphics guys called Syndrome, and we kind of collaborated and made a video for that. Then Kanye was like, 'Oh man, that's cool. Do you want to try something?' and we did 'Welcome to Heartbreak.'"
In the last few years, he's directed music videos—a medium he regards as "an amazing art form"—for Common, Dirty Money, J. Cole, Mos Def, Nicki Minaj, Frank Ocean, FKA Twigs, James Blake, John Legend, Bon Iver, and more. He also shot one of the potential covers for Travi$ Scott's debut album, Rodeo, before it was ultimately decided that a Dan Chung-designed action figure shot by Kevin Amato would be the final album art.
Born in Chicago, Elderkin took up photography when he started shooting surfers in Australia, where he and his family lived until he graduated from high school. He would digitally composite film photos together to form a continuous action sequence.
"I would shoot a guy doing a kick flip or a surfer doing a big air, take a sequence shot of it, and put it all in one shot," he explains. "You see that a lot in skate mags—I was just trying it way back when." During high school, he failed his photography class because his teacher thought that he was "disrespecting photography." Elderkin regards the quality of his work then as "pretty bad," but surf photography helped him perfect his craft. "I think just seeing the way light—mostly natural light—the way different times of the day looked different on the water, it was a good starting point to see how light and angles affected everything," he says.
In addition to surf photography, he was influenced by cinema, war photography, and shooting with disposable cameras. He recalls the time he assisted Chicago photographer David Anthony on shoots where Anthony used several formats—disposable cameras, vintage Polaroid cameras, 35mm, and 6x7.
"Those vintage cameras were pretty standard in the way that they would shoot, but you would get these amazing looks, feels, and distortions that were natural through the lenses," he says. "It was a big influence." By the time he transitioned into digital, film photography had helped him learn the ins and outs of the craft.
He also remembers watching War Photographer—a documentary about New York war photographer and photojournalist James Nachtwey —and how that led him to photojournalism. "I wanted to do something good, especially after seeing War Photographer," he says. "To see this man who dedicated his life bringing up stories of people out there… As a photographer, you have to capture images that are powerful, and I don't know how much more powerful you can get than humans being vulnerable."
In 2007, he was presented with the opportunity to work on a project in the politically tumultuous Democratic Republic of the Congo. "Shit was crazy," says Elderkin. Claire Lewis, Global Ambassador Program Manager​ at non-governmental organization Oxfam, arranged for Elderkin, who was in London for West's Glow in the Dark tour, to travel to Congo.
"I remember the moment going from the border of Rwanda and Congo, and the energy," he says. "You could just feel a rumble… I remember thinking, What am I doing? But it was amazing, it was an eye opening experience. It helped give me perspective on everything I did after that point."
"It changed my life for sure," he adds. The photos resulted in a critically acclaimed exhibition at the United Nations General Assembly in New York that same year.
Elderkin, who says he's "inspired by people," considers some of his photojournalism work to be some of his best. "I always felt there was a responsibility with me being able to shoot one thing and having the power to reach people," he says. "I wanted to use my photography for something, that I can give back to people's lives." For him, it's all about telling stories.
Elderkin's current focus is telling stories through film, a format he says is the "ultimate progression" for him as a photographer. He's following up his 2015 short film, Captureland, which he made with the Nelson Mandela Foundation Tribeca Films, with Gully, his first full length film. Gully is a portrait of three teens from South Central, Compton, and Long Beach that Elderkin describes as a reflection of youth culture.
"It's like if Kids and Clockwork Orange had a baby," he says. "Or La Haine, which is a French movie." So far, Elderkin is still in the process of casting for roles, but he says rapper Travi$ Scott is very interested in playing Calvin, one of the leads. "Nothing's set in stone yet, but he really embodies that role," he says. "He would be great, and he really wants to do it, so that would be cool. I think he has the chops in him to act. He's one of those natural performers."
Elderkin hopes to have the film, written by Marcus Guillory, ready for Sundance Film Festival in Utah or Cannes Film Festival in France—though he acknowledges that there are plenty of mitigating factors that may keep him from meeting the Sundance deadline. But right now, he's focused on one thing: Showing himself as a filmmaker. And, he says, "make something powerful."
Here, Elderkin takes time from working on Gully to revisit some of his photos, videos, and films: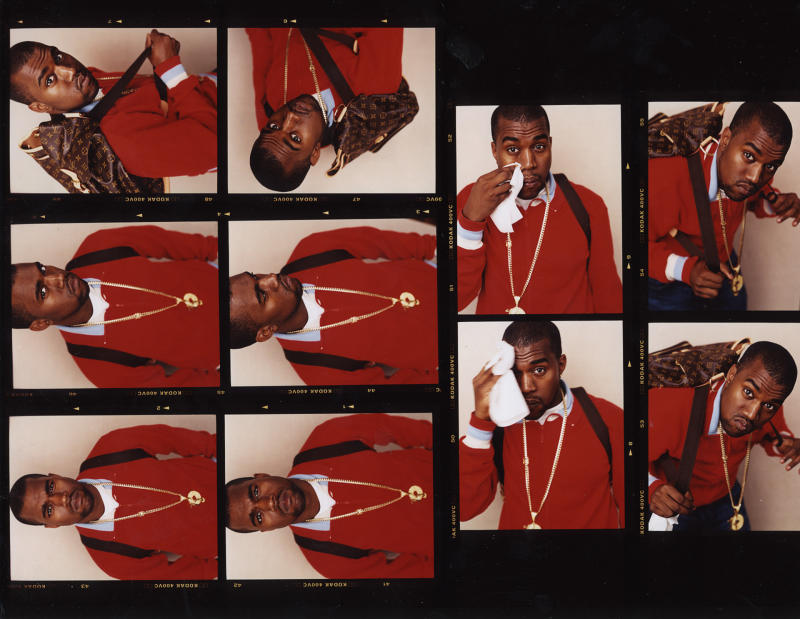 Kanye West's First Press Photos (2003)
"The red backpack was one of the first shots I ever took of him in my studio on the west side of Chicago. It was the first day I met him, shot in the first 10 minutes of meeting him. So it's kind of a nostalgic thing. And it was one of the first photos that came out of him. I shot 6 x 7 Pentax film and it was one of my first 10 minutes of meeting him and it was just simple."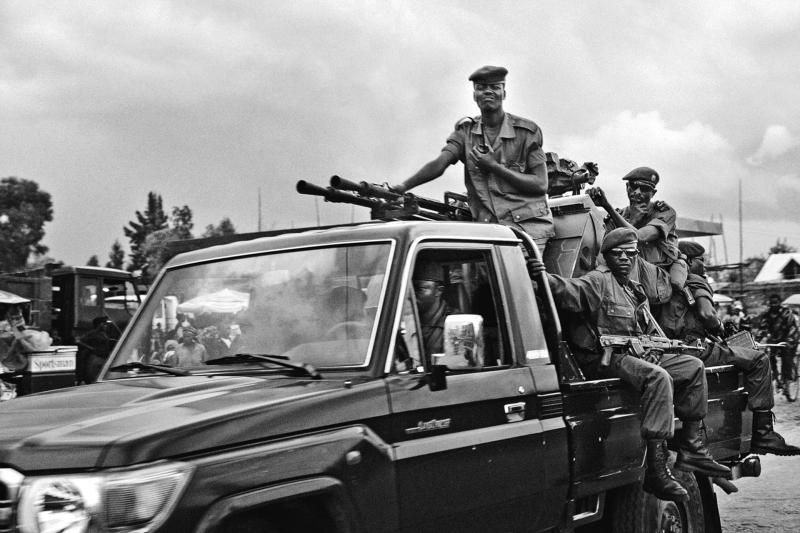 North Kivu, Congo (2007) Displayed at the U.N.
"I remember this guy on the back of a truck with a massive gun—it was like out of a movie. I remember him looking at me, stopping the car, and waving me over. I kind of stood there and froze for a moment and then I walked over and he started laughing, pointing at my camera. I wasn't sure what to do, so I showed him the photo. He looked at it, gave me the thumbs up and said, 'Nice one' then drove off. It was pretty intense."
Kanye West - "Welcome to Heartbreak" Music Video (2008)
"I think 'Welcome to Heartbreak' was like the first kind of music video that kind of got big because it was Kanye, and it was something big and different. I think it's interesting and artistic, and something different than what was going on at that time, especially with hip-hop videos. It was one of the more pivotal videos at the beginning."
---
Kanye West feat. Rihanna - "Paranoid" Music Video (2009)
"I think 'Paranoid' is also good because it was Rihanna when she was going through an interesting time in her life. I think 'Paranoid' related to the point that she was at."
---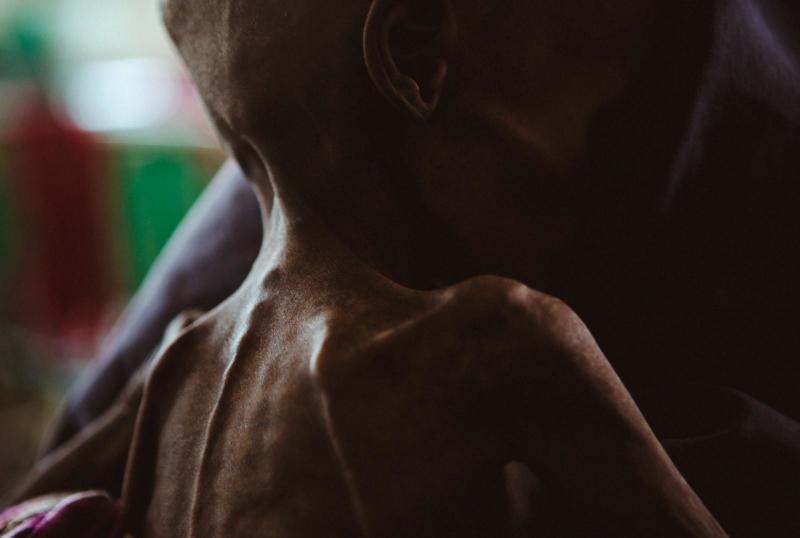 Mogadishu, Somalia (2011) Featured in National Geographic.
"This was from a trip I did to Mogadishu in Somalia with artist K'naan to bring attention to a famine that was going on. This is where [K'naan] was born, and nothing was happening to help. It was also one of the longest-running war zones for the last 20 years, worsened by the extremist group Al-Shabaab that had been cutting off aid to the region. This is one of the most disturbing things I have witnessed. Just to think that a child had to endure this state, and a mother had to see her own child like this really had an effect on me."
---
Frank Ocean - "Novacane" Music Video (2011)
"I've been shooting most of [Frank Ocean's] photos and videos. 'Novacane' was our first video. 'Novacane' was a pretty cool video that we worked on, we did it for no money, it was off his mixtape and we shot it in my producer's bedroom. We did it for like $4,000 or $5,000, just pulled favors, it was real like DIY. Then he blew up and we did 'Pyramids,' which had a little bit bigger of a budget."
---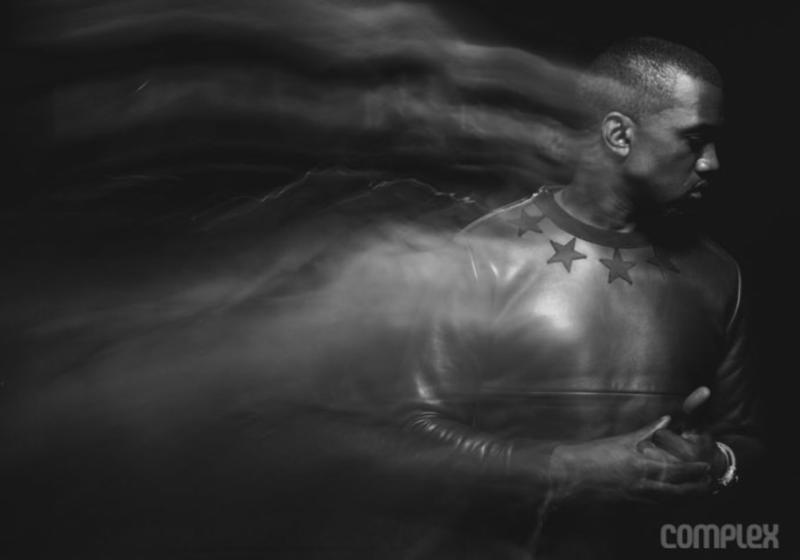 Kanye West for Complex (2012)
"I just like it. It was 10 years later, another portrait I shot backstage at his Paris Watch the Throne [tour]. There's a couple of those that I like. I think it's just the composition and has a trail thing. It looks kind of iconic in a way. A little more classic. I really like that one, it's really personal to me."
Antony and the Johnsons - "Cut the World" Music Video (2012)
"The video that made the biggest change in direction from myself as a director would be Antony and the Johnsons' 'Cut the World.' I worked with actors and shot it a little more like a film, and that kind of got a lot of attention in a different crowd in a more cinematic kind of sense."
---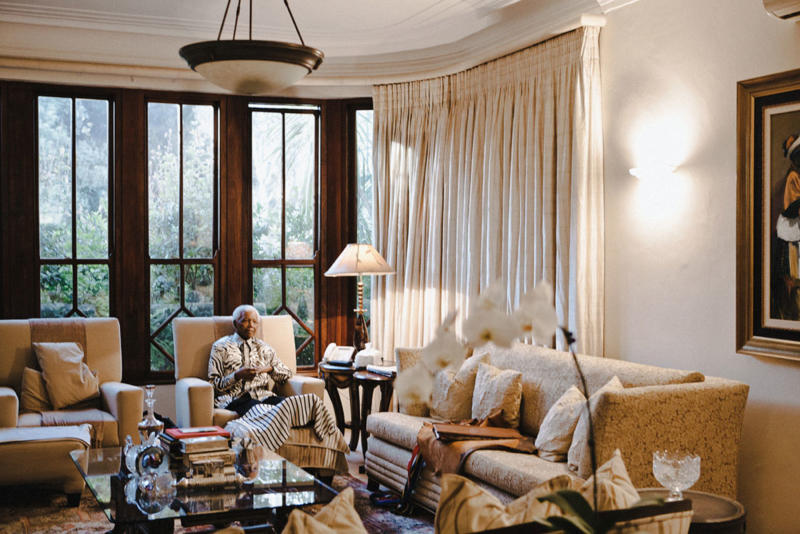 Nelson Mandela Portrait (2012)
"This was one of the most amazing moments of my life, to sit with Nelson Mandela, to be in a room with a few people and him, his presence, his smile. I vividly have a very strong image of him smiling and laughing. You can tell he just loved the energy of young people around him. I'm good friends with both of his grandsons, Ndaba and Kweku. They're the ones that brought me and some friends there. He didn't really hear too much of what we were saying but we could tell he was vibing out with us... it was very intimate. His grandsons said I could take a quick photo. I only took like five shots, but this one's my favorite—where he's by himself sitting in a room. He was sitting there with his feet up."
Nicki Minaj - "Lookin Ass" Music Video (2014)
"I listened to the song and I was super into it. The song was much harder than the stuff she'd put out at the time—she was coming back to straight hip-hop. There's not too much to the video. I just wanted to do a performance video, and shot it in the desert in the day time. It had this old Western look to it where you darken the sky by shooting with bright lights. The lights were like, burning her [Laughs]. I wanted to keep it more on the fashion tip with the lighting, kind of like Helmut Newton photos. Newton used to shoot beautiful black and white photos, and I wanted to capture that classic vibe and juxtapose that with the hardcore rap. I wanted her to look strong and fierce as she is, but still beautiful. I wanted to capture the feeling of men staring at her and her absolutely obliterating them."
FKA Twigs - "Two Weeks" Music Video (2014)
"I always liked the idea, I always held it in my back pocket. I remember one day FKA had me come to the studio to listen to her song and I remember pitching her that. I changed it a little but it was still the same premise of a girl on a throne and kind of this harem. I pitched it to her and she told me about her dancing and I thought it would be amazing. She's such an amazing dancer that she brought her own cool dancing and aesthetic to it. I didn't show her the video to until it was done. I kind of don't do that with any artists."
---
Captureland (2015)
"Movies are the ultimate creative thing; you get to tell a story. I mean I got to make the short film Captureland, which I was able to do with the Nelson Mandela Foundation and the Tribeca Films. It's a 15 minute film using Nelson Mandela's words. It was a stepping stone into doing a narrative and not doing just music."
---