The Best Dennis Rodman Outfits
Following ESPN's "The Last Dance", here are 15 of the best Dennis Rodman outfits and fashion looks over the years.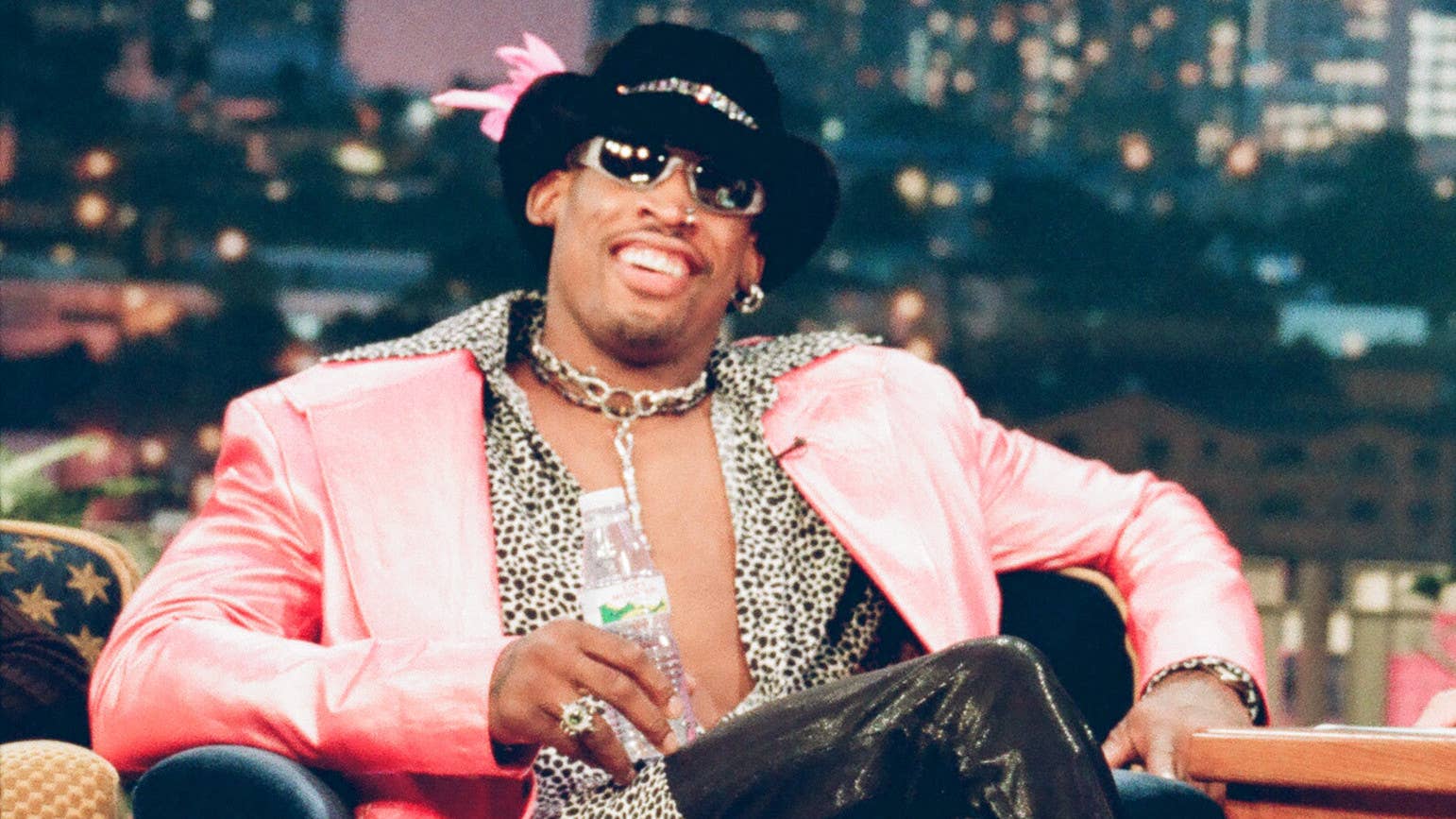 Getty
Image via Getty/Margaret Norton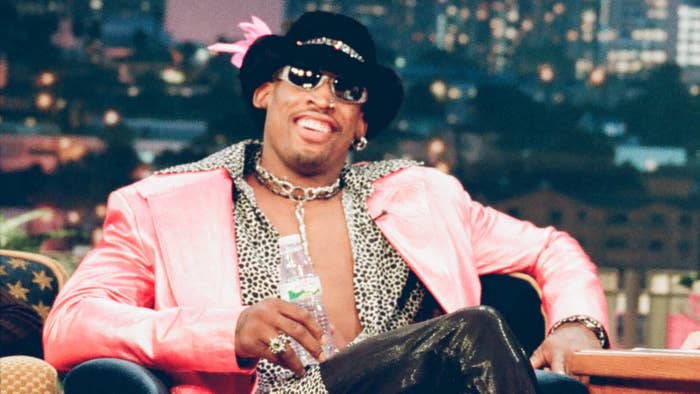 Today's NBA might be more focused on off court style than any era before it. The pregame tunnel has become a runway of sorts that sees player arriving to the arena on a nightly basis in their freshest fits. Style has always been intertwined with professional basketball. Allen Iverson is another frequently referenced superstar when fans discuss the sport's style icons. But another name, perhaps more polarizing than any other, is Dennis Rodman.
Calling Rodman unique is probably an understatement. In his NBA prime, he was raking in rebounds with slime green hair as a member of some of the most important teams in the league's history. He attended a book signing in a wedding dress because he "married himself." He was a competitor in professional wrestling matches. He wore women's clothing on the red carpets of events. In the years following his Hall of Fame career, the legend became a poster child for gaudy brands like Von Dutch and Ed Hardy. More recently, he has captured headlines traveling to North Korea to visit dictator Kim Jong-un. Nobody could ever predict what Rodman's next move would be, and yet that is the exact reason why he is has cemented himself as a pop culture icon and master class player in the NBA.
Rodman's style was shocking for many. Some people were enamored by it. Others hate it. But there is no denying its impact. Given the recent string of episodes from ESPN's multi-part documentary, The Last Dance, we got to thinking about just how legendary The Worm's style really was. Love it or hate, Rodman was a trailblazer even if he didn't know it as some of his style cues like nail polish, choker chains, and gender fluid silhouettes have become more commonplace. 
In honor of the legend that is Rodman, we have decided to put together what we feel out some of his best outfits. Take a look at the full list below. 
The Tonight Show With Jay Leno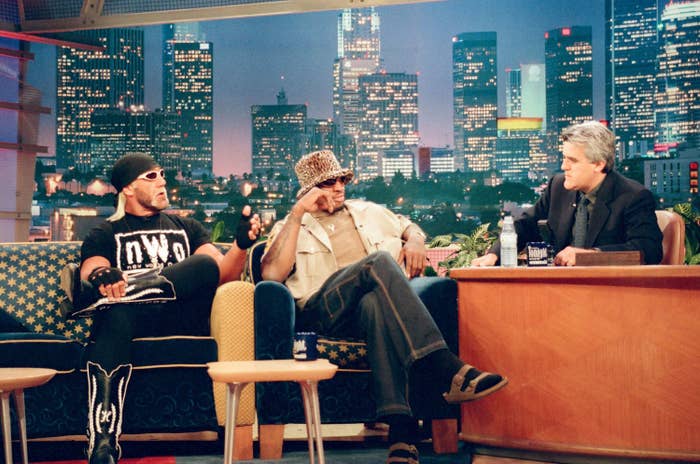 When: 1998
There is a lot to unpack in this photo. First of all, Hollywood Hulk Hogan is sitting beside Rodman in full NWO attire. Incredible. While obviously promoting an upcoming event for his brief stint in WCW, even Leno's face looks perplexed here. But Rodman's outfit is what we are here for. Rodman just oozes cool. His signature shades and piercings are present of course, his bucket hat would make Joe Exotic salivate, and the relaxed denim and brown Birkenstock sandals are both great choices too. As you will notice, many of Rodman's fits would make sense if you saw someone wearing them today. This is just another example of that. 
MTV Video Music Awards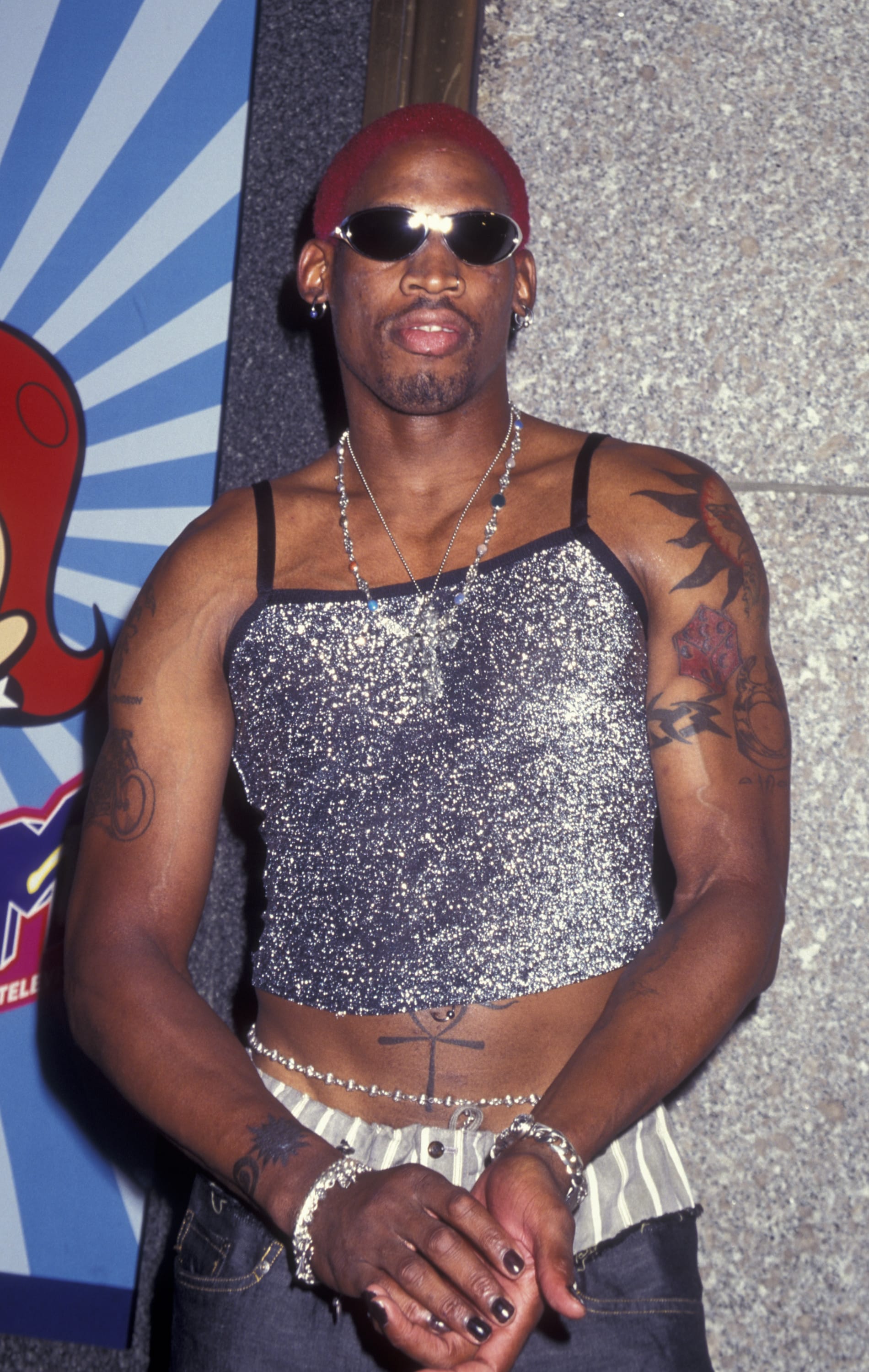 When: 1995
This is one of those infamous outfits Rodman became synonymous with in the '90s. Before Kid Cudi was rocking the stage in a crop top and Young Thug got people talking wearing dresses on album covers, Rodman was a poster boy for gender fluid dressing. Arguably the greatest rebounder in NBA history pulled up to the 1995 MTV VMAs in a silver glitter cami shirt to show off his various tattoos, accessorized with plenty of silver jewelry and hot pink hair. The confidence is key here because against all odds he pulled this off. 
MTV Video Music Awards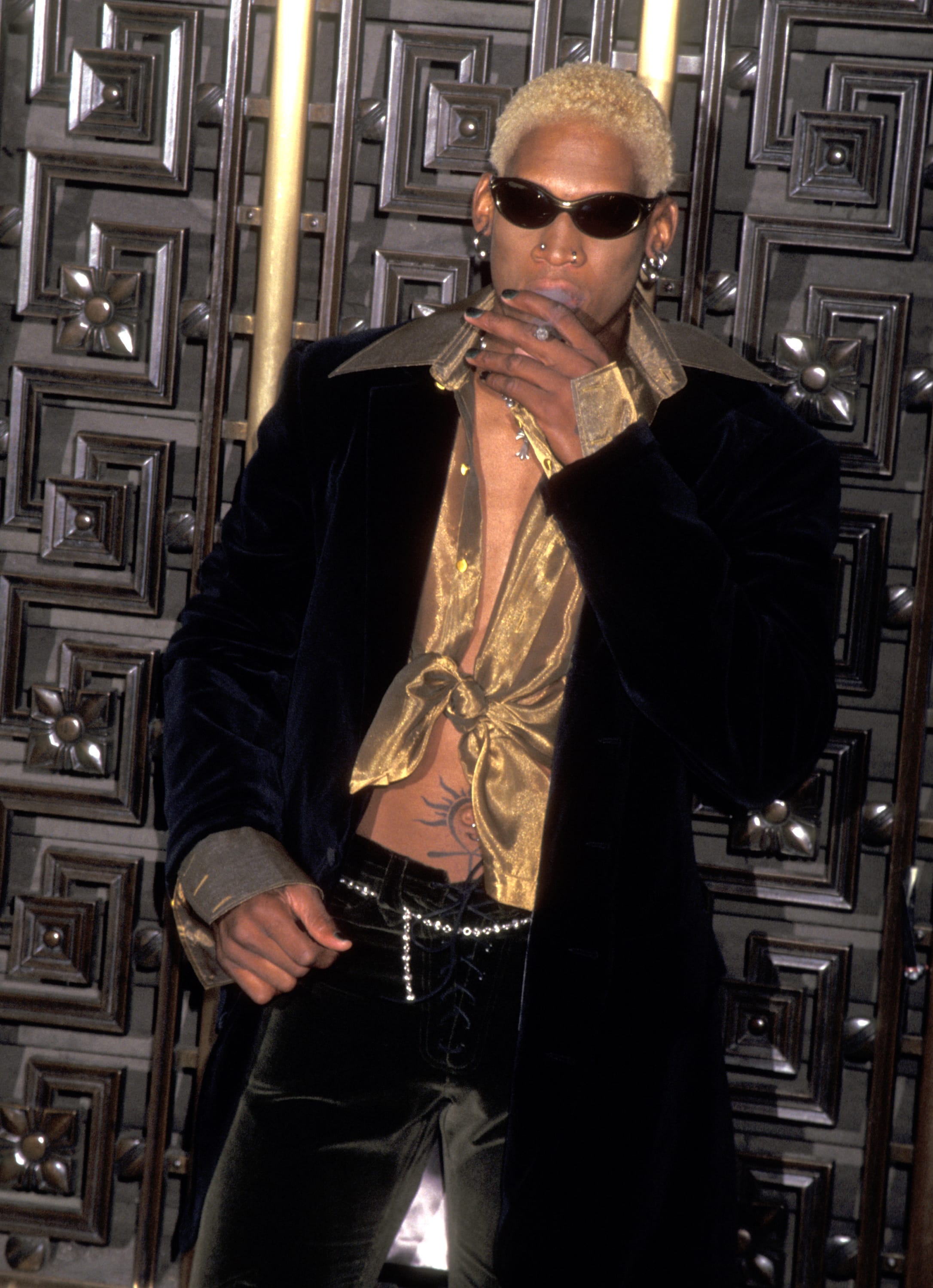 When: 1996
The following year, Rodman once again pulled up to the VMAs at Radio City Music Hall in one of the gender fluid fits he became known for. In comparison, this one is much more tame with a black velvet coat, matching pants, and front tie gold crop top. The thin diamond belt is a perfect accent. The cigar in hand aids the look too. Don status.
Sports Illustrated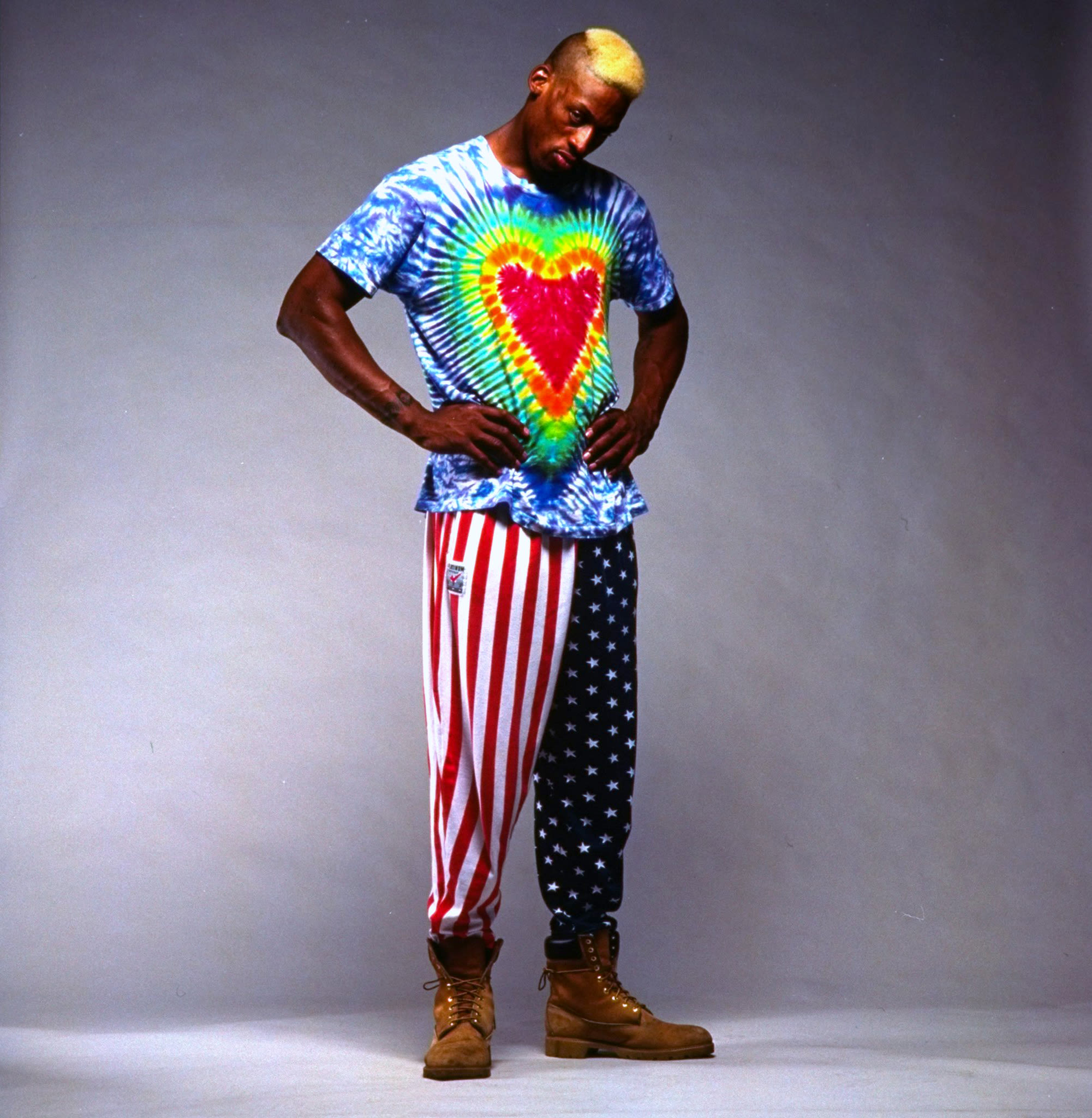 When: 1993
If Dude Love fused with Rex from Napoleon Dynamite, you get this 1993 Rodman fit. The patterns clash so much that it almost looks like it makes sense. Either way, this is yet another example of Rodman being ahead of the curve on today's trends. Vintage tie-dye T-shirts are popular right now. Well, Rodman was doing it 25 years ago. The beat up work boots are the perfect finishing touch to complete another one of those outfits that only Rodman could pull off. 
Beverly Hills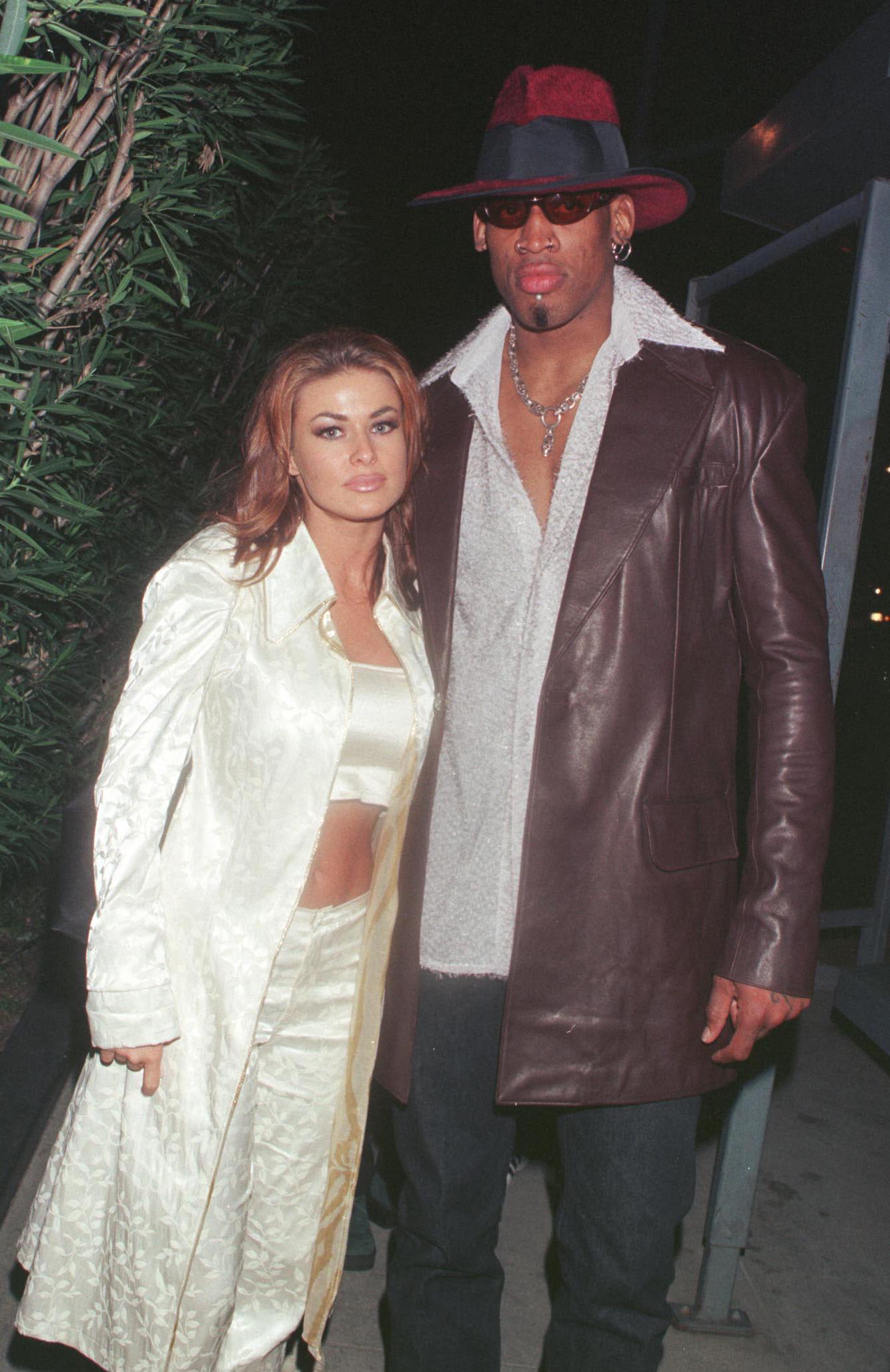 When: 1999
If you've been watching The Last Dance on Sunday nights, you have heard about Rodman's legendary 48-hour vacation to party in Las Vegas in the middle of a championship season with Carmen Electra that caused Michael Jordan to fly to Sin City to find him when he didn't return on time. Electra was one of his most notable girlfriends throughout the '90s and he certainly knew how to step out in a good fit with her by his side. Case and point, this photo from 1999 in Beverly Hills. The velvet fedura, ember shades, silver chain, and brown leather coat is a combination most couldn't pull off. Rodman could though.
Undisclosed Location With Tommy Hilfiger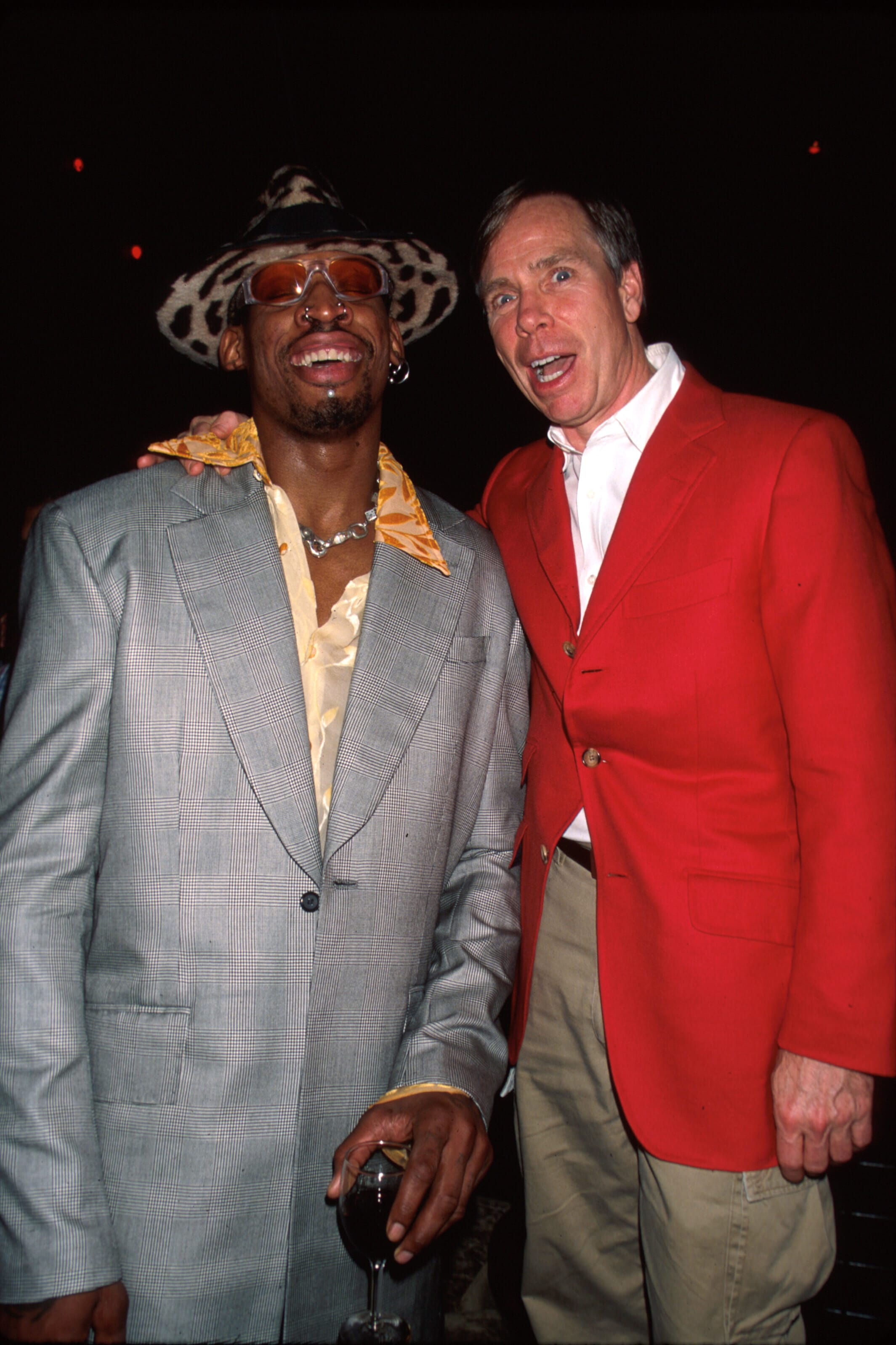 When: 1999
Of course Rodman, a '90s style icon, has a photo with one of the decade's most notorious designers. Alongside Tommy Hilfiger, Rodman is flexing in a grey suit, orange button-up complete with a floral collar, and a cheetah print fedora for some extra style points. As always, his bug-eyed Oakley shades and facial piercings are on full display. The glass of red wine might explain his eyes closed in the photo, but it doesn't deter from how iconic this encounter is. In 2004, Rodman would even walk the runway for Hilfiger's designs for a charity fashion show "Race to Erase MS." Maybe this was how the relationship began. 
The Hair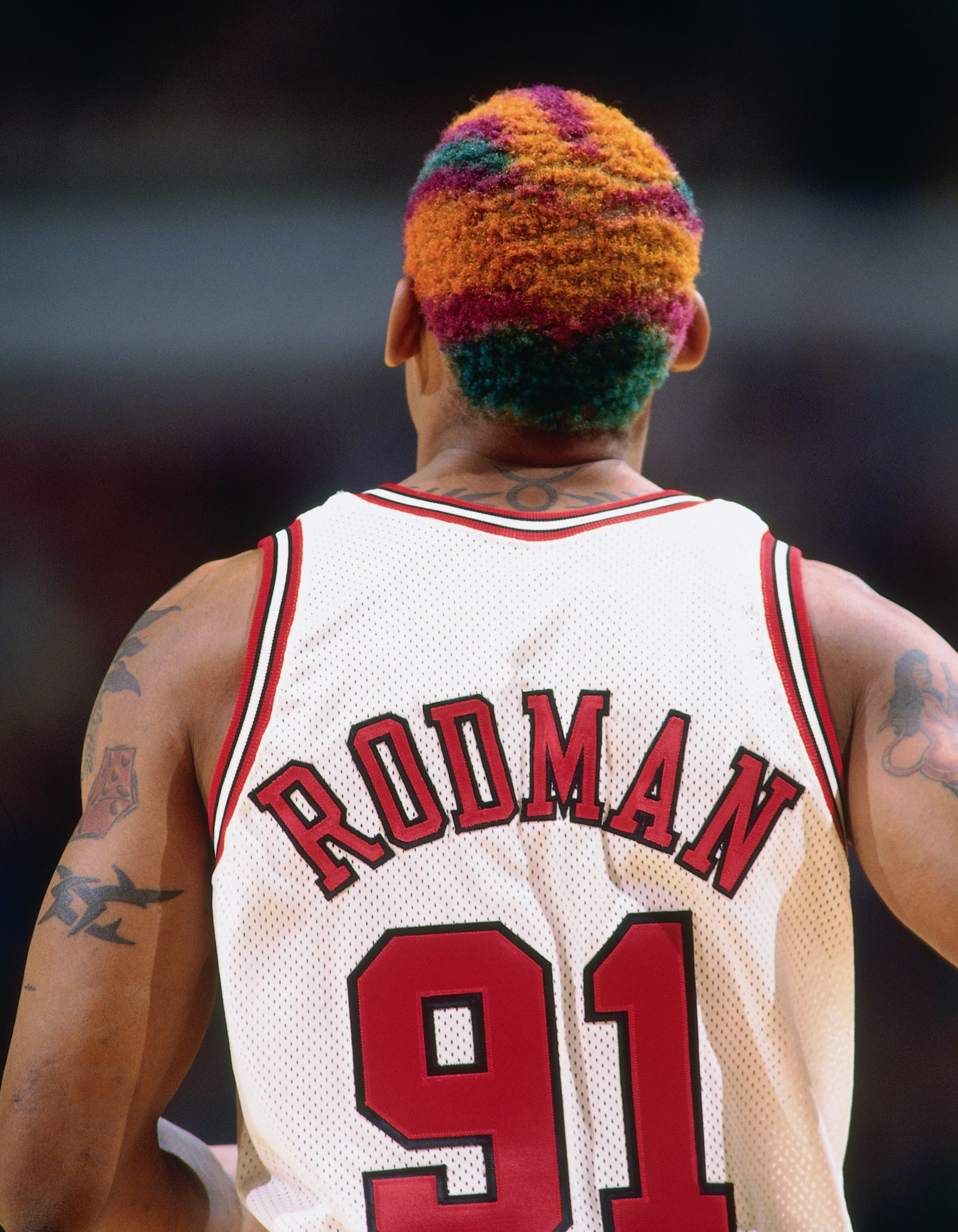 When: 1996
Perhaps the most well known aspect of The Worm's style was his ever changing hair. Originating when he joined the San Antonio Spurs in 1994 and said to be his way to kill the "shy imposter" he used to be, Rodman's colorful hair became his calling card. Hairstylist David Chapa, who passed away in 2002, can be credited with providing all of us with the spectacle that became Rodman's hair. Rather than highlight all of them individually, we are going to recognize them collectively. From slime green to hot pink, "33" print to celebrate Scottie Pippen's return in the 1997-98 regular season to rainbow tie-dye, there is no denying that Rodman's unique hairstyles are one of the most iconic examples of on-court NBA style of all time. 
WCW Bash at the Beach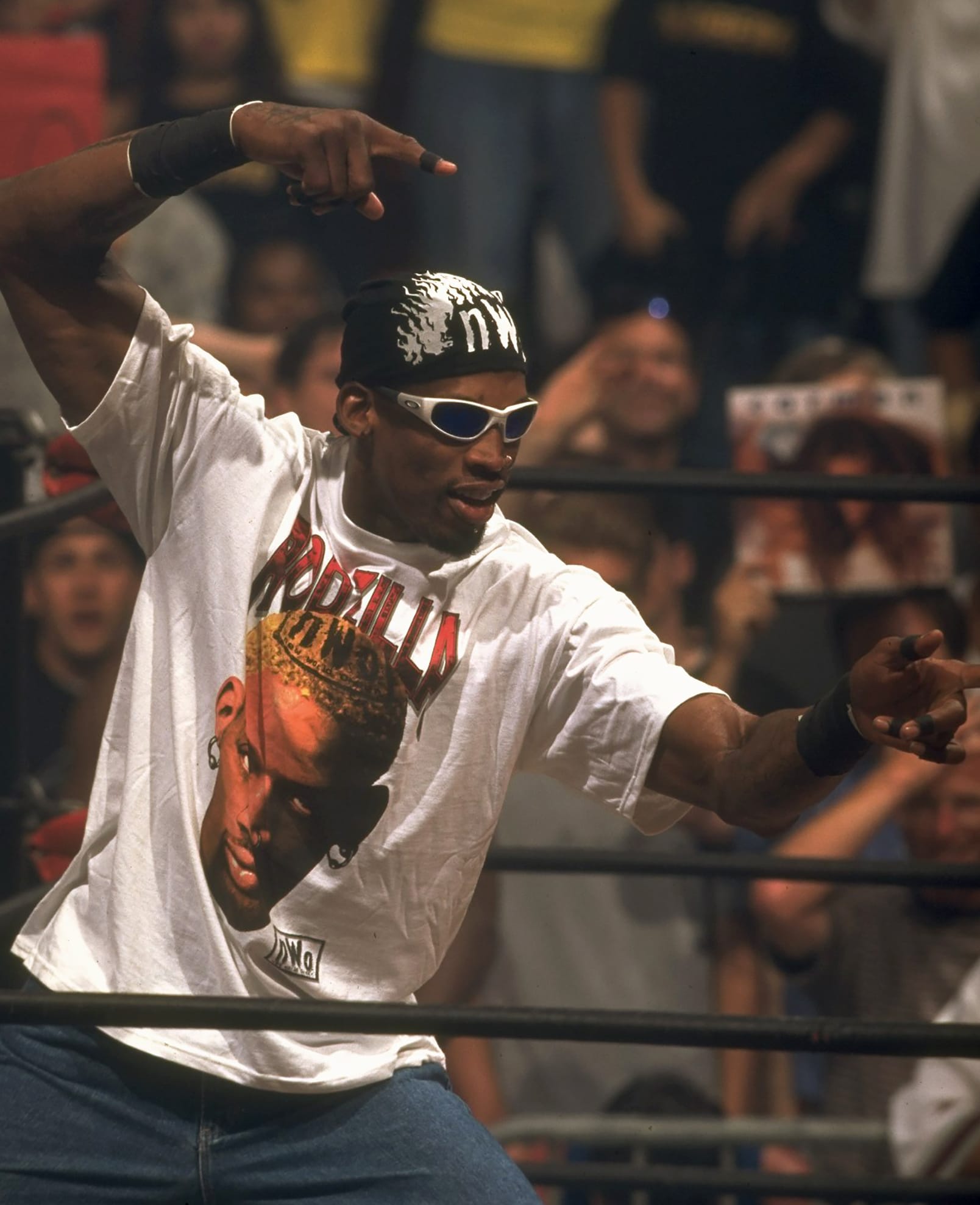 When: 1998
As if pulling down double-digit rebounds for an NBA dynasty was not enough, Dennis Rodman was also a main attraction in the now-defunct wrestling organization, WCW, back in 1998 if you needed more proof of his athletic prowess. Alongside Hulk Hogan, he battled in a multi-month feud with Diamond Dallas Page and Karl Malone (yes, another NBA Hall of Famer). The entire thing is an incredible bit of nostalgia, but this photo made this list because of the T-shirt Rodman is wearing. Vintage Rodman gear is a hot commodity no matter what it is, but legit "Rodzilla" WCW merch is some of the hardest to come by these days in good condition. Cool back then, cool in hindsight, this is just an awesome moment all around.
Chicago Bulls 1996 NBA Championship Parade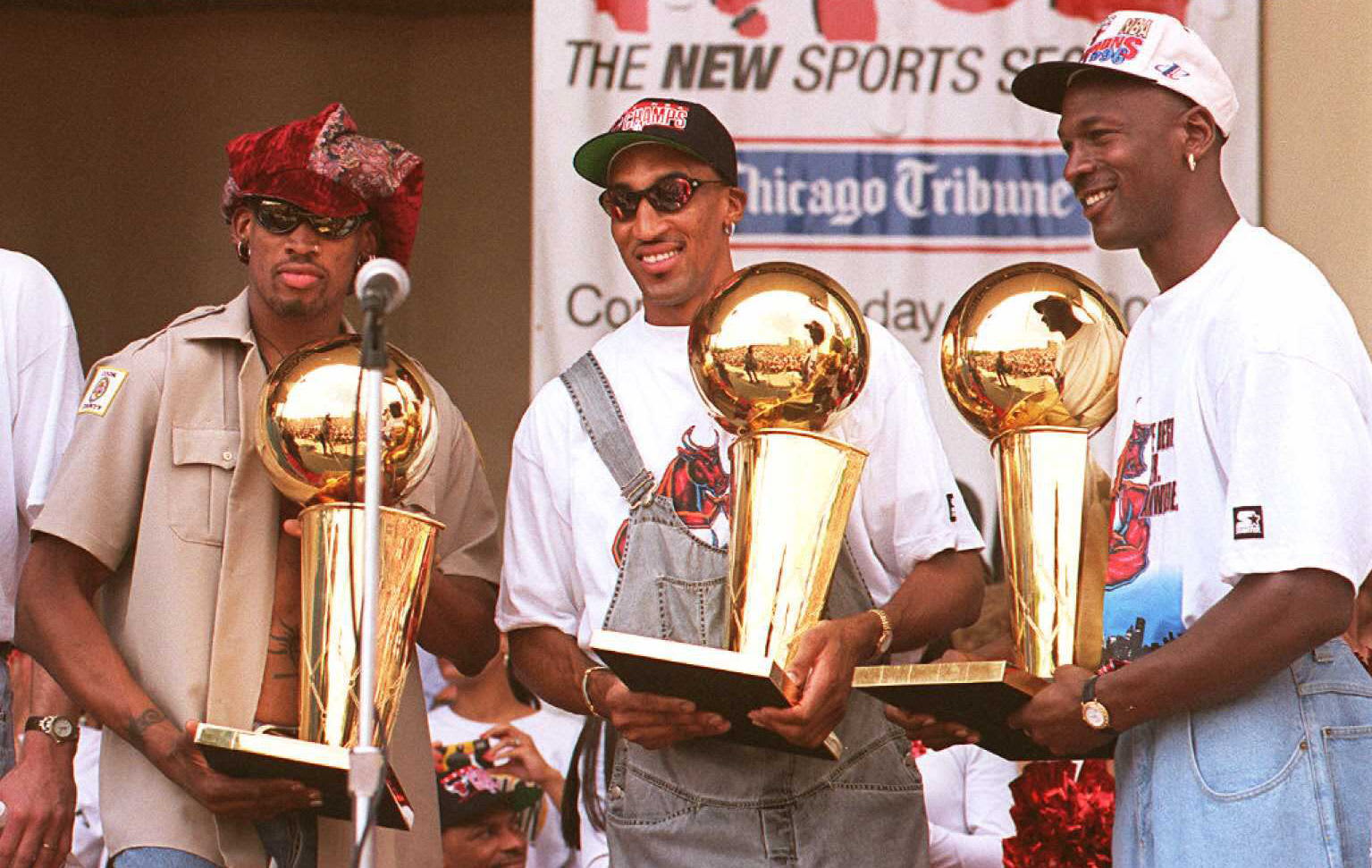 When: 1996
Rodman was always considered the rebel of the Chicago Bulls legendary trio in the late '90s that captured three straight NBA titles together. If there was ever a photo to explain this dynamic, this might be the perfect one. Here, Rodman can be seen alongside Scottie Pippen and Michael Jordan at the 1996 championship parade in Chicago. Pippen and Jordan are decked out in celebratory T-shirts and caps to commemorate the title. Not Rodman. He showed up to the parade in true Rodman fashion rocking an unbuttoned, tan police shirt and a droopy red hat akin to the style he was seen wearing frequently at the time. Before shirtless J.R. Smith at the 2016 Cleveland Cavaliers parade, this Rodman fit might have been the gold standard of NBA championship parades.
1996 NBA Finals Game 6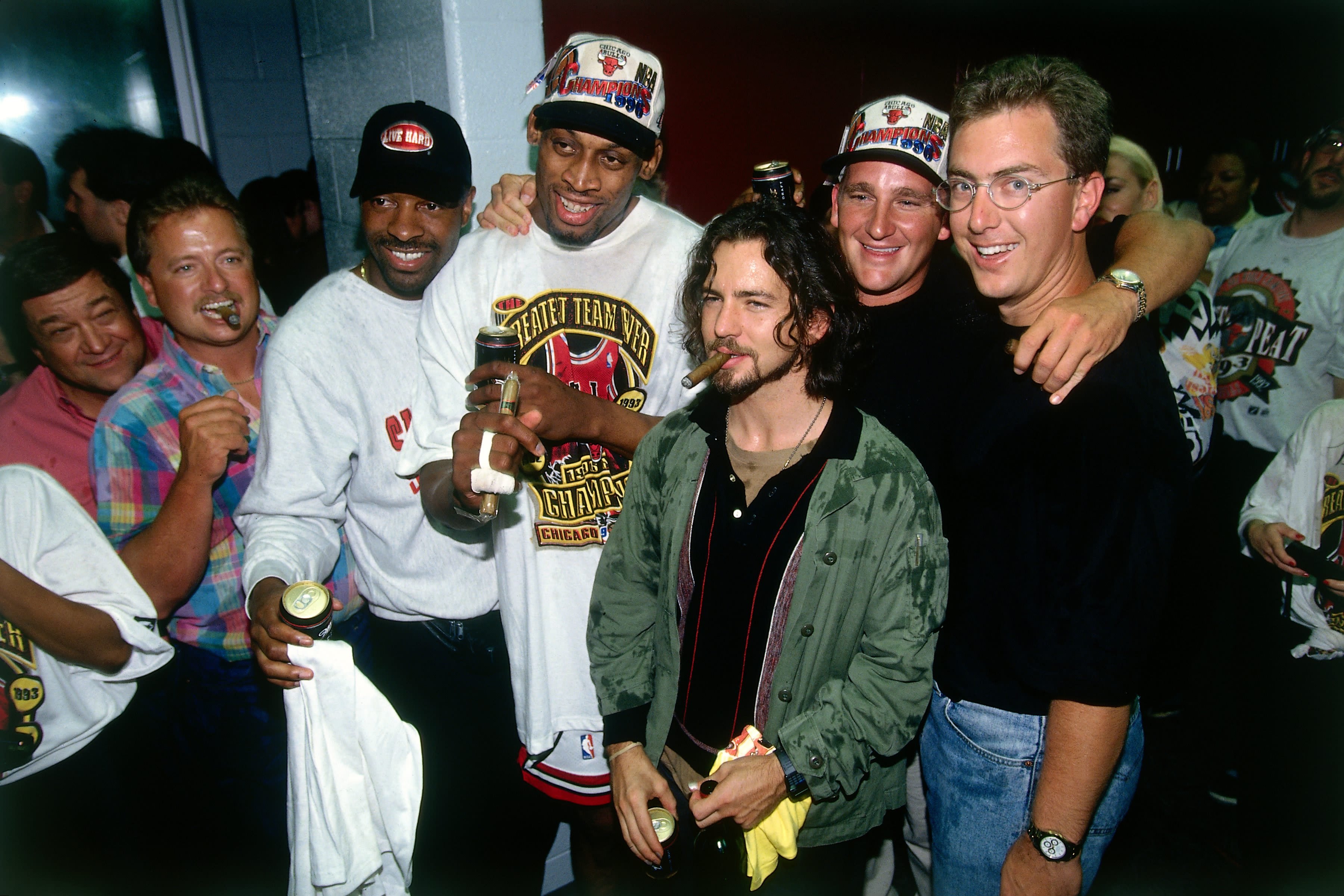 When: 1996
Context is what makes this outfit so special. This photo was taken after the Chicago Bulls won the 1996 NBA title following a then-best ever 72-10 regular season. That Sports Specialties snapback is incredible. That T-shirt, another amazing relic of Chicago Bulls history. Rodman is also celebrating with Pearl Jam frontman Eddie Vedder. He is a known fan of the iconic grunge band and has even said they saved his life (he fell asleep listening to them in his car in 1993 outside of the Palace of Auburn Hills in Detroit where he planned to commit suicide). Imagine popping bottles with your favorite musician in the locker room after winning a championship. 
1996 NBA Finals Game 6 (Pregame)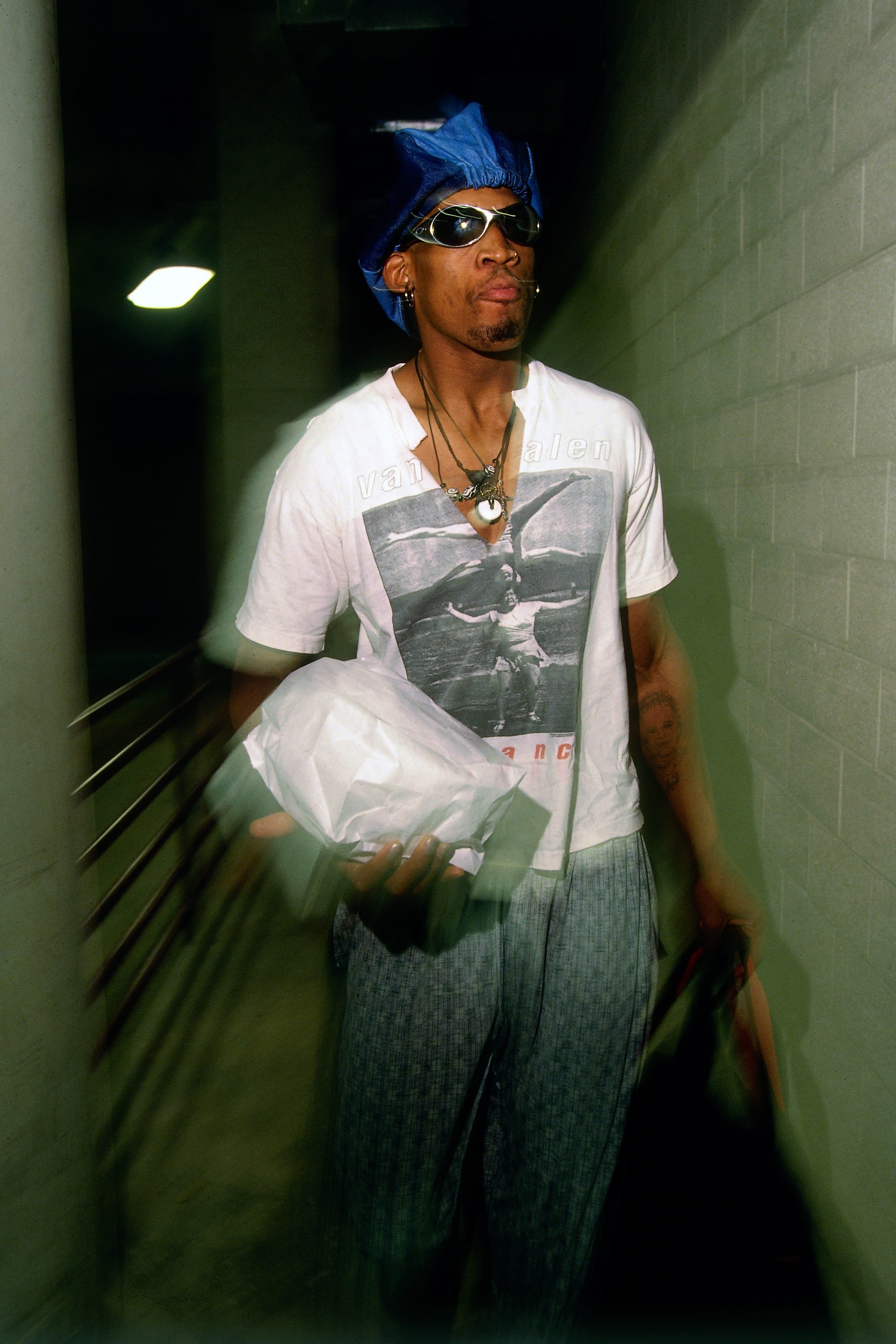 When: 1996
Vintage band T-shirts were a massive trend a few years ago, thanks in part to Fear of God's Jerry Lorenzo. While the hype has died down, they are still a staple in many wardrobes today. Well, Rodman was rocking band tees i the tunnel back in 1996. A noted fan of rock music, here is seen in a Van Halen T-shirt that has been altered with an insanely deep v-neck. His signature Oakley shades, patterned pants, blue bonnet, and a copious number of necklaces make this one even better. 
1996 NBA Finals Game 6 (Pregame Pt. 2)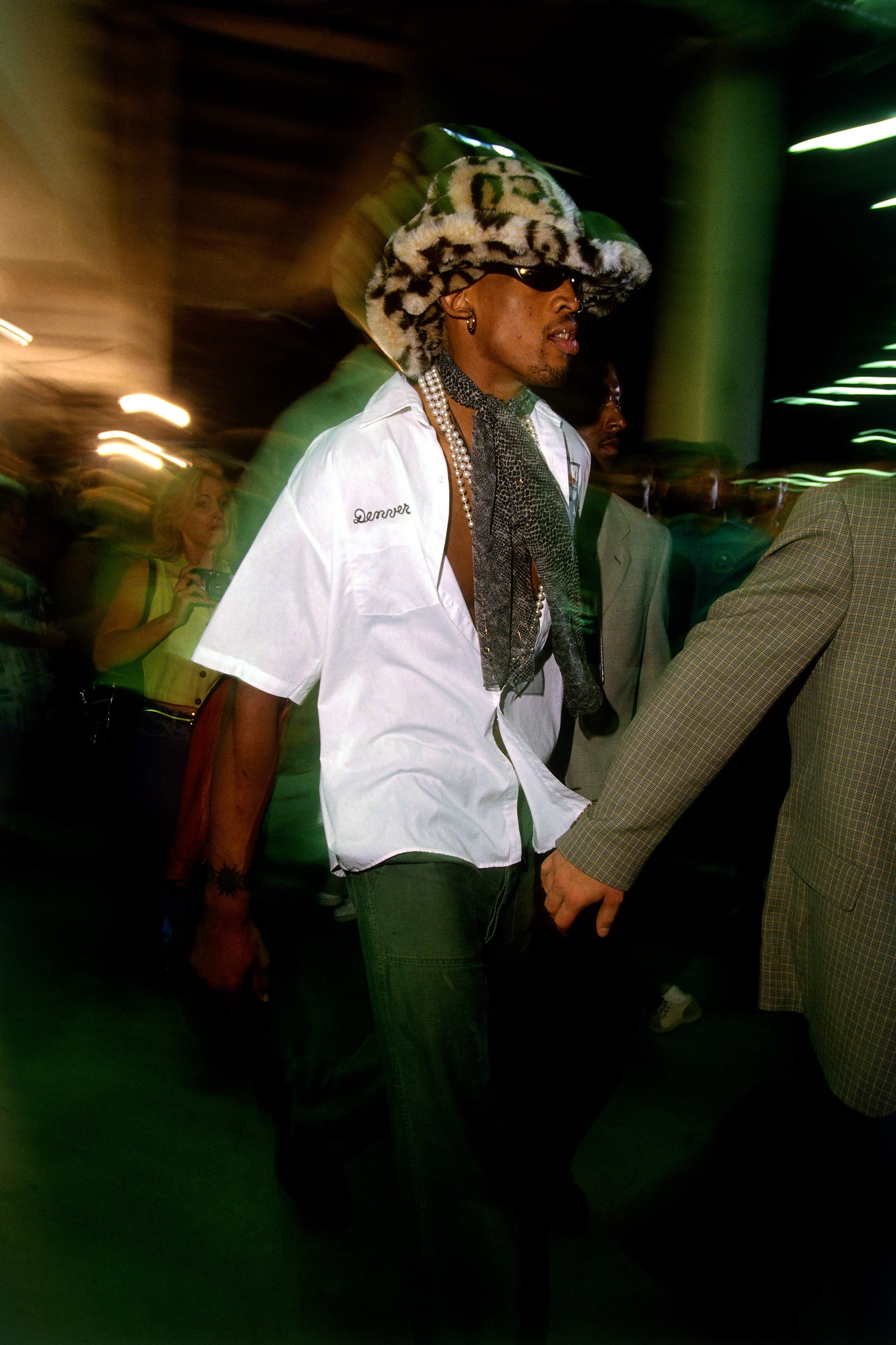 When: 1996
If only pregame tunnel fits were as big of deal as they are today back during Rodman's playing days. This guy was killing it. Just look at this. The snakeskin scarf, a crispy white bowling shirt, and a furry cheetah print cowboy hat were what this man arrived to Game 6 of the NBA Finals wearing, which the Bulls would ultimately win to end the series. He pulled down 19 rebounds in this game too, which just further adds to how legendary this one is.
The White House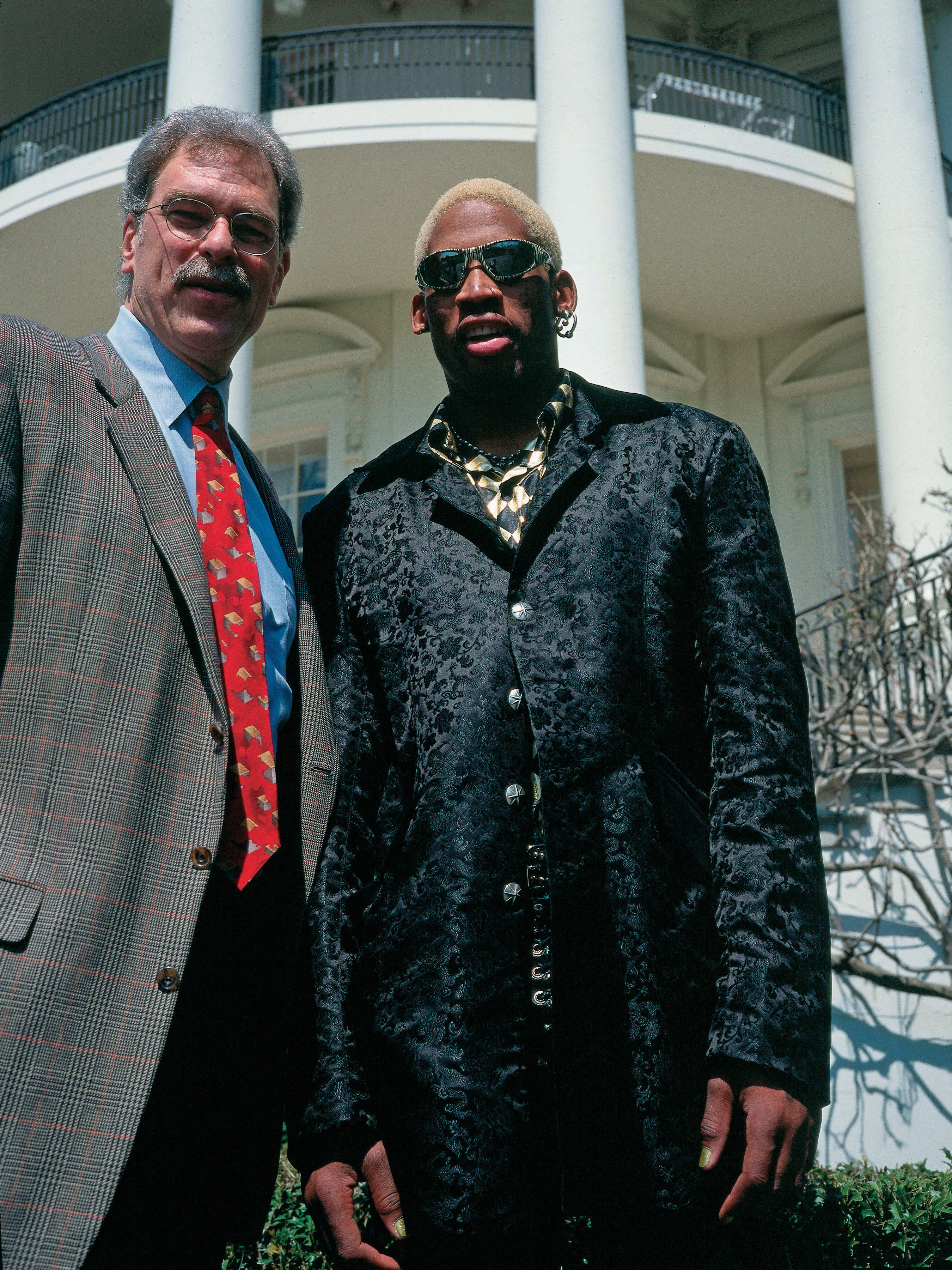 When: 1997
Full floral embroidery on the suit jacket with a black and gold checkerboard shirt underneath. Next to the greatest NBA head coach of all time on the White House lawn after winning an NBA title. This is just another amazing photo from the archives made even more amazing when you realize Rodman shook President Bill Clinton's hand wearing this. 
The Tonight Show With Jay Leno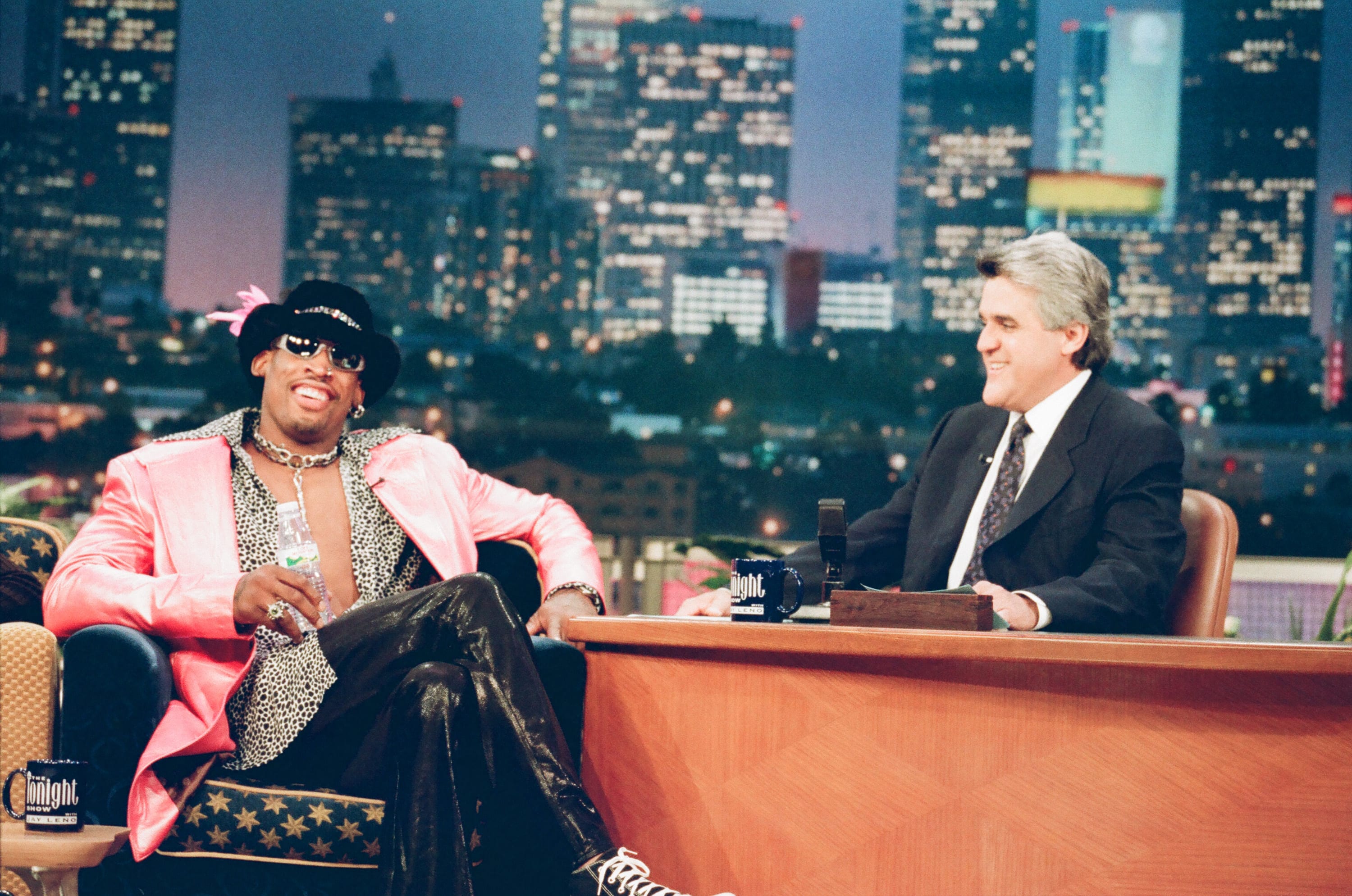 When: 1997
In looking through dozens of photos for this list, the conclusion is that Dennis Rodman did not mess around when he appeared on Jay Leno's late night show. You could probably make the argument that nobody consistently dressed as well as him to sit beside the famed talk show host. This particular outfit is one of the very best. The pink feathered hat with the pink blazer and cheetah print button-up is just nuts. The fact he paired it with black leather pants and a pair of classic Converse Chuck Taylors makes it that much better. The silver choker chain to accessorize, Rodman was dressing like your favorite rapper when they were still in diapers. 
The Forum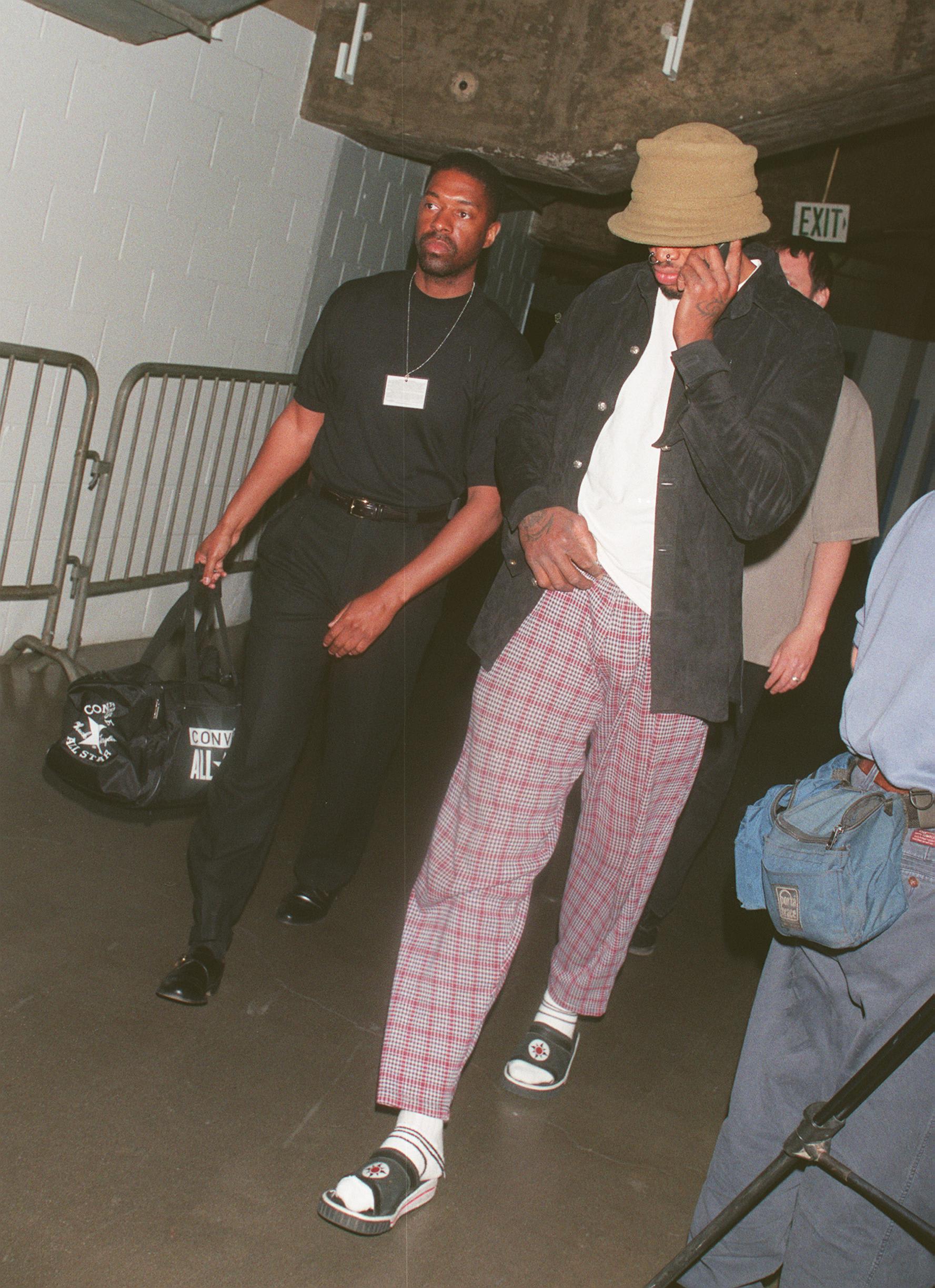 When: 1999
​​​​​​​One of the more tame Rodman fits on this list also happens to be incredibly timely. This tunnel fit would also be an incredible quarantine ensemble. The white T-shirt and what I'm fairly certain is just a pair of red plaid pajama pants is the perfect attire for wandering around your apartment all day. Need some groceries? Toss on a button-up, hat to hide the bed head, and some slides to stay cozy, but feel presentable. The "I don't give a fuck" nature of this one makes it stand out. Rodman was notorious for shocking onlookers with his bold outfits so much that it is good to see him pull up to the arena pregame in something comfortable.