 This is a new series introducing you to the style staples everyone needs in their closet, no matter what. 
What: The Camel Overcoat. AKA Topcoat. AKA Chesterfield. AKA Polo coat. AKA Car coat. Whatever the hell you want to refer to it is as, it's an all-time classic that everyone should own. Whether it be sleek and elegant or oversized and slingy, single- or double-breasted, right below-the-knee or right above-the-ankle,  it has the ability to fit every style and go with virtually everything.
When: While the use of camel hair for clothing literally dates back to biblical times (Matthew 3:4, y'all), the actual application to overcoats didn't start popping up until the late 17th century. It was known specifically for its warm exterior and long length, but, knowing that people wanted a softer touch without relinquishing that warmth, wool and cashmere were heavily blended with the wiry camel hair. Eventually, brands began to move away from actual camel hair and just resulted to dying their wool, cotton and cashmere the tannish hue for the "camel cloth" effect.
Whatever the fabric combination may be, it is a cool weather favorite that has legs beyond the most frigid of winters. Don't be afraid to drag those proverbial coattails through the streets in the spring or fall, as long as your layering is on point.
Who:  I'm sure A$AP Rocky or Harry Styles, who frequently don the staple, would back up my claim, and while we would be remiss not to mention Kanye's famous (then) Maison Martin Margiela x H&M collarless camel overcoat or his GQ photoshoot with the Calvin Klein diddy, our stannage won't allow us not to pay homage to the the style icons of yore who did it way back in the day, first. James Dean in his famous photo series with Roy Schatt. Marlon Brando in "Last Tango in Paris." Ralph Lauren's interpretation, and superb modeling, of the infamous Polo Coat. Or, you could just take a gander at just about any street style from Tokyo to Milan to New York during the colder months and you're bound to catch a glimpse of some grail-worthy camel overcoat interpretations.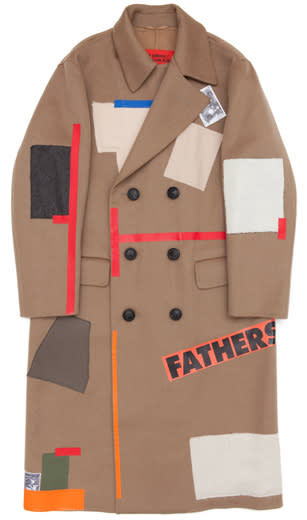 Why: As you've probably gathered by now, it's a god damn fashion staple that hasn't gone through many instances of being totally fazed out.
"But everyone has one!"
Uh doyyyyy, did you read the title of this post? Everyone should have one due to its extreme functional and fashionable relevance. Warmth and security mixed with style, sophistication and versatility? The dexterity on this thing is on Mike Tyson levels, fam.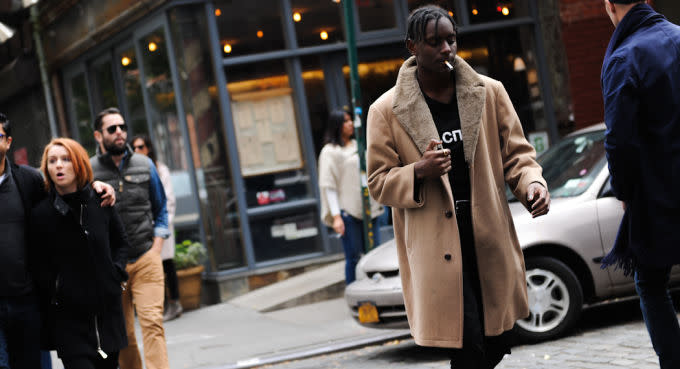 "But I don't want to look like anyone else!"
Depending on your circumstances, the aesthetical variations could 100% play to your advantage or disadvantage because, unfortunately, not every camel overcoat fits to every style type. You don't want to be out here looking like Bartholomew Humperdink heading home from his personal squash lessons. But because there are many damn variations of the camel overcoat, the likelihood of you and someone else wearing the same one ONLY goes up if you and your homie are trying the same joint on in Barney's.
It's a wave that every brand wants to get in on. More tailored-centric brands like Gucci and Valentino opt for the sleek silhouette that should hug up to a suit, while casual menswear brands like Acne Studios offer something a little boxier so you can rock it casually with your drop-shoulder crewnecks and bulky sneakers.  Brands are also trying to add the necessary (and some very unnecessary) details to differentiate themselves from the masses, affording more opportunities for personal preference. Do you remember the Raf Simons x Sterling Ruby collab? While camel coats were well on their way to being the "it" outerwear, but the level of craftsmanship Raf brings paired with the crazy detailing all over the coat took this piece to a new level of wizardry. It has come to be considered a work of art. Not every coat needs that, but the camel overcoat always has the ability to be the focal point of your outfit.
The point is, the camel overcoat has the ability to serve as a key part of the outfit or THE outfit.
Where: Here's a lil' summin' summin' for everybody, that everybody doesn't necessarily know about.
424 Wool Overcoat with Armband ($1,121)
Abasi Rosborough Orison Coat ($1,825)