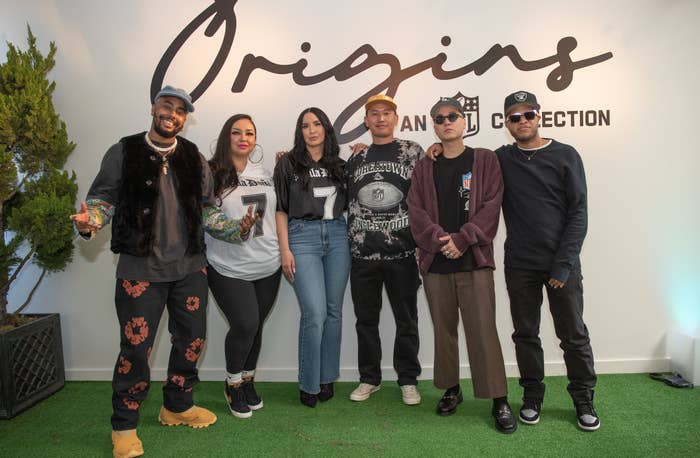 When Corey Populus learned he was going to be working with the NFL, he immediately knew a story he wanted to convey. On Sunday he's standing in front of a recreated front yard complete with burgundy steps, a barred front door, a boombox, 40s in paper bags, and even Lil Chris' wheelchair. It's immediately recognizable as the stoop from John Singleton's Boyz n the Hood. But some might not understand its connection to the NFL and football. In the film, Ricky is a star high school running back who sees his football dreams cut short after getting tangled up in confrontations with local gang members and ultimately being shot and killed.
"I wanted to really tell an LA origin football story," says Populus. He even dressed in an all-black outfit complete with a vintage Raiders fitted to mimic the attire of Ice Cube's Doughboy in the movie. "What's more perfect than Ricky from Boyz n the Hood?"
Populus' Circulate was one of the four brands the NFL tapped to debut its first Origins collection. On Sunday afternoon they celebrated the launch of the line at The Revery, a venue in Los Angeles' Chinatown neighborhood, where the public could shop capsules from Circulate, Bricks and Wood, Bella Doña, and Rip N Repair, all Angelino streetwear brands. Each brand was tasked with creating a capsule celebrating LA, where Super Bowl LVI will take place, and its vast subcultures in their own unique way. Origins was exclusively released to LA residents at the special pop-up event. The items will also be sold through nflshop.com, at the NFL's Super Bowl LVI pop-up at the Los Angeles Convention Center, and in limited quantities via each brand's online store from now through Feb. 13.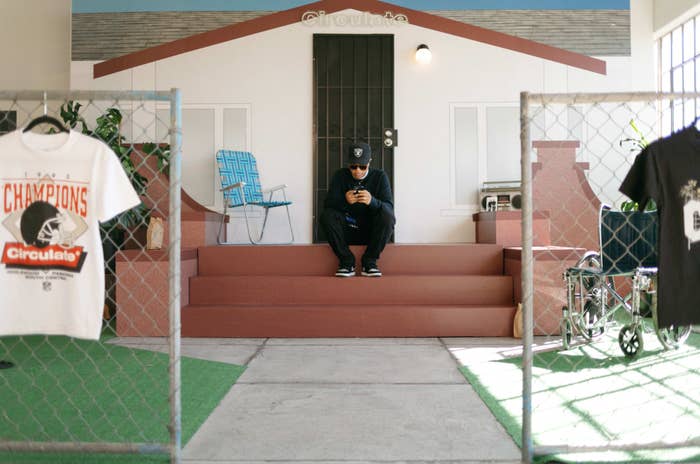 Origins is one of the NFL's latest attempts to connect with its younger and more diverse fanbase, an increasingly tougher task considering the frequent headlines in recent years regarding former stars like Colin Kaepernick or more recent issues related to former Miami Dolphins head coach Brian Flores. Other recent projects have included Born X Raised producing a capsule for the Los Angeles Rams and the Dolphins working with Miami boutique Unknwn. It also offers a new avenue to connect with the local community. Aside from clothing, the NFL also chose to honor LA with this year's Super Bowl halftime show, which will feature some of the city's hip-hop legends such as Dr. Dre, Snoop Dogg, and Kendrick Lamar. 
"To become more authentically connected to our host cities, it was important for the NFL to find ways to collaborate more with local brands that are the fabric of the communities we are entering," says NFL Vice President of Influencer Marketing Eddie Capobianco in an official press release. Capobianco, who previously worked at New Era before taking on the role, has been instrumental in bringing this vision to life. "With the launch of Origins: An NFL Collection, we now have an opportunity to do that by shining a spotlight on local talent and integrating them into how we commemorate NFL events, bringing their creative designs to our massive fanbase."
The approach offers a variety of items to fans who may not want to wear a jersey or a team logo all the time. It's a refreshing approach to complement the usual Super Bowl merch we see. The Origins capsules will continue annually moving forward. New brands will be showcased each year that nod to the city that hosts the Super Bowl. 
Like Populus' movie-themed space, each brand created their own activation at the pop-up. Kacey Lynch, who designs Bricks and Wood, channeled his office lounge with colorful throw rugs, a white couch, and wooden coffee table to keep things cozy and inviting. Bella Doña's space included bouquets of roses, a purple lowrider tricycle, and wall hangings made to resemble hoop earrings that represent its Chicano roots. Rip N Repair looked to Koreatown's swap meets with special signage and magazine racks. The floor featured a print of various Korean newspaper clippings scattered about.