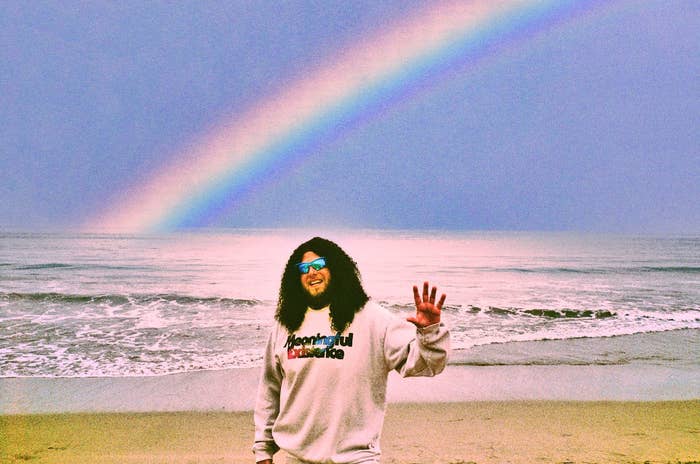 For centuries, we've all been lied to. It turns out that money can buy happiness. At least that's what Prophet Ezekiel Profit (Jonah Hill's alter ego and founder of the new clothing brand Meaningful Existence) is preaching to push his products.
The world was first introduced to the curly-haired spiritual guru on April 7 when he pulled up to catch a Lakers game courtside at Crypto Arena with actress Lisa Rinna by his side. Both of them were decked out in sweatsuits covered in colorful logos. Outside of the arena, Profit's followers, all wearing matching highlighter yellow sweatsuits complete with QR codes on the back (for anyone curious about joining the movement) bowed at his presence. Needless to say, some people had questions after the appearance about what this all was. Hill has been press averse since 2022 to protect his own mental health. However, he did agree to respond to a handful of questions via email, not as himself, but in character as Profit.
"Meaningful Existence is definitely not a cult," Profit writes to Complex in an email. "Meaningful Existence is the shirt on your back, the sweatshirt on top of the shirt, the slides on your feet, the blanket that tucks you in at night, and, most importantly, the smile on your face. Meaningful Existence is many things, but a cult is not one of them."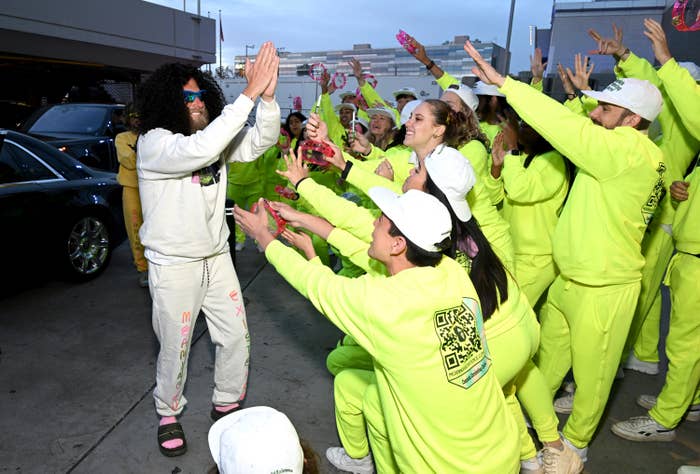 If you can't tell from the curly wig, cult-y rhetoric, and trippy Instagram posts, Meaningful Existence is a bit over the top. But that's the point. With messaging like "the more you pay, the happier you get," the brand is poking fun at other wellness and spirituality brands within the streetwear space. You know, those brands that do nothing except urge you to spend money on products with inspirational messaging that won't actually solve any of your problems.

That humor extends into its first apparel collection that launched on June 6. Nylon slides dubbed the Profit 1s ($130) are available in colors like "Cream of Creation." A brown "Emotional Baggage Tote" ($30) and a candle ($50) that "smells like wealth" are among some of the items available. Of course, you can also buy those "Celestial Milk" and "Golden Aura"-colored crewnecks ($125) worn by Profit and Rinna at the Lakers game. Even the product descriptions are funny. One reads, "Proudly show the world that you've sacrificed your body, soul, and personal finances to a greater cause: Meaningful Existence."

But Meaningful Existence isn't just a satirical brand here for Hill to get some jokes off. At the end of the day, its mission is to raise awareness for mental health. They've partnered with BetterHelp, an online platform that provides mental health resources, to offer one free month of therapy. The brand is also going to donate 3% of net sales to mental health initiatives and funding two $5,000 scholarships for future therapists. Unlike the brand's that Meaningful Existence is satirizing, it's actually putting its money where its mouth is to help the cause it is profiting off of.

To try and get a better understanding of Meaningful Existence, we went straight to the source. Check out Profit's responses below.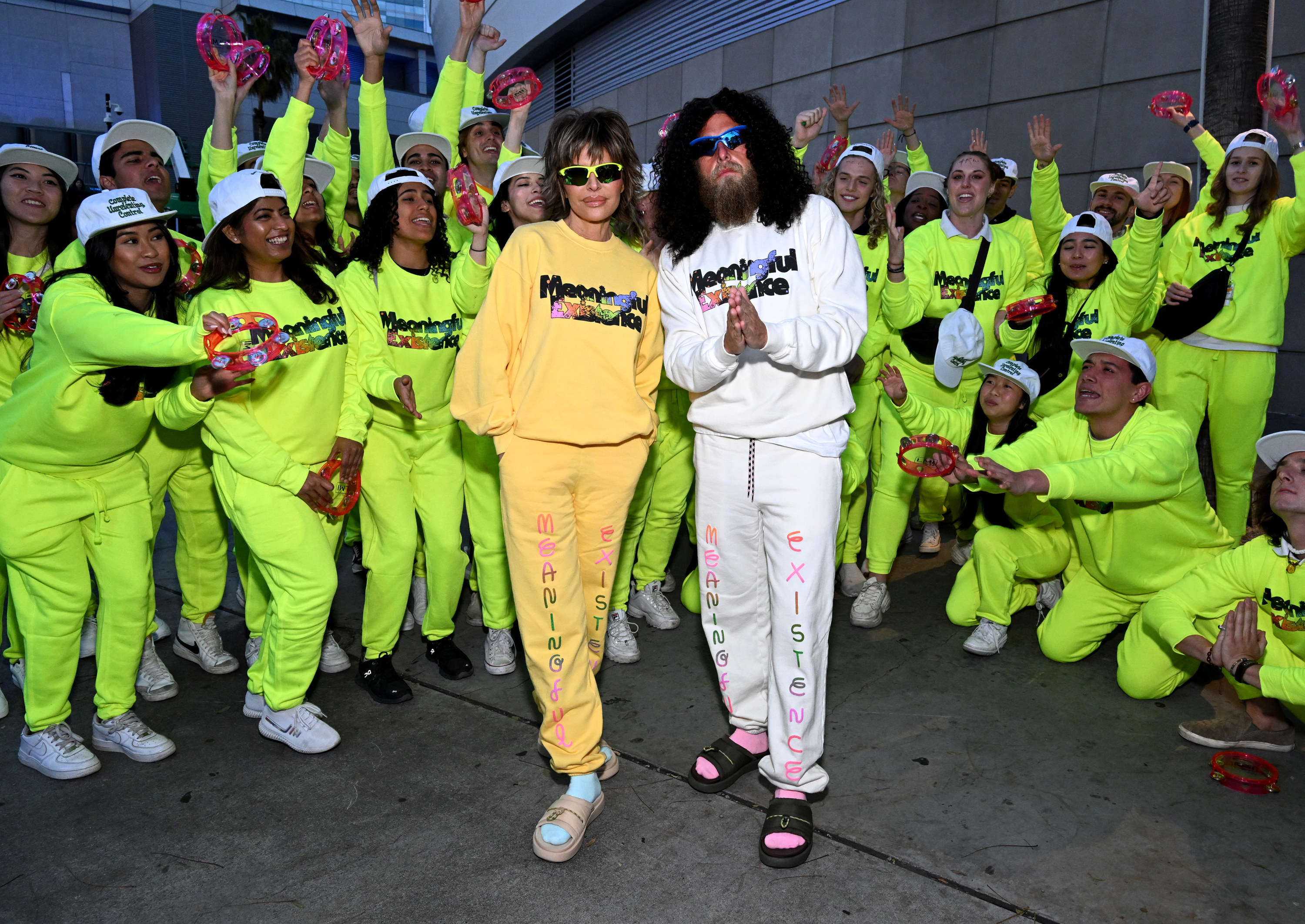 How long have you contemplated starting a brand? Why was now the right time to finally start one?
The idea of Meaningful Existence came to me while on my spirit quest in a faraway land back in 1975. I was searching for evidence of a lost, ancient civilization—a utopia where everyone's life was meaningful. I found evidence that this ancient civilization looked a lot like ours does today, but no one was poor and everyone spent their money at one mega-company that endlessly produced and sold happiness for one and for all…who paid for it. I believe this message resonates now more than ever. I'm on a mission to recreate this society today, and I will. You'll see. I dare you to not see. Why am I being so confrontational you ask when you aren't? Confidence.


What truly makes one's existence meaningful, according to Ezekiel Profit?
It's Prophet Ezekiel Profit. And the main slogan of Meaningful Existence is "The more you pay, the happier you get." For starters, you can attain Meaning by buying. I believe that accumulating material possessions is the key to achieving true happiness. By offering a wide range of high quality products, from the emotional baggage tote and candle that smells like wealth, to the weighted blanket designed to replicate my comforting hug, Meaningful Existence provides my disciples with the means to acquire these materialistic symbols of joy. The more they possess, the happier they will be.

Some people may call this a cult. What would you say to those people? How would you describe Meaningful Existence, if it apparently is not a cult?
Meaningful Existence is definitely not a cult. I even wrote a brilliant book called Meaningful Existence Is Not A Cult and its incredible sequel Seriously, Meaningful Existence is For Real Not A Cult, For Real. Oprah was going to put it on her book of the month club list but I had broken up with her the week before that came out and I guess someone chose feelings over what deserved to be there. Her loss if you ask me. Meaningful Existence is the shirt on your back, the sweatshirt on top of the shirt, the slides on your feet, the blanket that tucks you in at night, and, most importantly, the smile on your face. Meaningful Existence is many things, but a cult is not one of them. If you have any suspicions, then I say join us, make a purchase, and find out for yourself. You're welcome in advance.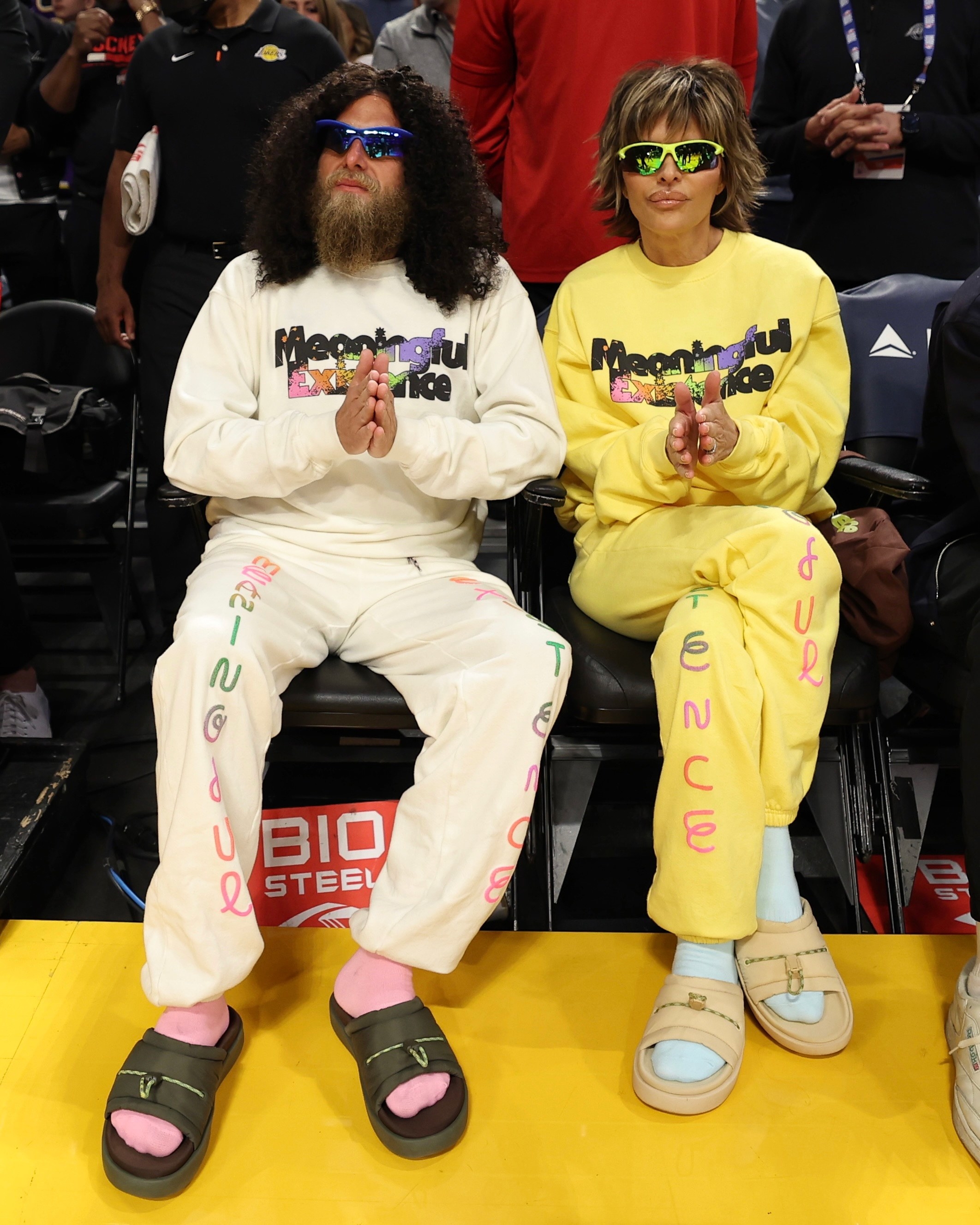 You say money can buy happiness? How much money?
This depends on how happy you want to be. If you wanted enough happiness to get you through your lunch break, I'd say visit our website, but if you wanted a lifetime of it, I would purchase all of our products, ideally in bulk. To answer your question of "How much money?" I ask you, "How much money do you have?"

What item is Ezekiel Profit's favorite? What item should I buy to obtain the most happiness possible?
My products are like my children—very intelligent, entrepreneurial children that will make me lots of money. It's not fair to pit your children against one another, but at the end of the day I suppose I will show the most love to whichever product brings the most happiness to the world, and by that I mean makes the most money. Like I have with my actual children. So like my children, I will say my favorite product is the product that has brought in the most profit that month!

If I buy enough Meaningful Existence can I too rule with complete and unrelenting control one day like Ezekiel Profit?
I love this question. Love you for asking. Absolutely not.

Each item has been personally blessed by Prophet Ezekiel Profit, can you explain that process?
Every product—as in every single shirt, slide, etc.—has had a conversation with me. They understand their purpose and have gone through a long approval process before being shipped to their destined customer. They each have their own unique needs: I sing to some, I infuse my purest essence in others. At the end of the day, no product is stamped and shipped without a personal blessing.
Are there any other celebrities that we know that are subscribed to Ezekiel Profit's teachings?
I have billions of disciples. Recently, Lisa Rinna joined me at a Lakers game where I had Complete Unrelenting Control of our courtside seats. My close friend and confidante Chaz Dean is also a high-ranking disciple who shares my belief that hair is the key to unlocking your 8th chakra. And I mean, have you ever watched the Academy Awards? The Grammys? The NBA Slam Dunk Contest? Watching those events for me is like looking at my fish tank. They're all my pets.

How can we expect Meaningful Existence to grow in the future? A store? Events at the beachside compound? A 13th book? What is coming up?
In the future, Meaningful Existence will be the only store on planet Earth. I will be the CEO and CFO of the world, and thus reach infinity. I will then have to move on to the next astral dimension and repeat the process. You will all miss me, but it will be okay. I will live on through my products, and you will be happy under Complete Unrelenting Control.

I'll leave you with a quote from my dearest friend, let's call him L Dot Ron. "Get that paper player. Make it rain and bring the pain." Namaste!