On Sunday, the Philadelphia Eagles and Kansas City Chiefs will take the field in Glendale, Arizona to face off in Super Bowl LVII. To the victor will come many spoils–bragging rights over the entire NFL, trips to Disney World, hoisting the Lombardi Trophy, and eventually a heavily bejeweled championship ring. But even if a player isn't on the winning team this weekend, Leo Khusro is making sure they'll head home with some impressive ice regardless. 
Chiefs running back Isiah Pacheco purchased his first custom piece from the young Texas jeweler, a diamond-encrusted portrayal Taz from Looney Tunes, complete with a pink enamel tongue that sits above three giant, icy letters spelling out his nickname, Pop. Chiefs cornerback L'Jarius Sneed picked up a huge diamond pendant of an eagle whose black enamel talons clutch his last name; the wings' "feathers" are a flood of baguette diamonds. Eagles wideout DeVonta Smith took a more subtle approach and copped himself a new Cuban link chain. Khusro even partnered with Oakley to create a special pair of shades for Chiefs quarterback Patrick Mahomes with diamond details on the temples—Justin Jefferson and Ja'Marr Chase, two of Khusro's biggest repeat clients, wore similar pairs at the NFL Pro Bowl in Las Vegas a week prior. And that's just scratching the surface of Khusro's NFL roster this weekend.
"I'm here for my third Super Bowl in my third year of selling jewelry," the 26-year-old says. "This isn't something that everyone gets to be a part of. I just feel appreciative. But I also know I should be here. It's all coming together. I'm trying to take these things and show the NFL one day that I'm the next guy to make these championship rings for y'all."
Khusro grew up in Alief, Texas, 20 minutes from the office he's set up in Houston. While it's still a work in progress, he hopped on FaceTime a few months ago to show off the first major additions to its walls: framed jerseys of some of his clients, a who's who of today's NFL. Among them are a purple Jefferson Vikings jersey, a black Joe Burrow Bengals jersey, and a teal Jaylen Waddle Dolphins jersey. It's an impressive list of names, especially when you consider his short tenure in the industry. 
"I never thought about being a jeweler my whole life," he says. Unlike most jewelers, Khusro didn't come from a jewelry making family. He isn't the next generation being passed a business that his father or grandfather have operated for decades. His entry into this competitive world came about spontaneously, after stumbling upon a YouTube video of Ben Baller discussing some of his most notable pieces. At the time, he was a student studying business at the University of Houston who had just been denied entry into its entrepreneurship program. Instead, he dropped out of school and embarked on a path to educate himself on all things jewelry.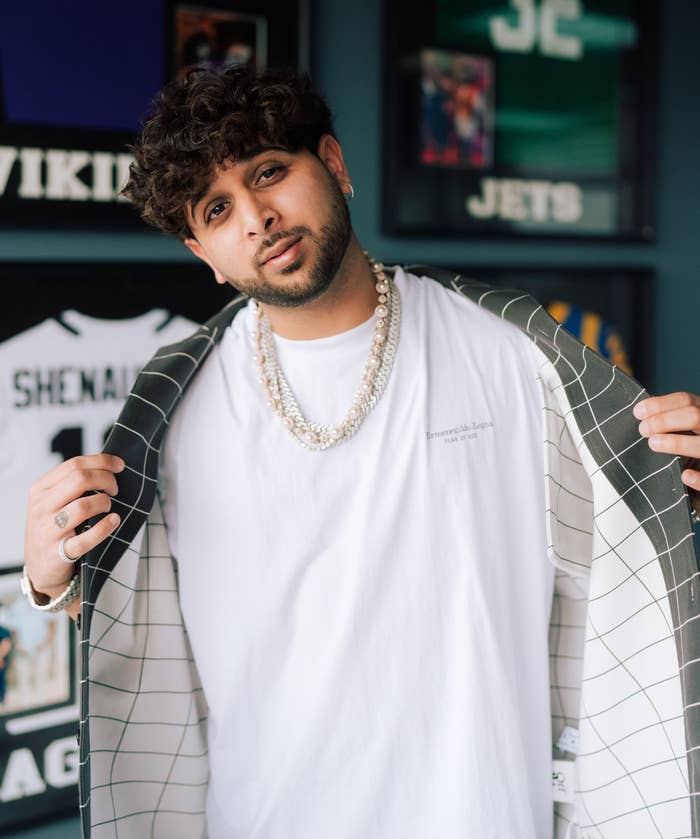 Starting from scratch, Khusro needed to find a veteran from whom he could soak up knowledge. Luckily, Houston has a deep history in custom jewelry. Who could forget Paul Wall and jewelers like Johnny Dang putting the city's grills on the maps throughout the 2000s? In 2019, Khusro would eventually link up with Iceman Nick, whose two decades of experience included creating Mike Jones' signature 100-carat "Ice Age" chain and LeBron James's lion's head door knocker pendant. For roughly six months, Khusro came to Iceman Nick's shop every day to learn the tools of the trade. He wasn't getting paid, but he got a commission on any piece he sold. Khusro says he sold millions of dollars worth of jewelry. (Iceman Nick wasn't available to comment for this story.) This is also when he learned the process behind crafting custom pieces. 
The Texan doesn't work with musicians as often these days, but his first custom piece was back in 2019 for Nav, which spelled out his name in diamonds and yellow gold. It was a big confidence booster for the budding jeweler. "I told him to give me a shot at making his stuff," Khusro says. "I told him not to pay me until the piece is ready. If he liked it, he could buy it. Three weeks later, I presented the piece to him. He bought it." The piece that sparked his reputation in the pro sports world came that same year. It was a yellow gold "FTF" pendant covered in diamonds for Rams offensive tackle Bobby Evans. (Feed the Family is his apparel brand.) 
"I had no idea what I was getting into at all," Khusro says. "I was just going to see him in LA one day. I thought this was just going to be a one time thing, just dropping off jewelry to this guy. Everything's happened so fast. It's interesting to see where an industry can take you if you just give it your attention and full focus." 
Evans was so impressed that he called over a bunch of his teammates to check out his work. As more and more players left happy customers, Khusro's reputation across the league grew stronger. Eventually, he built a strong enough rolodex of clients that he thought it was time to give his own venture a shot. He parted ways with Iceman Nick and started his own company, Leo Khusro and Co., in January 2021. 
"Nick helped me out a lot. He'll always be a big bro in my eyes," says Khusro. "I know I can call him if I need him, but at the end of the day, this is the jewelry industry and the ties are not going to be as strong as they were when we were working together. But I'll always have the respect for Nick. He changed my life."
Khusro believes the reputation he has built with these high profile athletes has a lot to do with how he approaches each relationship. "I'm not trying to sell these dudes bullshit. I'm trying to sell them something that's gonna stick with them for the rest of their life. It's something that we work on together," says Khusro. "I'm going to come see you, see what kind of things you like and don't like, and put your personality into each piece. I feel like that's what sets me apart." 
Khusro will deliver the pieces to these players' homes. Instead of collecting his money and leaving, they'll kick it and play video games or chat about other aspects of their lives. (Of the Bengals' Ja'Marr Chase, a repeat customer, he says with a laugh: "I fucking love Ja'Marr, but he sucks at Madden.") This personable approach to business is how he landed one of his biggest clients to date, Justin Jefferson. The Vikings star receiver has purchased everything from custom pendants to $200,000 grills flooded with baguette diamonds.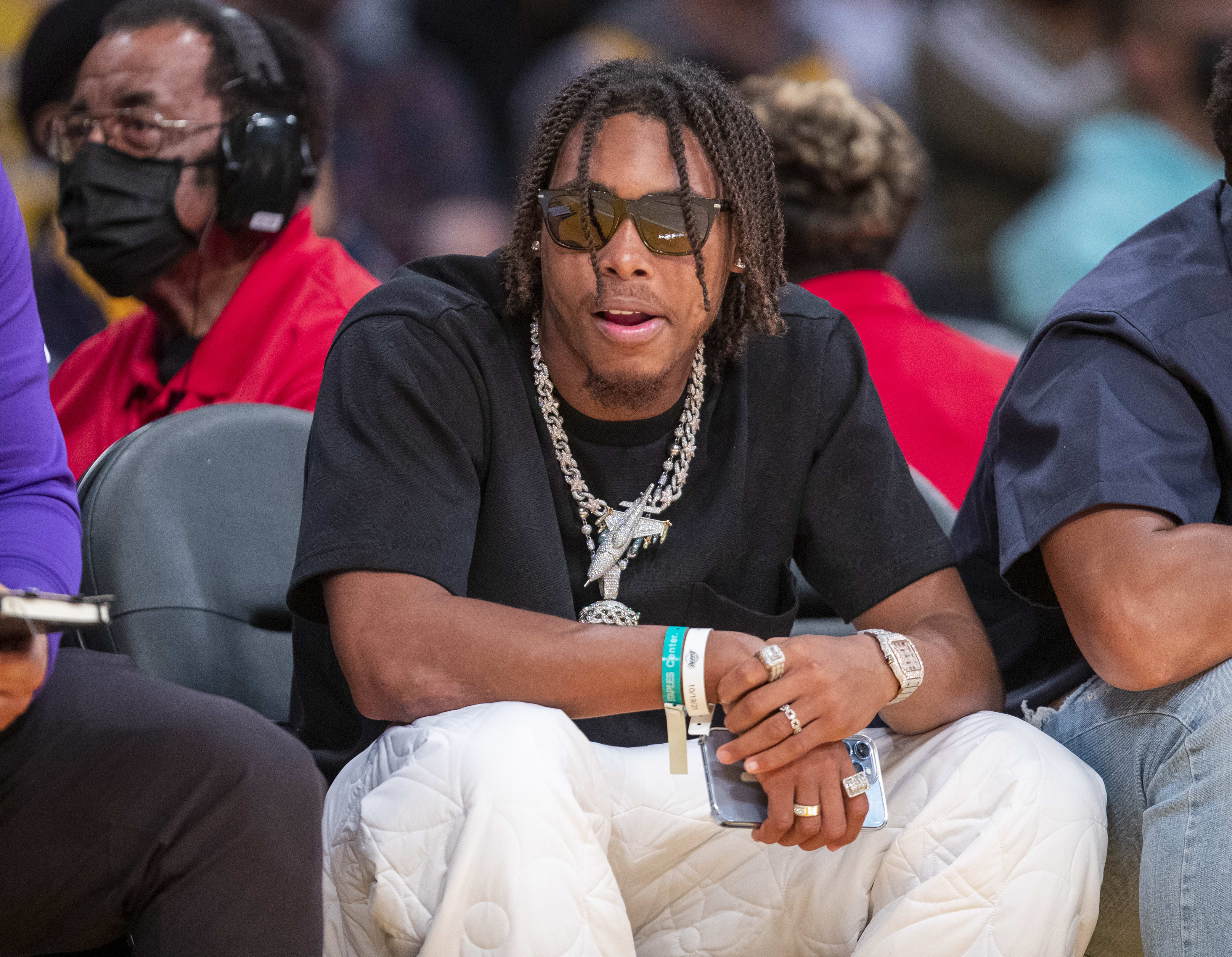 "We just connect organically. We're around the same age. He was coming up in the jewelry space the same time I was coming up as a football player. Collaboration grew into an actual friendship. We just want to see each other succeed," says Jefferson. "There is innovation and creativity with his custom pieces. Some of the pieces that I have, there's not many pieces like them around." 
You may have seen Jefferson flaunting some of Khusro's work during the NFL's inaugural flag football games at the Pro Bowl in Las Vegas last weekend. Besides those diamond-accented Oakley shades, Jefferson was on the field with multiple Cuban link chains around his neck and a grill in his mouth. It makes sense that Jefferson would gravitate toward grills. If you are familiar with the player, you know a smile hardly ever leaves his face. 
Additionally, Khusro's even iced-out gloves that Jefferson has worn during pregame warmups. His signature fighter jet chain, a nod to his nickname Jets, was actually the first custom creation he made for Jefferson. "I was ecstatic," Jefferson recalls about his first custom Khusro piece. "I just told him I wanted a jet chain. He came up with something beyond what I could imagine. Once I actually put it around my neck I knew it was exactly what I was looking for." It features 57.8 carats of diamonds, an infinity Cuban link chain with star-shaped links, 14 karat white and rose gold, and 8.6 carats of green and blue diamonds used to accent the missiles on the jet's wings. 
Bengals quarterback Burrow is responsible for another one of the most publicized moments of Khusro's young career. Last February, Burrow broke the internet when he showed up to Super Bowl LVI with some custom ice around his neck. The diamond-encrusted pendant featured 13.1 carats of diamonds to depict his JB 9 logo and a flaming Nike Swoosh made of black enamel. It became such a viral sensation. Reporters asked Burrow about his new ice. Nike even paid Khusro to produce limited edition T-shirts sold at the Bengals stadium in Cincinnati with the exact chain printed on them. A painting of Burrow rocking the ice later appeared in one of the brand's commercials celebrating its 50th anniversary. "I did not know it was going to be iconic," says Khusro. "I just put this drawing together and we made it into a piece."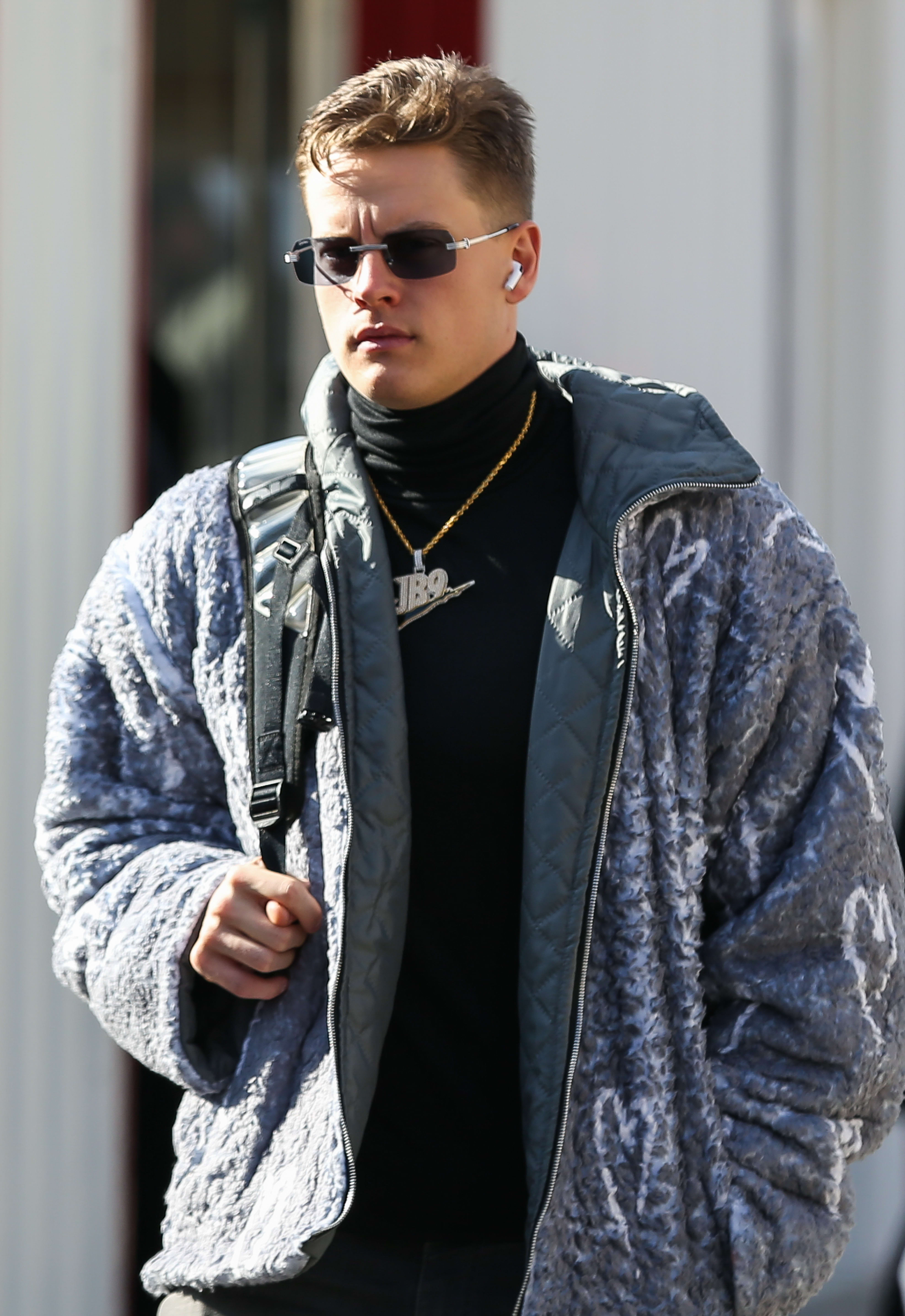 The viral moment with Burrow gave Khusro a new perspective on what he creates for these players. He isn't just trying to give them something that looks cool around their neck. His goal is to give each of them a signature piece that larger companies may take notice of. The hot sauce bottle pendant he made for New York Jets rookie cornerback Ahmad "Sauce" Gardner is a perfect example. A few months later, he was in a Buffalo Wild Wings commercial and sauce was pouring out of it. 
"My mind went towards this whole idea of how to incorporate brands with these jewelry pieces. How do you make jewelry larger than life," says Khusro.
While Khusro has become known as the go-to jeweler for the NFL, he also deals with athletes of all sorts. NBA players like Houston Rockets shooting guard Jalen Green and Orlando Magic point guard Cole Anthony have purchased from him. Young Toronto Raptors star Scottie Barnes rocked his diamond-encrusted "SB" chain on the cover of SLAM. More recently, he worked with a handful soccer stars, like USA's Christian Pulisic, who played in Qatar for the 2022 FIFA World Cup. He's traveled to Brazil to meet players like Vinícius Júnior from Real Madrid, Neymar, and Rodrygo. And it's all because of his jewelry. Khusro, who now boasts a client list of over 250 athletes, keeps it blunt, "I'm your favorite athlete's favorite jeweler."
All of Khusro's pieces are crafted in Houston with the help of a small team and a trusted group of individuals like a diamond setter who has been in the business for four decades. While the time varies piece by piece, each one takes an average of about three weeks to go from sketch pad to final product. And as his profile has risen, behind-the-scenes tasks like acquiring diamonds have become easier. With no prior reputation in the jewelry world and a small resume, it was hard for these companies to trust him initially. But as he began to prove himself, his upbringing has proven beneficial: His parents spoke Urdu around him his whole life, and now, he can deal with diamond distributors in India directly to eliminate middlemen. In turn, it allows him to make higher quality pieces for lower prices.
But Khusro isn't content with what he has already built. He's setting his sights on bigger ideas. He hopes that his close ties to so many NFL players will lead to the NFL giving him a call for an official project. That showroom in Houston should be fully operational by Valentine's Day. He's in the process of creating a more readily available collection of jewelry he can sell clients in addition to his custom work. And he has visions of taking his business global. 
"The quality is there right now, but I feel like I could touch new levels," he says. "I know every day I'm getting better at what I'm doing. I see myself being in this industry as long as I'm having fun with it. And right now, I'm having a lot of fun."