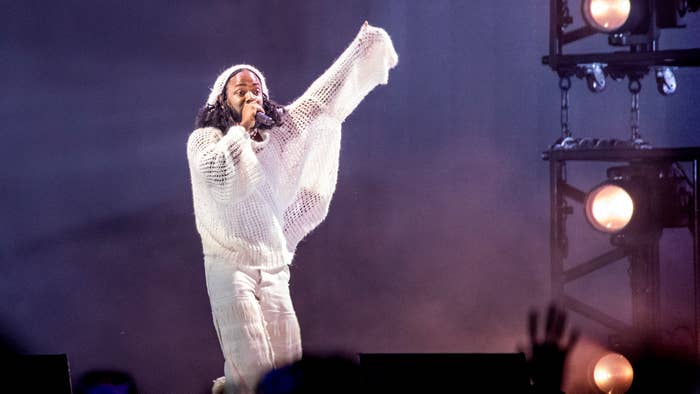 Back in November 2021, Kendrick Lamar made his long-awaited return to the stage as the headliner at the Day N Vegas music festival in Las Vegas. Lamar ran through all of his projects from Section.80 to DAMN. Post-show clips that were peppered across social media timelines show Lamar zombie walking amongst a sea of stagemates in a flowy cream sweater, matching distressed double-knee pants, and a knit beanie drooping off the back of his head. It was a grand re-emergence for Lamar that called for a statement-making outfit. The ensemble wasn't designed by a big fashion house or a prominent costume designer, though. The entire outfit was constructed by Drew Curry, the 29-year-old behind the fashion line Airei. 
The pieces are from the first two collections that Curry ever produced. He was friendly with Taylor Mcneill, who styled Lamar that night, which is how his pieces got to the artist. While he didn't get a chance to meet Lamar, he is confident they will work together again in the future. "For me, Kendrick Lamar is one of the greatest artists of our time. He's always been like a superhero," he says. "It was a completely surreal experience."
Lamar isn't the only big name that's supported Airei in its infancy. Fellow TDE labelmate SZA has worn the brand. Gunna rocked a puffer vest onstage at the BET Awards back in 2021. Bad Bunny wore a full Airei look in his "Lo Siento BB:/" music video. NBA star and tunnel standout Shai Gilgeous-Alexander has repped Airei during his pre-game tunnel walks. And in December, Billie Eilish performed on SNL outfitted in items from Airei's yet-to-be-released third collection that he just debuted in Paris. He was connected to the pop star through her stylist Amanda Merten, someone he met while working as a salesperson at a Nordstrom in LA a few years prior. Curry says, in most cases, he finds out that someone wears his clothes the same way everyone else does. For instance, he recalls a friend telling him about Gunna wearing the puffer vest he designed as he was watching the performance on television. Most of the time, Airei ends up in the hands of these celebrities just because stylists or celebrities take a liking to the clothing on the sales floor at Dover Street Market, not because Curry is sending it to them.
"It's cool when somebody we know about buys it, but it's also great when an art student buys one of the hoodies from Dover," he says. "I want to create something people enjoy. I just want to give them the best possible thing I can make right now."
Airei's latest milestone has nothing to do with a celebrity co-sign, though. This past weekend, Curry presented his Fall/Winter 2022 collection, "Plight," at Dover Street Market Paris' 3537 cultural hub during Paris Fashion Week, his first PFW presentation ever. The space has been home to installations including Gucci and Balenciaga's "Hacker Project" and L'Art de L'Automobile's Porsche 968 collaboration in the past.
"Paris Fashion Week is always that platform I hoped I would get to," says Curry. "I definitely did not think that we would do that in our third season."
Rather than a traditional runway show, Curry opted for a performance art piece titled, "The Case for a Tragic Optimism." Dressed in a matching cream wool jacket and shorts with a red balaclava covering his face, the designer sat on a wooden bench. Throughout the 30-minute performance soundtracked by his close friend and musician Cashmere Cat, he periodically stood up to cut strings away from a cube-shaped sculpture that housed three mannequins, one of which had red threads pouring from its chest and arms that resembled blood. He also performed a live two-hourlong rendition on Saturday afternoon. The performance was meant to symbolize the development of compassion by going through a difficult experience with others.
"I wanted something to be available for the whole week where people didn't feel like they had to make it for a certain period of time to be put into a room for eight minutes with a lot of other people. It's something that people can come and experience and if they wanna stay for two hours, they can. If they wanna be there for five minutes, that's cool too," says Curry. "So I wanted to do something that was really creative and new, but also something that kind of took in the reality of our world right now."