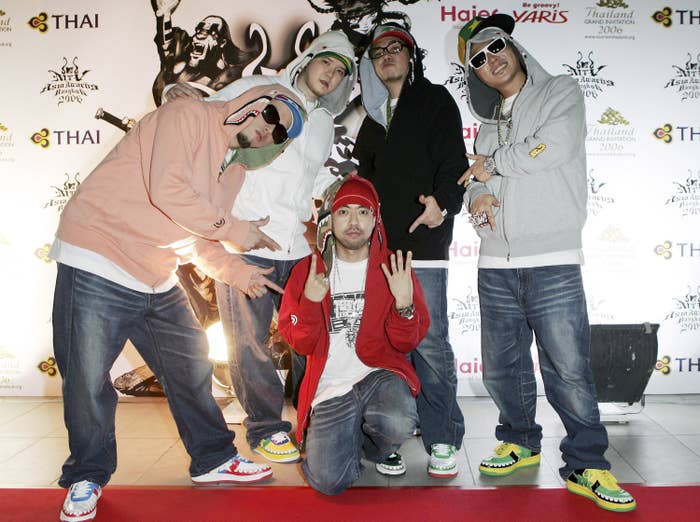 In 2008, the Teriyaki Boyz, BAPE's official rap group, released the music video for their hit single "I Still Love H.E.R." The group's members—Ryo-Z, Wise, Illmari, and Verbal—were dipped in A Bathing Ape sweatshirts covered in an all-over star print and Kangol bucket hats as they rapped to the camera, while Bape founder Nigo sat expressionless in the background. Roughly a minute and a half into the video, Kanye West, who's wearing  BAPE shark hoodie and TROOP jacket, bursts into the frame, rapping about something in Shibuya that's way too exclusive. Some may wonder how Kanye found himself in the video, but when you consider the Teriyaki Boyz's connection to Nigo, and Nigo's relationship with Kanye, it all makes sense.
The Teriyaki Boyz was founded by Nigo in 2005. They were one of the first Asian rap groups to crossover into America, and they became streetwear legends. The group put out singles with Kanye West, Pharrell, Big Sean, and Busta Rhymes, and was, given their connection to Nigo, continuously clad in BAPE. They may not have had mainstream radio success in the States, but they thought the eye and ear of fans of the clothing brand and anyone who was searching out Kanye's guest verses.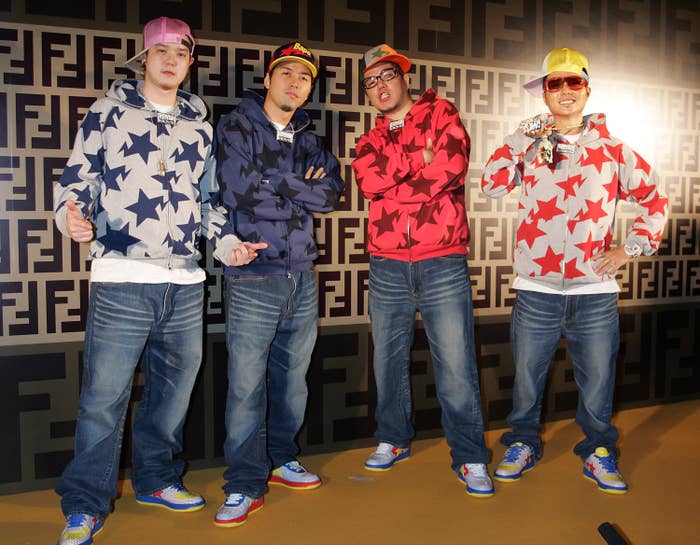 Verbal went on to start his own clothing and jewelry brand Ambush—you definitely remember their POW chains—with his wife, Yoon, and forged friendships and working relationships with the likes of Kanye, Pharrell, Big Sean, Nigo, and more.
Verbal went from growing up in Tokyo to going to college in Boston and moving back to Japan. Hip-hop and skateboarding played a huge role in influencing him. But he also got to live out any streetwear connoisseur's dream of being a rap group that was bankrolled and outfitted by Nigo and BAPE.
We got the chance to talk to Verbal about what it was like to be involved with BAPE, the Teriyaki Boyz, collaborating with Kanye and Big Sean, his friendship with Pharrell, and what it's like to work with his wife, and more.
How did Teriyaki Boyz start?
Teriyaki Boyz started when Nigo called upon us to record for his album. He was trying to come up with a new concept where he was trying to get all the Japanese MCs on American producers' tracks. I guess he had a lot of friends in the music industry, that's when he was starting to get to know Pharrell. He started with a DJ Shadow track. He was like, "Yo, can you guys do something with this track?" Me and the other guys in Teriyaki Boyz were friends from a long time ago, before our professional music careers. We were like, "Yeah, let's do this for Nigo, let's do this for fun, so we can have a track to jam to in the clubs." And then that one song turned out to be dope, so instead of saying, "Nigo, featuring four people," we were like, "We should come up with a name." That's how the name Teriyaki Boyz came up, and that's how we started.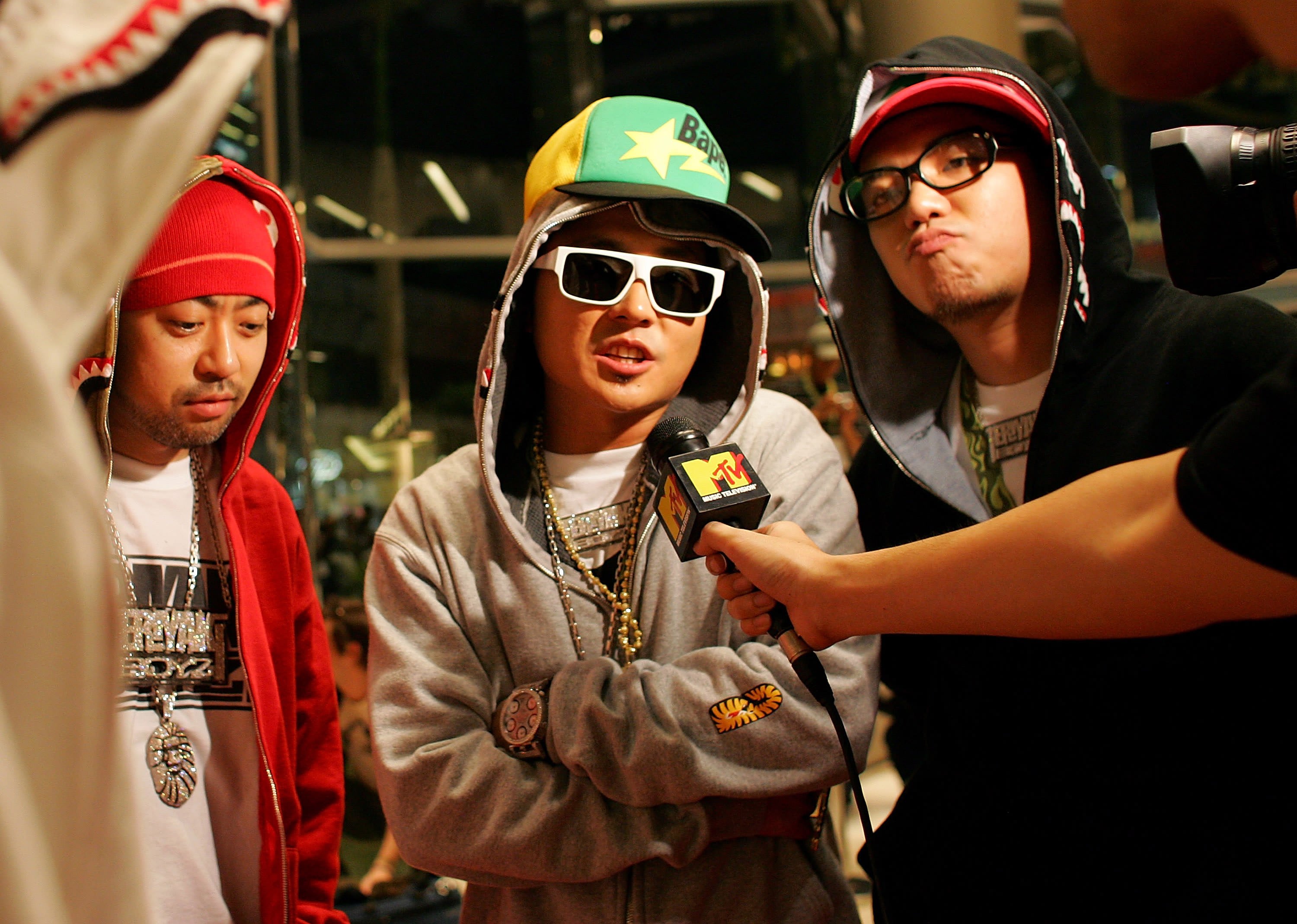 What was it like being BAPE's rap group?
It was surreal because around that time it was a renaissance in Tokyo. A lot of different people from different walks of life, different genres were getting together. They wanted to dabble with different environments and different cultures. This was around the time when Japanese record companies were selling two, three, four million physical CDs. People weren't looking [to do something different]. Nigo and us brought Daft Punk tracks, DJ Shadow tracks, Beastie Boys, Kanye, it was crazy. I think that ushered in this new wave of making music, fashion, and creating this whole movement behind it. Prior to that, people thought working with overseas artists was just impossible. All eyes were on us in many ways. This was pre-Instagram, so there was no way of getting to know us, except for our blog. People were like, "Yo, are those Nigo's cousins?" and just speculating [about who we were].
How much BAPE were you guys getting back then?
I've known Nigo since the '90s when he started the whole thing with Hiroshi [Fujiwara] and Jun Takahashi from Undercover. He was always our star, I looked up to him. When this whole movement happened, we were like, "We are down." He would definitely lace us with gear, and he would be like, "Yo, we should wear suits for the music video." He would create these Teriyaki Boyz suits just for fun, because he was into The Beatles. We were definitely thankful that he provided us with the gear, but I was more about creating the hype, excitement, the colorfulness, and all this new shit dropping all the time. The way he was doing business, the turn around for this gear was so quick that people didn't know how to compete. That was fun. It was very exciting and stimulating. I really looked up to him for the way he did things.
Speaking about one of the earliest BAPE moments: Biggie wore a BAPE jacket, did you ever hear about how that came about?
I think he mentioned that the jacket was passed on to him, and then one day that photo was taken. I remember asking, but I forget what it was about. That was definitely a legendary photo for sure.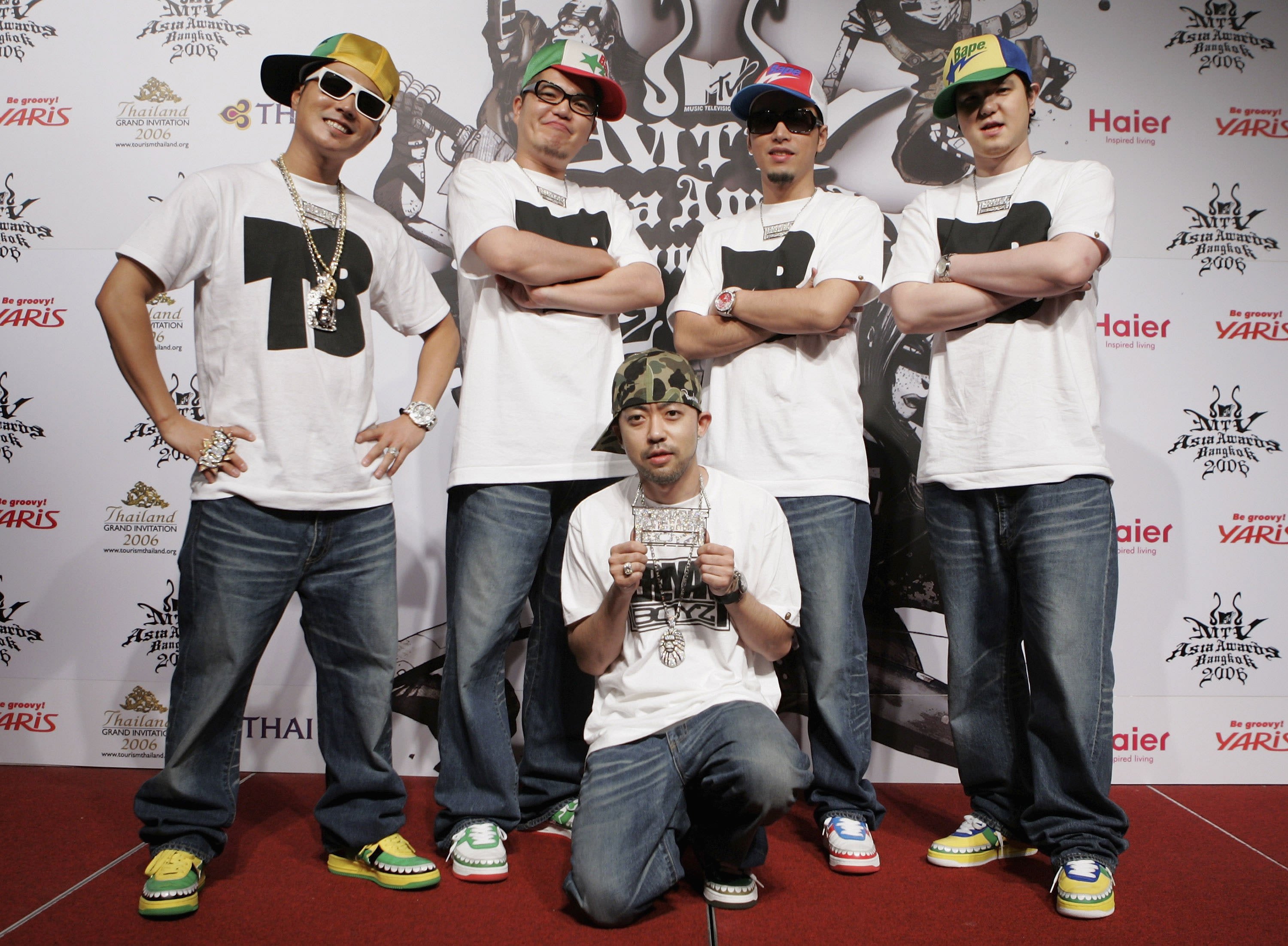 They made action figures of you guys. What was that like?
That was surreal. Nigo's not a man of many words. Many people talk but don't walk. This guy just walks. One day he shows up and is like, "Yo, check this out." And he just has millions of our figures lined up. He was like one of those guys who just showed up in the studio with a huge chain like nothing happened. We'd be getting fucked up, and he'd come out with this Audemar Piguet, that's like a million dollars, all baguette [cut diamonds]. He's always coming through with the drip, you know? When he made those figures, that was like an extension of when he wrapped the Rolls Royce Phantom. He makes those things like it's like a celebration, like, "Yo, the album was dope, let's make these figures and surprise everybody." It's his way of entertaining everybody around him.
When I first noticed you guys was the track with Kanye. How'd that come about?
He was already super famous by then. We knew of him, but when he came through it was the whole meshing of fashion and music. That's where I got to really know Kanye, and I learned a lot through his process and Nigo's. Kanye and I started dabbling with fashion and talking about a lot of stuff, and he came to the studio and saw my chain and he was like, "Yo, what is that?" That's pre-Ambush days, so I was just making chains for myself and for my friends. And he was like, "Make me one," and we just went off and started chatting in the studio. That's when I got to really know him well and a part of our conversation went into his lyrics. When we were in the studio talking, he was just about to go into the booth, so I was like, "Kanye, don't you need to write your lyrics?" And he was like, "What? Never." He was like, "That's a good line, 'Verbal asked me do I need a pen? Not right now.'" Then he went into the studio and said that and went off with the whole verse, so it was really live. Working with Kanye was really exciting and eye opening.
You are still good friends with Pharrell, what's that like, the two of you working together creatively?  
Pharrell is just a genius, and he always surprises me with the way he thinks. He's just beyond. From the nitty-gritty, he would come up to me if I was wearing Raf Simons pants and be like, "I love that. Where did you get that? I like that tape on it." From the design aspect all the way to the big business aspect, he just thinks really globally. He likes to share his life and his story with people, because he has a million ideas. The other day he called me from India, because they had something going on with Adidas. He was like, "Bro, India is crazy, lots of energy here." He was going off about it and painting this picture. We were talking about all kinds of other stuff, like some of his new projects that he is working on. He always has been, and still is, a creative mind, super genius, and very inspirational. The way he thinks really unlocks many of my preconceived notions about how things should be. I didn't know you could do it like that when you work with brands. He is signed to Chanel, but Chanel makes clothes for women. He made it cool to do that.
He has the Adidas thing, he gives you some of his most exclusive sneakers, the shit no one has. How awesome is that?
They arrive out of nowhere. He's not like, "Yo, can you rock it and put it up on your Instagram?" He just sends some a big-ass box and writes a note, and he's super personal and it's all love.
How crazy were the POW chains in the height of it?
When we started Ambush, it was a two-man design team scrambling to get our hands on T-shirt designs. Then I went on to start designing jewelry for people with Yoon. That's around the time I started to have that POW idea. When we started making those colorful POW rings and chains, Kanye and everyone around us started wearing it. We really were not anticipating business at all. When it blew up, it was insane because we were not anticipating any business. We were shipping out boxes from our apartments. We needed a storage, so we bought a nearby building and rented out a few rooms and started doing it there. The rest is history.
Back then Big Sean wore your stuff, you got to work with him, what was that like?
He definitely was the first guy who made it go crazy. I don't know what happened, but he started up an e-commerce where he wanted to sell some of the Ambush stuff. He definitely helped us put Ambush on the map.
How awesome or frustrating is it to work with your wife?
It's both. Contrary to popular belief, it's awesome. This is my way of getting to know her mind and psyche and what inspires her and what pisses her off. We get to communicate a lot through this. I love supporting what she does, and there is a lot of frustration, because we were not anticipating doing fashion business. Neither of us went to fashion school. She was a graphic designer prior, and we didn't know anything about the fashion business. Getting a team together over the years was hard, but we are getting there. We are still in the making process. We get frustrated together. We enjoy moments like the Amazon Fashion Week together. It's like a family thing. We share a lot of time together with work, and we don't have much private life these days. We come to the office every morning together.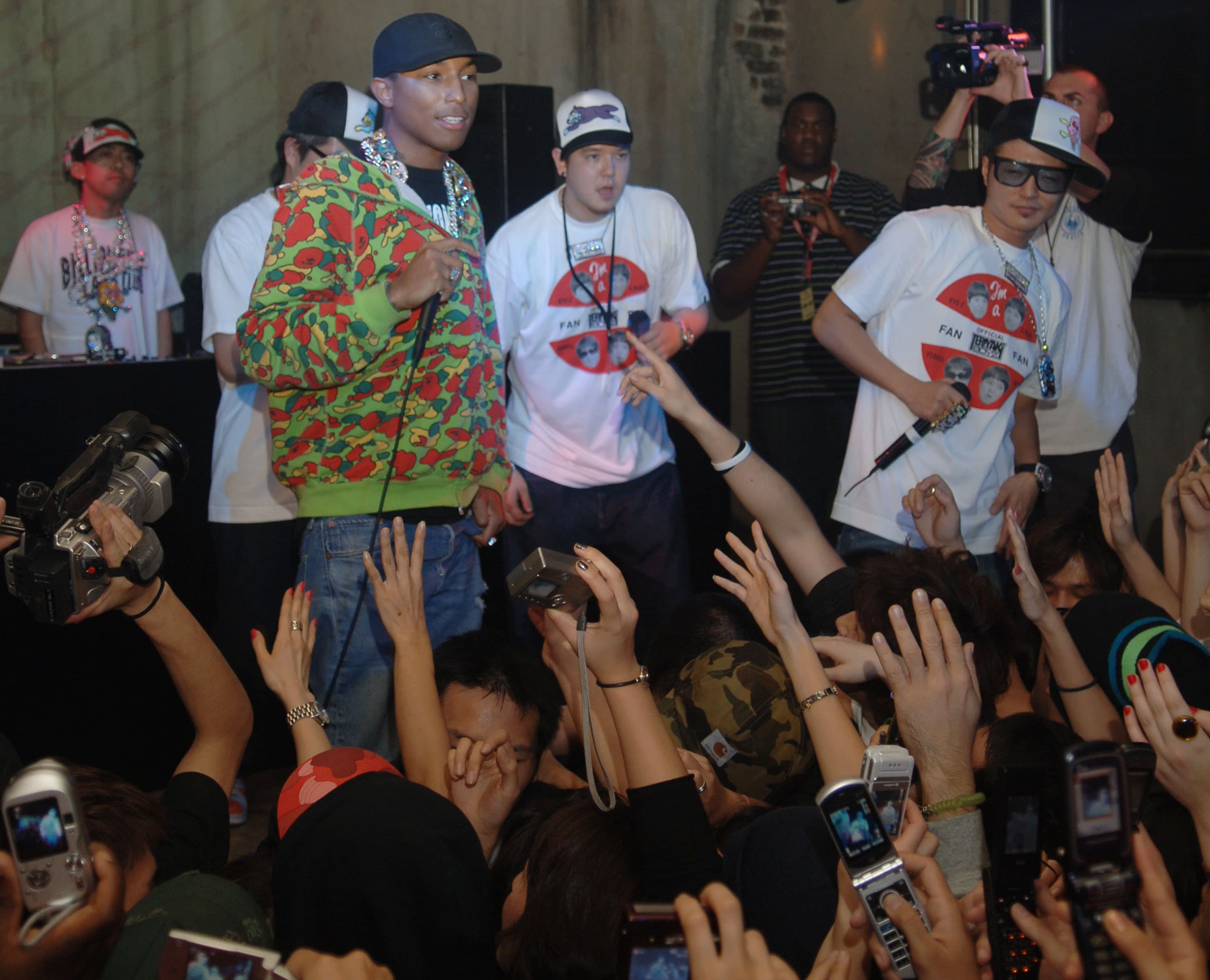 You were big in Asia, but you didn't have as much crossover success into the States. But now you see Asian hip-hop artists like Kris Wu, who are into streetwear, being able to crossover. What is it like to see them?
It's exciting to see guys like Kris do their thing. They're speaking Chinese, but people are loving it. For me, that's how it should be. I'm kind of envious. Japan is a very closed country, so it's hard to crossover systematically. But Korea and China -- for example, Korea is two hours away [from Japan], but they are totally different from the Japanese music industry here. Now in 2018, guys like Kris Wu are killing it. There is already a big market in China, so they have a lot of leverage to work with American artists. American artists want to go to China, and Chinese artists look up to American artists. It's a good partnership, there's a lot of excitement that's being shared, and I know Kris knows how to flip that.
I went to CLOT's New York Fashion Week show and talked to Edison Chen and Kevin Poon. The Chinese media was going crazy over them.
They are fucking gods man, they are just like gods. They are doing their thing for sure, it was an awesome moment to see them do their thing. They were already big. For them to do their thing even bigger now, it was exciting to see that.
I saw he sent you the customized VaporMaxes.
He just texted me out of nowhere, "What's your size?" Then this package arrives. He's super dope.
What's next for you, what can we look forward to from Verbal, Ambush, all that stuff?
Well we just did this Amazon thing, it was an eye-opener for us, especially for Yoon. I think we are going to go hard this year. We have a lot of collabs coming up. I can't really say right now, but look out for it. We got some new stuff coming up, too. Keep a look out for that, too.