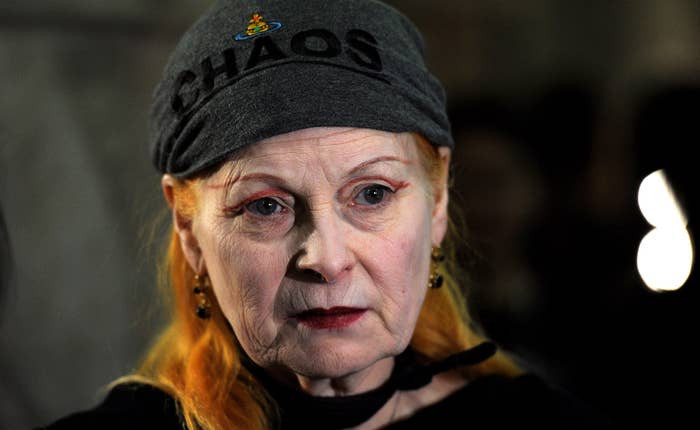 Vivienne Westwood, the British luminary who molded punk's style and redefined high fashion with subversion, wasn't a formally trained fashion designer. Westwood, who died in December, started by selling trendy clothing out of a boutique with her romantic partner at the time, Malcolm McLaren. Their shop, which changed names and concepts often but remained at 430 Kings Road, was an early predecessor to retailers like Union (aka the world's "first" streetwear store). Westwood and McLaren opened Let It Rock in 1971 selling vintage rock 'n' roll clothing to "Teddy Boys," a British youth subculture obsessed with American rock 'n' roll that emerged in the 1950s. Evolving alongside British youth culture, they rebranded the store as Sex in 1974, and then Seditionaries in 1976. McLaren and Westwood's shop stocked styles that defined what a burgeoning punk subculture in London would wear before the rest of the world caught on.
"Malcolm and I changed the names and decor of the shop to suit the clothes as our ideas evolved. But punk didn't mean anything more than that at first. I did not see myself as a fashion designer but as someone who wished to confront the rotten status quo through the way I dressed and dressed others," Westwood wrote in her 2014 self-titled memoir. "Eventually this sequence of ideas culminated in punk."
Westwood went from running her unconventional clothing boutique on Kings Road to becoming a world-class designer who exemplified the best of British fashion. She bridged French couture with traditional Savile Row tailoring, reimagined uses of heritage British fabrics like Tartan and Harris Tweed, and referenced everything from the royal family to 18th-century European art with her runway collections. Her dresses and corsets and signature pearl chokers are timeless and still being worn by celebs like SZA and Saweetie today.
Of course, Westwood was not alone when it came to breaking conventional street style through punk. Alex Michon—a Central St. Martin's student who designed outfits for the Clash—and the Situationist art movement also contributed to the punk movement alongside shops like Ray Goodman's Trash and Vaudeville in New York City. And while punk clearly influences the style of rappers like Lil Uzi Vert and Playboi Carti today, one can't forget the many Black punk artists throughout the '70s such as Death, Bad Brains, X-Ray Spex, and Pure Hell who also pushed their own unique style forward. But Westwood shaped the look of punk rock and helped establish our contemporary understanding of streetwear, which is rooted in garments that speak to niche and marginalized communities.
Mutual Aid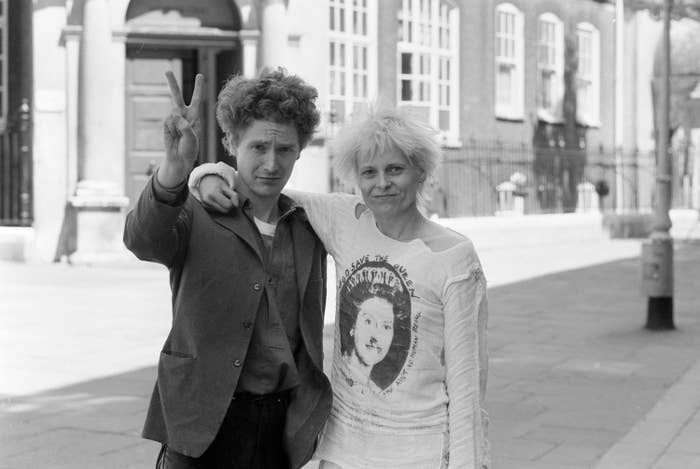 Westwood was one of the first designers to organically build a symbiotic relationship between a fashion brand and a subculture that built its allure. She and McLaren "were of the mindset and of the community that they were merchandising for," says Dr. Monica Sklar, a fashion history professor at the University of Georgia who's currently penning a book on the merchandising of punk fashion. "It wasn't as much about, 'We are selling you a commodified version of you,' but, 'We are of you, for you, by you.' That's why the stuff was good, because it actually resonated with each of the communities that would flow through that store. The best contemporary street style merchandisers do that too. The person who starts a brand and does so truly well keeps up with and leads the times, is of their community, and is not just exploiting it from the outside."
Labels like Supreme, which originally opened as a skate shop in New York, still use this approach, touting skateboarders like Tyshawn Jones and Beatrice Domond as faces of their brand while still collaborating with luxury lines like Burberry.  Virgil Abloh was screen-printing old Rugby flannels for his Pyrex Visions line and selling them to the same kids who lined up to watch him spin records at parties, an energy he brought with him to his work at both Off-White and Louis Vuitton.
But Westwood and McLaren's boutique did it first with punk. Members of the Sex Pistols, the pioneering British band, met each other by shopping and working at Westwood and McLaren's boutique. The duo infamously dressed the Sex Pistols in Seditionaries, a line that remixed bondage gear and distressed garments which aptly fit a band whose music was banned from BBC radio. The label foreshadowed the importance of streetwear's relationship with music: What Westwood did with Seditionaries and the Sex Pistols is not so different from what Virgil Abloh would do decades later when dressing the fashion-forward ASAP Mob in Pyrex Vision for his first solo fashion venture.
"I think the case between Westwood and the Sex Pistols may be one, if not the first, case in which an endorsement or partnership comes from an organic relationship between the designer and the artist rather than a business deal," says Shane Gonzales, founder of the punk-inspired Los Angeles-based label Midnight Studios and the Midnight Rave sub-label he co-runs with ASAP Rocky. "Westwood's clothing at the start of her career suited the lifestyle of a group of people that will exist forever: low-income youth with ideas and a passion to express themselves through fashion." Although Gonzales credits much of what he's accomplished as a punk-influenced designer to Westwood, he also believes the streetwear brands that introduced him to fashion growing up, like BAPE and Supreme, shared her ideology. "The deliberate anti-establishment and anarchy within [their] fashion is clear," he says, "And I think she paved the way without a doubt for them and others to come." 
When Masayuki Yamazaki opened Tokyo's Cream Soda boutique, the store that birthed Japan's famed Harajuku fashion district, in 1978, he was directly inspired to do so by Let It Rock. Thus, as detailed in Ametora, W. David Marx's book on Japan's absorption and reinterpretation of American style, Westwood played a distinct role in developing what became known as the Ura-Harajuku scene that birthed designers like A Bathing Ape founder NIGO, Fragment Design's Hiroshi Fujiwara, and Undercover's Jun Takahashi. Fujiwara grew up loving punk and collecting Seditionaries. He was so obsessed with the rebellious rock subgenre that he partnered with Takahashi to start a Sex Pistols cover band named Tokyo Sex Pistols. In the early '80s, he embarked on a pilgrimage to London to meet Westwood and McLaren. Marx writes that McLaren urged him to check out the hip-hop scene in New York. Fujiwara did, then came back to Japan as a DJ and cultural tastemaker who influenced a young NIGO and urged Takahashi to model for a Westwood show in Japan in 1990. 
"'Subcultural fashion in Japan really starts from the looks that sprung out of music scenes, namely punk and hip-hop," Marx tells Complex. "The influence is so deeply baked in at this point that it's easy to overlook, but thanks to Westwood and Rei Kawakubo, punk deconstruction has been a core principle of Japanese fashion for the last 40-plus years. While Westwood's work was much more cerebral and design focused than athletic casual clothing, her irreverence, defiance, and DIY ethos are all foundational to the spirit of streetwear."
Slogan Tees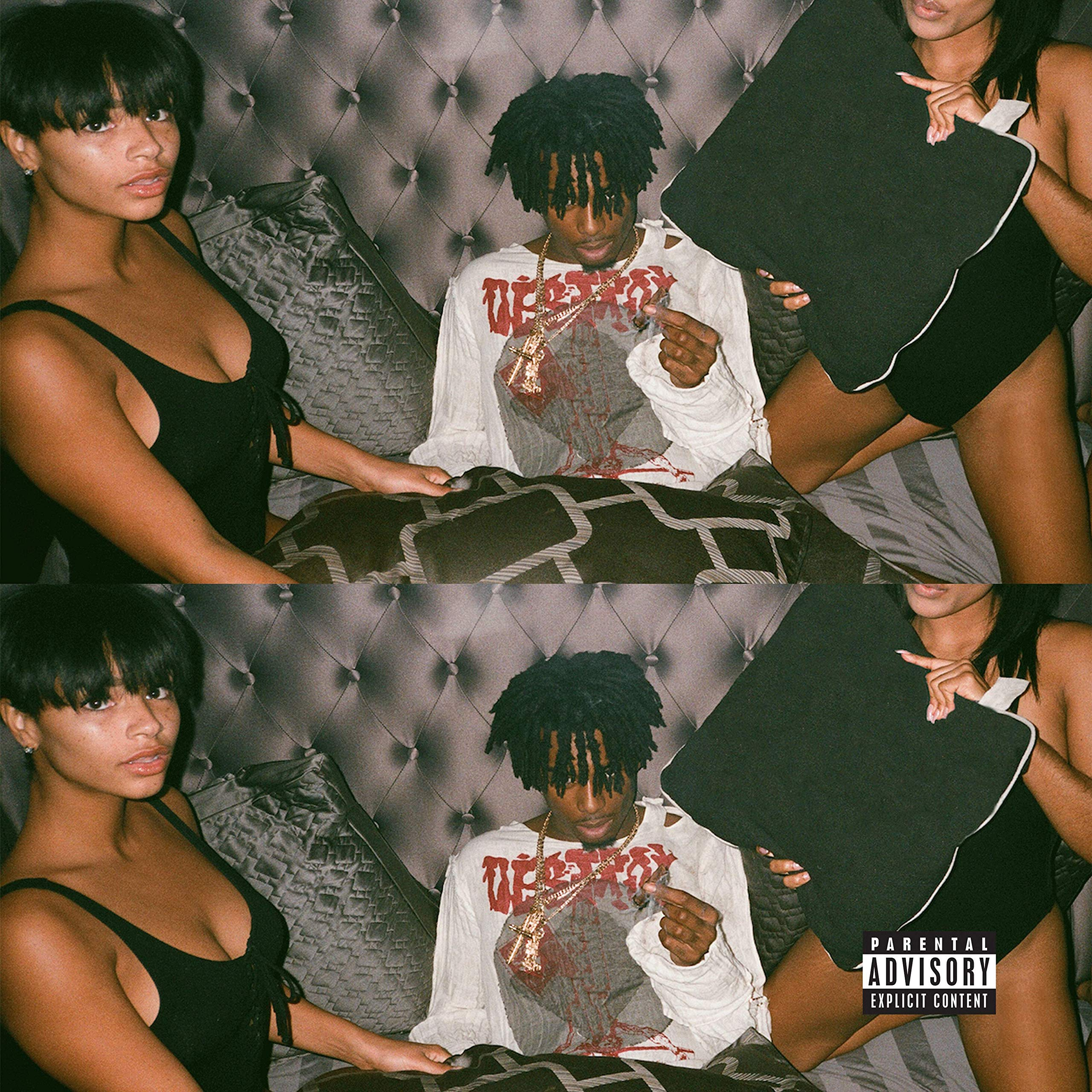 A Legacy Brand