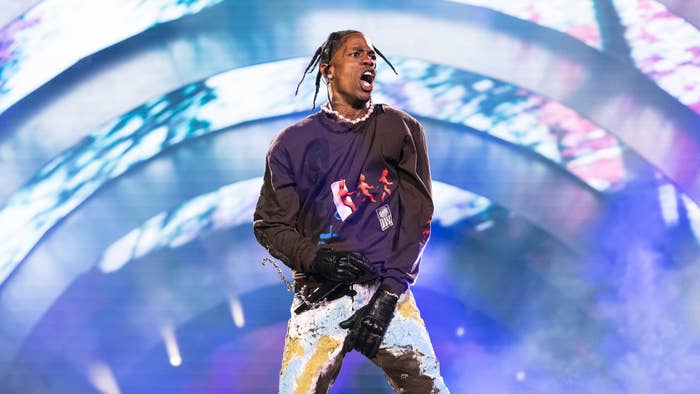 The merch tent at NRG Field in Houston, where Travis Scott's Astroworld Festival took place, signaled the first signs of chaos that led to nine festival attendees dying and many injured. Viral videos show hundreds of people hopping over metal barricades to mob a tent filled with exclusive Astroworld Festival merch. A local ABC News station captured the scene from above, showing a massive crowd of attendees working together to remove barricades and push themselves to the front of the tents to buy merch two hours before the gates opened to the public at 1 p.m. Travis Scott's concert merch, which is released in limited quantities and resold for double its retail price on marketplaces like Grailed or eBay, was a huge draw for festivalgoers.
"A big thing and a big challenge was merchandise tents," said Houston Police Chief Troy Finner in a press conference on Wednesday. "Very sought-after merchandise. That's what caused some of the kids rushing towards that and breaking down barriers."
Although Travis Scott is a Grammy-nominated rapper who tops the Billboard charts, his fanbase is aptly tied to streetwear culture similar to artists like Kanye West. His style is so revered by young men that after he wears vintage Nike sneakers and posts pictures to Instagram, they skyrocket in value. Like West, his clothing collaborations are highly coveted, but Scott has taken a more varied approach. He's released merchandise with McDonald's, sneakers with Nike, in-game skins with Fortnite, and more. A rapper who has a "Midas touch," Scott has even put his name on $4 Reese's Puffs cereal boxes only to have resellers buy out entire stocks in grocery stores and flip them for as little as $15 online. His concert merch is particularly valuable because it's only available at performance venues for one to two days, hence why resellers and fans are so ravenous for the product.
"[Around 10:30 a.m.] the crowd was storming the merch tent that was placed right in front of the main entrance. It got really packed and people were jumping over metal gates trying to be first," says a 19-year-old Houston-based reseller who wished to only be quoted by his Grailed username, Exotic Primos. "There wasn't anyone guiding us in the line, so it just became a huge mess. People couldn't handle it. We had no space, and all our bodies were so compressed onto one another. People were trying to get out and were screaming to give them space."
The scene Exotic Primos described was captured in an Instagram Story shared by an employee working inside the merch tent at Astroworld that was widely circulated across social media last Friday. After fans broke through security checkpoints in the morning, the video shows a mob of merch-hungry fans running to the main merch tent by the festival entrance. Numerous TikTok videos show festivalgoers lifting up barricades and tossing them aside. One TikTok even captures police officers struggling to push up barricades against the crowd. And a snippet of an Instagram Story taken from a sales associate inside the merch tent captures one police officer aiming a taser gun at the crowd. According to sources interviewed for the story, and social media posts on Reddit and TikTok, this large merch tent was temporarily shut down after a police officer tased an attendee. 
"They let people stay in their venue before the gates even opened to form lines at these merch tents. I think that's ridiculous and way out of hand," says Noah Davis, a 23-year-old attendee who says he's made over $100,000 reselling Travis Scott merch ever since he first began flipping Astroworld merch in 2018. "I was buying to resell and planning to buy $10,000 worth, which is what we normally do, but I only got $2,000 worth of merchandise."
Davis is a hardcore Travis Scott fan who has attended nearly 100 of his shows since the artist dropped Rodeo in 2015, which is when he began noticing fans were reselling his merch. "On the Rodeo tour, he'd probably only sell, like, 500 shirts total at each show, 100 of each size," remembers Davis. "A couple of buddies that I met at a show each bought like 10 to 20 pieces. So they just brought a large percentage of all that merch, and that was a good idea." Davis followed the rapper throughout multiple stops on the Astroworld: Wish You Were Here Tour from 2018 to 2019. He boasts that when he went to the tour's final stop in London at the O2 Arena in 2019, he copped $10,000 worth of merchandise and flipped it for $25,000. Davis says he waited for two hours to shop from the VIP tent at last weekend's festival, which also included limited-edition merch from past Cactus Jack releases such as his popular collaboration with Neighborhood Japan. 
"Anyone can go on TravisScott.com and buy his merch. But anything that he sells at the show, that's a show exclusive, and it's never going to be sold again," says Davis. "Kids in Europe and Asia pay $300 to $400 for a hoodie because they can't get it. They see these videos of Travis Scott, how crazy and wild he is at these shows, and they go crazy for it." 
Astroworld attendee Shayaan Ahmed, 18, tells Complex that he flew into Houston from Oklahoma City strictly for business. Ahmed spent $4,000 on merch and says he got in line when the catastrophic main merch tent by the entrance reopened around 3 p.m. Although he says there were only about 30 people in front of him, it took him six hours to reach the front of the line. 
"They were people passing out or literally sleeping on the floor because of how long it took,'' remembers Ahmed, who says that event staff even ended up losing his box of merch after he tried to pick it up from the festival's locker rooms the following morning. "There were three people just knocked out, dead asleep. I saw one person pass out on line, but they splashed water on him and he was good."
Seasoned Astroworld attendees like Ballew, who had attended both Astroworld Festivals before this one, knew to avoid the crowd at the larger main merch tent by the entrance and opted to walk a little further to a smaller merch tent located closer to the main stage—where Travis would later perform. Attendees who went to the merch tent closer to the stage told Complex the line was much calmer and organized. Ballew says he purchased $1,300 worth of goods after waiting in line for just 45 minutes. 
"Throughout the entire day, that tent was so calm and orderly. People were waiting in line. They all waited their turn. Security let them through, they bought their stuff, and they left," says one Astroworld employee involved with merch who wished to remain anonymous to protect their job. "We were getting radio from the main tent [by the entrance] and hearing how they set up all those barricades for nothing. People were rushing the tent and somebody just bought, like, $20,000 worth of stuff. It was two different worlds." 
The employee involved with merch revealed that after attendees unexpectedly arrived hours before gates were supposed to open, the merch tents decided to hold a "soft opening" with the hope of quelling a massive crowd of attendees looking to buy and resell merch. He says that the long checkout times for merch were largely attributed to hype and the massive number of attendees at the festival. Indecisive buyers and selling out of certain sizes also led to longer wait times. The employee also revealed that the tent closer to the stage had a $2,500 merch limit, while the larger merch tent near the entrance had no restrictions. But resellers like Davis say the rules around how much merch one can purchase are basically nonexistent.
"Some people try to tell you that you can only buy a select number or pieces. But these are kids like you and me selling merch," says Davis. "You slide them 30 to 100 bucks; they're going to sell you whatever you want. These vendors are making a percentage of the profit, too, so they want to sell out and make as much money as possible." 
But for many hardcore Travis Scott fans, who put the merch in lockers after purchasing it, buying and reselling merch isn't only for huge profits. The resellers interviewed for this story say they personally collect his popular apparel and have resold merch just to finance their own experiences with him. 
"When I went to Rolling Loud, the last time he was there, I bought a couple extra shirts for friends and some didn't want them. When I sold them, I made the money back for my ticket," says 35-year-old Zaq Cameron. "So when we went [to Astroworld], I decided to buy more to pay for my trip this way." 
Despite nine people dying at Astroworld this year, resellers like Davis believe the merch will actually be more coveted by collectors. This is because Scott will likely be unable to perform live shows for some time and is probably not dropping any product for a while. Davis, like all of the sources interviewed for this story, didn't realize a tragedy was happening as he watched Scott perform. "I was bummed to hear the news. I hear people saying 'Travis is a killer' and I put six years of my energy into this guy," says Davis. "So I'm having a tough time sitting with it."
Despite feeling shaken by the event, they are still selling the merchandise. But they've received backlash for it.
"I've already sold five pieces in two days and some people are sending me death threats on Grailed because I'm selling it," says Ballew, who tells Complex he's wearing an Astroworld T-shirt while speaking on the phone and will continue supporting Travis Scott. "They are sending crazy low-ball offers, saying, 'I know what Travis did.' But I'm pretty hurt about it and pretty traumatized by what happened myself. But the more I'm talking about it with people, the better I feel. But obviously I'm going to sell this merchandise and not lose money, because there's clearly a demand for it."